Overdraft services
Your key to understanding what's included with your account.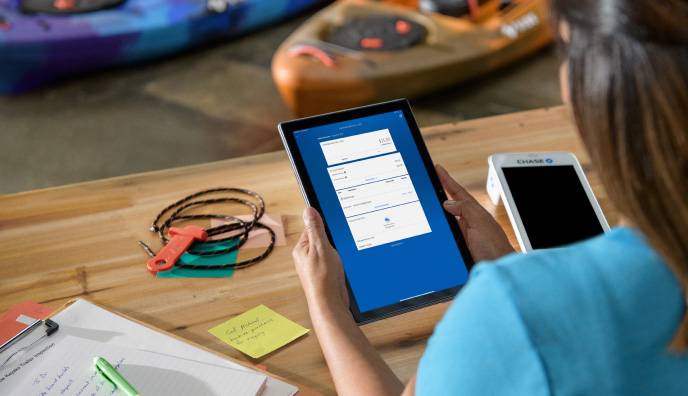 Added flexibility to help minimize disruptions
Watch this video to learn more
We know that managing your cashflow is a full-time job, and sometimes things can be missed. So, in the event you overdraft your Chase business checking account, we've got you covered.
Your checking account is considered overdrawn if there's not enough money to cover a payment, purchase or check you write. We may pay these overdraft transactions at our discretion based on your account history, the deposits you make and the transaction amount.
We have three overdraft services to help you:
All Chase business checking account customers are automatically enrolled in our Standard Overdraft Practice. This feature is there to help you, in the event you overdraw your account. Basically, we look at your account history, deposits you make and the transaction amount (excludes everyday purchases such as office supplies and everyday expenses), and decide whether we can pay the transaction on your behalf. When we do this, you may incur a $34 charge.
For your convenience, we won't ever charge this fee if:
The transaction causing the overdraft is $5 or less
You've added enough funds to cover your overdraft by 11 PM ET on the same business day
Your debit card transaction was authorized when there was a sufficient available balance in your account
Your debit card transaction or ATM cash withdrawal request is declined
Your check or ACH is returned unpaid. However, we may charge an Overdraft Fee if a previously returned check or ACH is presented again and unpaid.
Chase Overdraft Assist℠
Chase Business Complete Checking℠, Chase Performance Business Checking®, and Chase Platinum Business Checking℠ accounts get the added benefit of Overdraft Assist. With Overdraft Assist, eligible accounts get more overdraft flexibility. If we make a payment on your behalf, we won't charge an overdraft fee if your account is overdrawn by $50 or less at the end of the business day.
Chase Business Complete Checking accounts also get more time — those clients have until the next business day at 11 PM ET to bring their account balance to overdrawn by $50 or less to avoid a fee.
To take advantage of our Overdraft Protection feature, you'll need to link a Chase business savings account or business line of credit to your Chase business checking account. If you overdraw on your checking account, we will transfer funds from your Chase business savings account or line of credit to cover the transaction and won't charge the $34 overdraft fee.
You can enroll in Overdraft Protection by going to a branch.
All Chase Business Debit Card customers are automatically enrolled, but you can un-enroll at any time.
With this coverage, you authorize us to pay overdrafts, at our discretion, on your everyday debit card purchases so you can avoid business disruption. If we need to cover your purchase, we may charge a $34 fee per overdraft transaction.
You can un-enroll in Debit Card Coverage by going to a branch or calling 1-800-242-7338. Once un-enrolled, all overdraft transactions for everyday debit card purchases will be declined, but there will be no fee.
Tips to help you prevent and manage overdrafts
Not finding what you're looking for?
Choose Learn more to find more details about the various fees that may apply to your account.
See how other Chase business checking accounts work.
IMPORTANT INFORMATION:
For complete details, please review the Additional Banking Services and Fees for Business Accounts at chase.com/business/disclosures or go to a Chase branch. This information is subject to change.