Creating communities, one doughnut at a time
Discover how this Miami-based eatery is creating more than doughnuts — it's creating communities.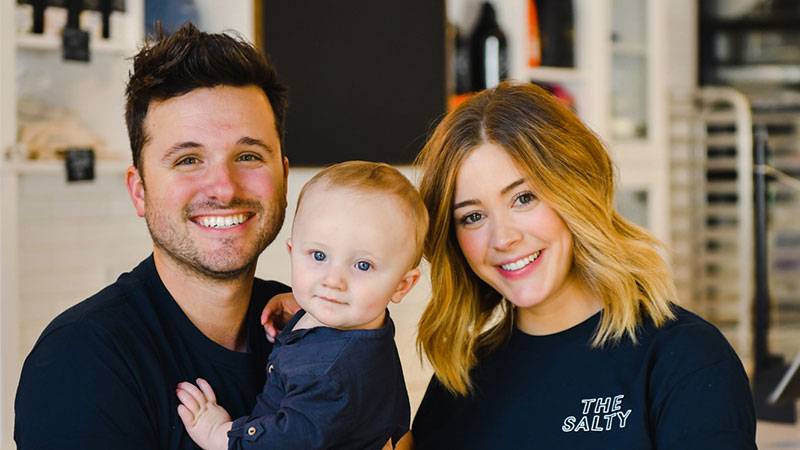 Return on Impact
What role do personal values play in business? We've discovered for many owners, their values are right at the core. Each story in this series explores the tensions and triumphs of entrepreneurs leading with their values. We want to see where that journey is taking them and what it means for our economy and communities.
After a series of events that led them to question their next career moves, Andy Rodriguez and Amanda Pizarro-Rodriguez were traveling the country, eating doughnuts, drinking coffee and trying to figure things out when it clicked. Somewhere between their first glazed doughnut and their 20th, Rodriguez realized: "These doughnut shops are packed, and they're so cool, and people really love this. And there's nothing like them in South Florida. We should do this as a business." So, full of sugar and ideas, the couple headed back to Miami to start their next chapter.
In their quest to create a new business, Rodriguez and Pizarro-Rodriguez created a new category — a world-class food and beverage experience that just so happens to feature doughnuts and coffee.
From those humble beginnings, the business is now regarded as one of the best doughnut shops in the nation by many of the most renowned publications and organizations. And thanks to the incredible support of employees and communities, as well as the backing of NBA player and doughnut aficionado Tim Hardaway Jr., there are now five locations, with two more opening soon and more on the way.
No detail left behind
The couple spent the better part of a year refining the concept, the recipes, the process, the brand and, most importantly, their mission and values. Everything was centered around always providing the best experience for their employees, their customers and their community — without exception.
"When someone spends their hard-earned money for whatever it is, they should be receiving a world-class experience every time," Rodriguez says. "And so, for us, that constant obsession with quality and drive for an unbelievably high level of execution is something ingrained in our brains. It's what gets us up every morning."
After delays in construction of their brick-and-mortar store, Rodriguez and Pizarro-Rodriguez opened The Salty Donut in 2015 out of a vintage camper, and it was an instant hit.
Part of something bigger
The community was there for the entrepreneurs from day one, and they've been returning the gesture ever since.
A big part of what they do is entrenched in giving back to the community, whether it's through outreach, fundraising, direct donations or raising awareness for causes and programs that are important to residents. "The way we see it, the community supports us by coming to our shop. This allows us to create jobs and gives our employees the money they need to spend in the community. It's all very sort of 360, like an ecosystem. We can't just take and not give. It's really a core part of our values," says Rodriguez.
Danny Pizarro, The Salty Donut's chief marketing officer, adds: "Even with all the awards and accolades we've had over the years, my proudest moment to date has been how we supported our communities during the pandemic. When it first began, we created a doughnut donation program that matched every donation from members in our community and delivered doughnuts to health care workers on the frontlines that included uplifting messages from those community members. That was an experience we and they will never forget. Our brand mission is to connect people together and create a sense of community through an honest, feel-good experience. And that's what we strive for every day."
It's not just the ingredients — it's the chemistry
Having the right people is important for every business, especially in the hospitality industry. "From making the products to serving them, everything is done by hand," says Rodriguez. "There are no robotics here. So our people are the key ingredient."
Many business owners look to hire people with similar personalities and backgrounds. Rodriguez and Pizarro-Rodriguez take a different approach, agreeing that diversity is one of the most important things you can have in a business. "If you try to build an organization where everybody's the same, it's never going to happen," says Rodriguez. "It's those differences that make the people and the business flourish. So we try to put together groups that have different skill sets, different mindsets."
The couple spend a lot of time and energy ensuring that they have the right mix of people in place. And then they do everything possible to keep them. Part of this commitment includes a recent investment in everything related to employee benefits, including increasing wages, creating bonus and incentive programs, improving medical benefits and rethinking paid time off policies to include hourly employees as well as salaried ones.
"For us, we didn't see another option. We want to retain talent. We want to promote from within. We want to uphold the integrity of our values, our products and our brand as we scale. So doing all of these things just allows us to set our employees and our business up for success," says Rodriguez. "It's kind of amazing that we're able go from a tiny company to one that can offer all this to its people. It's really exciting and rewarding."
The best of both worlds
Finding the right people extends beyond employees. For Rodriguez and Pizarro-Rodriguez, having that same chemistry with their banking partner is equally important.
"As small business owners, we're doing a lot of things at any given time, so being able to get really quick answers and address things quickly is key," says Rodriguez. "With Chase for Business, I can reach out to my relationship manager, Luis, or branch manager, Mario, anytime, and they take care of whatever we need quickly. It's not this gigantic red tape of things that needs to happen. Having that coupled with the power and resources of such a huge bank is pretty rare. I can count on there being a branch wherever I am."
Making more than doughnuts
The Salty Donut fills a need that goes beyond just a sugar fix for its owners, employees and customers. "We have a place where people create real memories. And so we really feel privileged that we allow people to get out, have a good time, smile and eat something that makes them happy. There's not really too many businesses in the world where you can do that," says Rodriguez.
The testimonials on this page or provided via linked videos are the sole opinions, findings or experiences of our customer or mentee and not those of JPMorgan Chase Bank, N.A. or any of its affiliates. These opinions, findings or experiences may not be representative of what all customers and mentees may achieve. JPMorgan Chase Bank, N.A. or any of its affiliates are not liable for decisions made or actions taken in reliance on any of the testimonial information provided.
For informational/educational purposes only: The views expressed in this article may differ from those of other employees and departments of JPMorgan Chase & Co. Views and strategies described may not be appropriate for everyone and are not intended as specific advice/recommendation for any individual. Information has been obtained from sources believed to be reliable, but JPMorgan Chase & Co. or its affiliates and/or subsidiaries do not warrant its completeness or accuracy. You should carefully consider your needs and objectives before making any decisions and consult the appropriate professional(s). Outlooks and past performance are not guarantees of future results.
JPMorgan Chase Bank, N.A. Member FDIC. ©2023 JPMorgan Chase & Co.