It's official — a Wall Street for Black-owned businesses
Want to support Black businesses? Go to the Official Black Wall Street.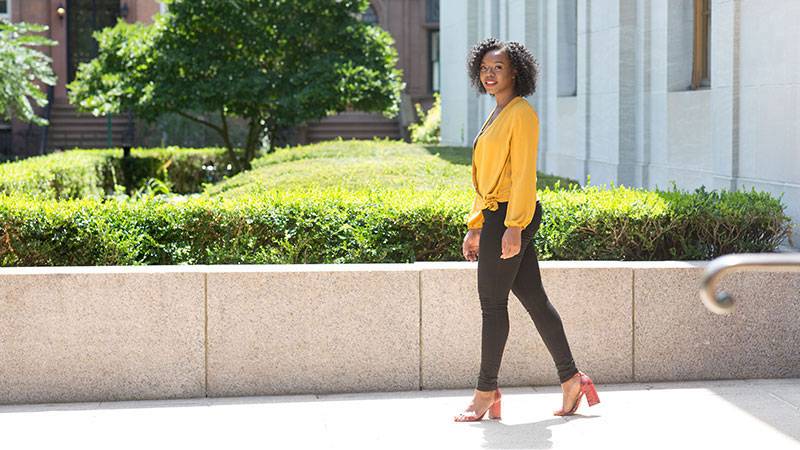 "How can I help people find anything Black-owned, anytime?" The question fueled Mandy Bowman. It became core to her vision for a new business. And she answered it with an idea for an online platform that could bring consumers together with Black-owned companies — the Official Black Wall Street.
From brick-and-mortars to eCommerce gems, OBWS is the largest online platform and social app for Black-owned businesses, helping them spread the word about their brands.
On the OBWS platform, Black business owners can create accounts that connect them to potential customers and help them gain visibility while broadening their audiences. They can also tap the Black business community and access useful resources, like legal services, to help them learn, grow and financially thrive.
We recently caught up with Bowman to pick her brain about how Official Black Wall Street started, the challenges she faced and what's next for the platform.
"There were Black-owned businesses in my neighborhood that were closing down, and I wanted to create a solution."
— Mandy Bowman, founder and CEO, Official Black Wall Street
It always starts with a to-do list
"At first, I didn't even think I was starting a business," Bowman says. "I noticed that there were a lot of Black-owned businesses in my neighborhood closing down. I wanted to create a solution."
During a lunch break at a job where she specialized in social media communications, Bowman wrote down every Black-owned company she wanted to share with the world. Next, she started a to-do list of steps she might take, scribbling notes like buy a website, figure out a domain name and create a directory so people can find this information.
While she worked through her list, she drew on her social media background to kick things off and fuel online engagement. She leveraged social pages as a hub for sharing information about different companies until the website was finished.
"As the community grew, the demand for OBWS grew with it. In 2015, I launched the website and posted about it on social media," Bowman recalls. "I'll never forget that day. One of the first comments was, 'This is great. When's the app coming?' And so it was like, all right, well, there's another goal for the list. And it hasn't stopped."
What's in a name? A lot of history, in fact
Bowman took a Black music history class in college that piqued her interest, spurring her to do a deeper dive into American and Black history after she graduated.
She stumbled on a book called "Riot and Remembrance" by James S. Hirsch, which covers the Tulsa Race Massacre, a 1921 race riot resulting in the death of hundreds of Black residents. The attack happened in the Greenwood District, also known as Black Wall Street, one of the most prosperous African American communities in the United States.
When she read about the tragedy, she wanted to do her part to bolster a community of successful Black entrepreneurs.
"Reading about this neighborhood with many prosperous Black entrepreneurs was inspirational," Bowman says. "I saw little pieces of that in my neighborhood in Brooklyn, and I really wanted to recreate it, or at least a digital version of it."
Sometimes, you have to leap
Bowman realized she couldn't feasibly split time between her "full-time-plus" job. And after that leap of faith came leaps over many hurdles in her path to success.
"There were big challenges at every stage. Much of it was me having to wear different hats," Bowman says. "I wrote the press releases and did the interviews and built the website and ran the social media. I also had to be the one to find a team that was willing to bootstrap to make it a success."
What kept Bowman going through the hectic times was the outpouring of community support. People she'd never met reached out to tell her to keep going. It was then that she knew OBWS wasn't just about her personal dream of sharing the work of Black businesses. It was about something larger.
Her company needed to exist.
This was made especially clear during the pandemic when many small businesses were closing their doors. A lot of Black entrepreneurs reached out for resources and support. During this time, OBWS offered a series of virtual workshops. OBWS also launched its Black Entrepreneur of the Year Awards, which give grant funds to Black-owned companies.
"The pandemic helped prove that OBWS is a massive necessity for helping Black businesses and communities thrive," Bowman says.
A relationship built on mutual respect
A major boon for Bowman was being accepted into New Voices Banking Boot Camp, launched by the New Voices Foundation and JPMorgan Chase & Co. The program came with a grant and mentorship. Bowman had a mentor who worked at Chase and helped her learn about finances and growing a business.
"I was really impressed by the amount of support that Chase offered," Bowman says. "My mentor was extremely helpful, and we kept in contact even after the program ended. My Chase Business Relationship Manager was absolutely awesome, looping me into different opportunities and events. There were so many times when I was swamped, and she would personally call me to make sure I took advantage of them. Working with Chase has been a game-changer for me."
Because capital was a big need for getting OBWS off the ground, securing a Chase Ink Business Credit Card was beneficial.
Bowman uses it for her monthly business expenses, and she uses the reward points for travel and to pay for monthly software needs and operational platforms like Google Workspace and Asana. Because these platforms help to automate operations and communicate with the team and users it's crucial that there are no interruptions in service. That's why she appreciates the Ink Business Credit Card's autopay feature.
"Autopay is great for being able to take one more thing off of my plate," Bowman says. "I never have to worry about any expenses going unpaid at the month's end."
The future of Black business is a culture of connection
"In a digitally driven world, Black entrepreneurs, especially founders, need to make it a point to stay connected to each other," says Bowman.
"It's very easy now to work in silos and forget to network with other entrepreneurs in your area. But it's important to do it," she says. "Now, more than ever, people need that personal connection with the community so that they can feel that they're not alone in their journey."
Going forward, OBWS aims to include more technologically advanced features on the site to incentivize people to shop with Black-owned vendors. Bowman also intends to increase partnerships with local organizations and retailers, with the goal of highlighting more brands and getting Black vendors onto shelves at retailers across the country.
"I always say that we're a community-first startup," Bowman says. "Everything we do is geared toward growing the Black business community and making it stronger."
For more information on how to strengthen your business with a Chase Ink Business Credit Card or how to open a business line of credit, speak with a Chase business banker.