Business Services
Zelle®
Quickly send and receive digital payments with Zelle®.
Use Zelle® to get paid, or send payments to eligible suppliers and vendors
It's free to Chase customers, users must have a bank account in the U.S. to use Zelle® and it's available 24/7 on your Chase Mobile app or chase.com.
Millions of consumers already have access to Zelle® through their financial institution, so even non-Chase customers can use it.
Receive, request or send payments using the email address or U.S. mobile number connected to your business so you can keep your personal and business transactions separate.
Your account information stays protected—you won't see the other person s bank account info, and they won t see yours.
Free for Chase customers and available 24/7
Send and receive money at no charge
No check or cash needed. Share your U.S. mobile number or email to receive payments from customers or pay suppliers and vendors who are enrolled with Zelle through their financial institution. Message and data rates may apply depending on your mobile service provider.
Is my business right for Zelle®?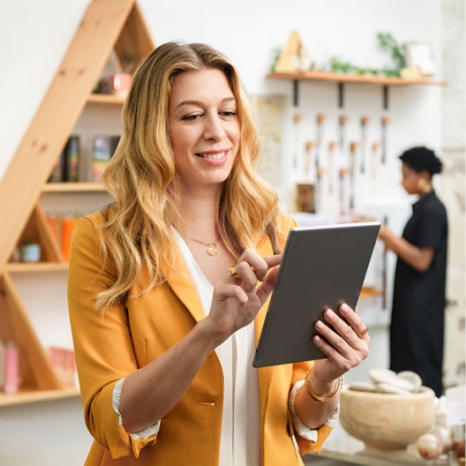 Businesses that are a good fit for Zelle® typically receive payment by cash and check. A few examples of small businesses that may be a good fit include:
Health and beauty specialists: hairstylists, nail technicians and personal trainers
Home care providers: landscapers, contractors and pool technicians
Landlords collecting rent
Transport and limo services
Service providers: electricians, plumbers, accountants, consultants and financial planners
Tools that keep your business connected at all times
Online banking helps you stay seamlessly on top of your cash flow.
A full suite of tools to accept credit cards simply and securely.