Lock in a home equity line of credit rate
Lock in a fixed rate
In an environment where interest rates are rising, a variable interest rate can cause uncertainty in your monthly payment. If you lock a rate on a portion of your outstanding balance, your monthly payment won't change on that balance for the length of your lock period. Our Chase Fixed-Rate Lock Option can help you manage your monthly payment by giving you control over how much you pay and for how long.
Important: The lock is subject to fixed rate pricing which may be higher than your current variable rate.
We've outlined some key features to help you understand the Chase Fixed-Rate Lock Option.
The basics of a Chase Fixed-Rate Lock
You can lock all or a portion of your HELOC balance into a fixed-rate for a specified period of time during your draw period.

The Chase Fixed-Rate Lock Option offers a fixed-rate over an agreed lock term.
Minimum lock amount is $1,000.
Customer has to have an existing balance in order to lock in a rate.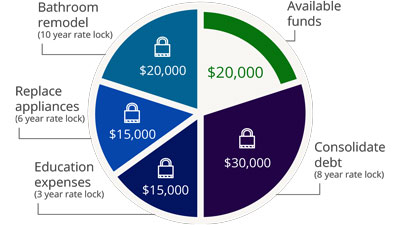 How it works
You can have up to five locks and can use each for different needs.  As you pay down the locked balance on each, the available line of credit amount increases and becomes available for use during your draw period.
Getting started with a Fixed-Rate Lock
Request an interest rate quote on a lock online or by calling us at 1-800-836-5656. We accept operator relay calls.
Important: You can only open a lock during your draw period.
An interest rate quote on a lock is only good for the day it is requested, because interest rates may change on a daily basis.
We determine your application date based on the day that you applied and were subsequently approved.
Important: Lock agreements for 1% of the locked principal balance means monthly payments will decrease as the locked principal is paid down.