Maximize your Home Remodel Budget
5 ways to maximize your home improvement budget
Many homeowners are choosing to stay in their homes, and instead of selling, are making improvements to enhance their quality of life and appeal to potential buyers down the road.
Americans are expected to spend a record $316 billion on remodeling their homes in 2017, up from $296 billion the previous year, according to the Harvard University Joint Center for Housing Studies.
Here are five steps you can take to maximize your home remodeling dollars: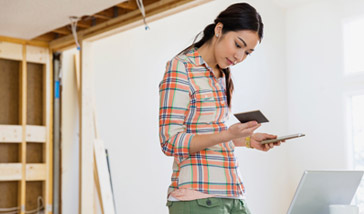 1. Consider financing options
As a rule, the best way to pay for home improvements is with cash. If you're short on funds, weigh the costs of obtaining a loan or using a credit card.
Home equity lines of credit (HELOC) are on the rise, putting money in the pockets of homeowners to fund renovation projects. "A HELOC gives homeowners access to funds, using their hard earned Equity to renovate and improve their home throughout the years," explains Ben Trstena, a Chase Home Lending Manager. "The benefits and flexibility of using HELOC is unmatched, as the homeowners may deduct the interest, pay lower interest and utilize it for planned or unplanned home projects."
The average homeowner gained about $13,400 in equity from the first quarter of 2016 to the first quarter of 2017, according to data analytics provider CoreLogic. Housing markets that earned the most equity were in the metro areas of San Francisco, Denver, Houston, Los Angeles and Boston.
Homeowners in the West and Northeast are spending the most on home improvements and taking out the most home equity loans to complete renovation projects, according to HomeAdvisor, an online home services marketplace.
2. Boost curb appeal
Although many Americans are splurging on renovation projects, the simpler the job, the more likely it'll have a higher return on investments.
Real estate professionals place a lot of importance on replacing entry doors, windows and siding to add curb appeal rather than tackling major projects like a deck or a kitchen remodel. After all, the first impression buyers get from your house online or in person can make or break a sale.
The 2017 Cost vs. Value report by Remodeling magazine found that exterior projects had an average payback of 75 percent nationally, while interior projects returned 64 percent.
For example, a steel entry-door replacement, costing about $1,100 on average, is a curb-appeal project that's expected to return the most money, with an estimated 85.6 percent of costs recouped upon resale.
3. Increase energy efficiency
Lowering your home's heating and cooling bills with energy-efficient upgrades will make your home more comfortable and boost its resale value, especially in regions with extreme hot or cold weather.
Additionally, adding loose-fill insulation in an attic to prevent air leakage returns a higher value than its cost, according to the Cost vs. Value report. The project would cost an average of $1,268 nationwide with a payback of 108 percent.
4. Make simple updates
Some of the most common remodeling projects such as a complete bathroom or kitchen renovation recoup the least costs. The jobs require a lot of skill and labor, including moving plumbing and electrical lines, tearing up tiles, installing new appliances, cabinets, countertops and lighting.
In many cases, budget-friendly DIY updates to a bathroom are more prudent than taking a sledgehammer to it. A new vanity, lighting, floor tiles, fixtures and a few coats of paint will make a bigger impact with lower investments.
5. Don't over-improve for your location
Make sure the improvements you make are consistent with other homes in your neighborhood. If your house is the most expensive one on the block, it'll be difficult to resell.
On the other hand, if adding another bathroom or creating an open floor plan will help a house meet buyers' expectations in your neighborhood, you can expect a good return in the form of a higher sale price.
Making home improvements is a great way to improve the value of your home and applying for a home equity line of credit can be a simple way to fund your projects. DIY projects and low-cost materials can keep prices down while sending your home value skyrocketing. Check out more home improvement tips and ideas to upgrade your home and increase its value at the same time.
If your property is located in Colorado, Florida, Ohio, Oregon, New Jersey or Washington