MARKETING IN A DIGITAL WORLD
Is your business feeling growing pains? A CRM system could be the answer
CRM systems are built to transform marketing. But does your business need one? Learn which questions you should be asking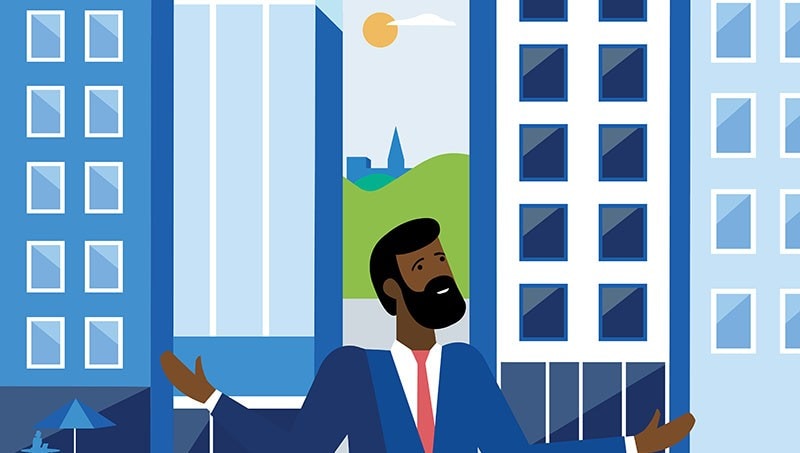 When you started your business, customer relationship management probably meant spending a lot of time with your customers. You spoke to your regulars, knew when they would call, wrote down leads in the margins of scrap paper and did little extras to nurture each relationship.
But there comes a point when a business outgrows this hands-on style. As you bring on sales and marketing staff, you need a way to develop and execute your strategies, manage leads, market your business to your customers and contact them when they're most likely to respond.
A customer relationship management, or CRM, system is a technology tool that allows you to track and use customer information to enhance communications and develop sales strategies. While some platforms are complex and built for scale, even a simple CRM system can help you improve relationships with customers.
CRM system pros and cons
What can a CRM system do? At a basic level, a CRM organizes important customer information. The ability to store names, phone numbers and emails is essential, and many CRM systems allow you to keep notes about previous conversations.
The next level of functionality uses data collected by the CRM to improve online outreach via email, surveys and other push marketing techniques. A CRM allows you to create and distribute content aimed at specific customers, such as people who live in your neighborhood. CRM systems also help you track previous and current sales, organize workflows and even automate marketing tasks.
Many CRM systems specialize in specific tasks. For example, Mailchimp can create and distribute marketing campaigns that go out via email and social media. More complex systems, such as HubSpot or Monday.com, can host an entire outreach, retention and marketing campaign from a single platform while also providing analysis and visualization tools for managers. Salesforce is an industry leader that offers support for businesses of all sizes.
CRM basics
Stores and organizes customer info
Keeps records of customer interactions, including sales
Provides data to help target marketing efforts and customize customer interactions
You can choose from many different CRM platforms that offer functions in a range of prices. At a minimum, a CRM should facilitate sales and marketing, allowing you to make every customer interaction meaningful.
Your CRM system can even help you surprise customers with meaningful gifts or perks.
Of course, a CRM system is not a substitute for real, human interactions. But it can enhance them. For example, you can have more informed and productive interactions with customers who typically place big orders if you know how their purchasing history has evolved over time. In retail or online spaces, you can promote products to those with specific interests if you have data showing similarities between customers.
But be careful: A business can rely too much on automated communications and lose customers in a digital wilderness where they're unable get the resources they need. The balance between technology-enabled capabilities and the personal side of doing business is the CRM sweet spot.
Is it time to invest in a CRM? Ask yourself:
Do you have trouble finding customer information when you need it?
Is it a headache to prioritize, organize and follow up on sales leads?
Are you struggling to keep track of which customers are most valuable to you?
Are competitors' promotional efforts outperforming your own?
Are you missing opportunities to show customers products that best suit their needs?
Are you struggling to maintain consistency in the tone and content of your communications?
Are you eager to understand which of your sales and marketing efforts are working best?
CRM systems can perform a variety of tasks and help you more successfully interact with customers, but they're not for everyone. If you're interested in only maintaining a core group of customers, a CRM system might not be necessary. However, if you plan to significantly increase your customer base, offer targeted products to those with niche interests or focus your business on a strong digital presence, a CRM could be an important investment.
Develop a marketing strategy that takes full advantage of your CRM system. Marketing in a Digital World is an online program that offers tips and insights to help you find your audience, explore your options, elevate your brand and keep learning.
For informational/educational purposes only: The views expressed in this article may differ from those of other employees and departments of JPMorgan Chase & Co. Views and strategies described may not be appropriate for everyone and are not intended as specific advice/recommendation for any individual. Information has been obtained from sources believed to be reliable, but JPMorgan Chase & Co. or its affiliates and/or subsidiaries do not warrant its completeness or accuracy. You should carefully consider your needs and objectives before making any decisions and consult the appropriate professional(s). Outlooks and past performance are not guarantees of future results.
JPMorgan Chase Bank, N.A. Member FDIC. ©2023 JPMorgan Chase & Co.