From left to right: Bob Siegel, chef and owner of Pinch Food Design; Soo Kim, artist and founder of Soosoostudios; Kris Hale, founder of Dope Pieces Puzzle Company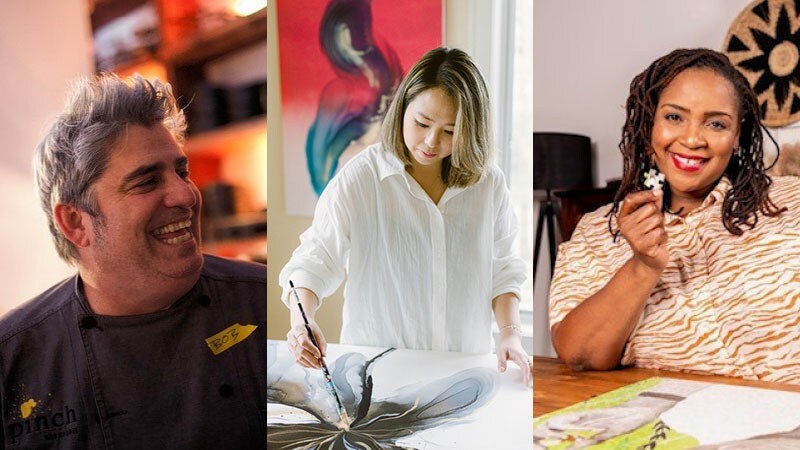 To underscore our commitment to small businesses, we're pointing a special spotlight on businesses impacting their local communities. Consider encouraging your customers to engage in the ways listed below.
Providing vital goods and services. Creating jobs. Supporting local economies and charities. You may be known as a small business, but your contributions to your customers are anything but small. While we officially celebrate small businesses in May, customers and communities feel the impact of local businesses 365 days a year.
Don't miss the opportunity to use Small Business Month, to connect with your customers. Many of them will go out of their way to show their support for you. In addition to buying products or services, customers can support your business in other ways. Sometimes all you have to do is ask. Here are five tips to get you started.
1. Ask for positive feedback
Reviews from real people go a long way — especially among millennials and other younger audiences. Customers can help boost your business by spreading the word. Public search engines and sites like Google Business Profile, Yelp and Trip Advisor are all effective for sharing positive experiences, and many customers are more than willing to help out.
You can also prompt them to leave positive reviews on your business website or social pages. Ask them to use your branded hashtags in their posts for added awareness.
Along with ratings and reviews, customer testimonials are another traffic driver that can be featured on your website or social pages. Video testimonials are even better because they add credibility and show off your products or services through the eyes of satisfied customers.
2. Create a special offering
Maybe it's a special offer, or maybe it's a product or service that's offered only during May. It'll give you something new to talk to your customers about, and may also draw in new customers and generate sales.
For example, if you own a cake shop, create a special flavor to celebrate that week. Have fun with it. And who knows? You may just find a new recipe for success.
3. Get referrals
Word-of-mouth advertising is often the most powerful and inexpensive way for businesses to advertise. People value the words of family, friends and actual shoppers over promotional marketing messages. In fact, 90% of consumers trust companies and services that are recommended by friends or relatives.
Have a happy customer? Keep the momentum going right away by asking them to share their positive experience while they're still basking in the glow. Then follow up with an email or text reminder to tell their friends and family. While customers may have every intention of sharing the love, sometimes life gets in the way and they forget.
You can also offer an incentive for referrals, whether it's a free product or service, discount code for their next purchase or rewards points. It doesn't have to cost a lot to have a high value for your customers.
4. Build a loyal following
Don't have a large marketing or advertising budget to promote your shop, products or services? No problem. By asking your customers to follow you on social media and share your posts, they can help organically bring more attention to your business.
And those aren't the only benefits. Some social platforms provide additional perks for businesses that meet a certain number of followers or experience high engagement with their posts. Your customers' follows and reposts could help kick your business into a new echelon that brings added advantages.
5. Host a small business event
There's nothing that brings people together like a party. Think about hosting your best clients or prospects at your store or office, or take them out on the town. You could even partner with other local businesses to make it a community-wide event. Gamify it with bingo cards or a scavenger hunt to find certain items.
Be sure to ask the group to take pictures and share them on social media, or offer to do it for them. Maybe you'll start a new trend in your community. Could this become an annual outing? A seasonal one?
Keep it going
Any time is a great time to recognize and celebrate small businesses. These are just a few tips you can share with your customers to help them support your business throughout the year. And the good news is that they don't always have to open their wallets. Sometimes it's about opening their hearts.
For more ways to help grow your business, speak with a Chase relationship banker.
For informational/educational purposes only: The views expressed in this article may differ from those of other employees and departments of JPMorgan Chase & Co. Views and strategies described may not be appropriate for everyone and are not intended as specific advice/recommendation for any individual. Information has been obtained from sources believed to be reliable, but JPMorgan Chase & Co. or its affiliates and/or subsidiaries do not warrant its completeness or accuracy. You should carefully consider your needs and objectives before making any decisions and consult the appropriate professional(s). Outlooks and past performance are not guarantees of future results.
JPMorgan Chase Bank, N.A. Member FDIC. ©2023 JPMorgan Chase & Co.