Mortgage Statements Quick Guide
Chase mortgage statements make it simple to find what you need.
Explore your neighborhood with Chase MyHome®
View trends in your neighborhood like recent sales, listings, average selling price and more.,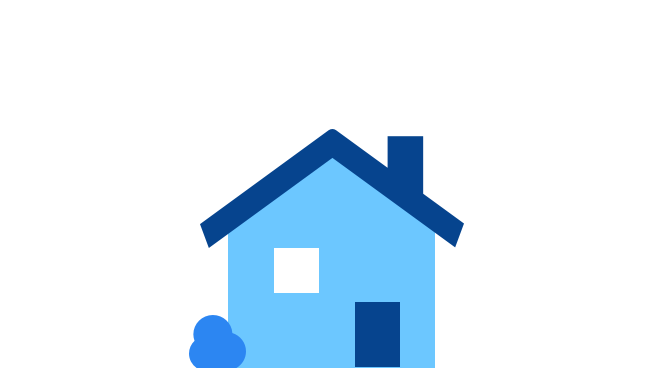 Important information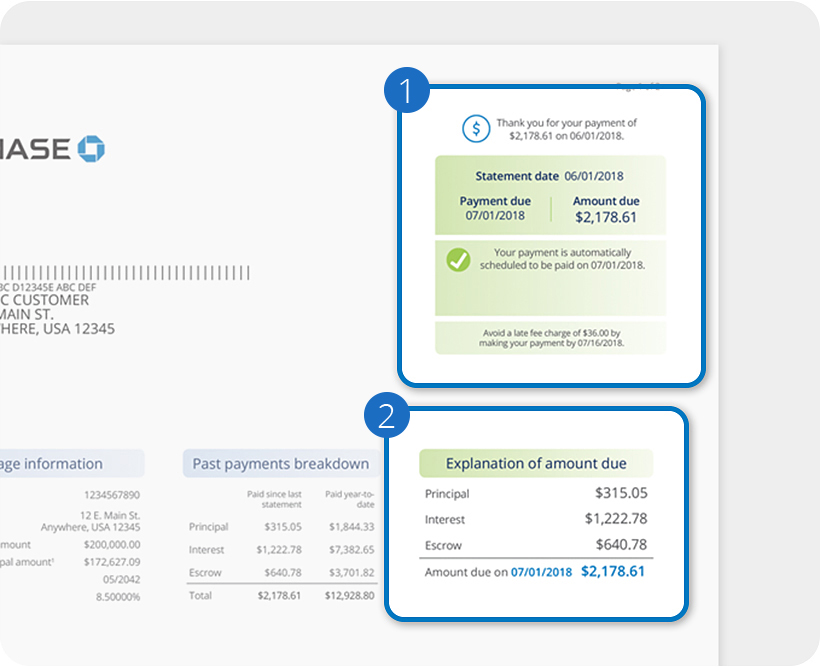 A summary of your statement shows your most important information:
Last payment received and date
Next payment amount due and date
Enrollment in Automatic Payments and date of your scheduled payment
Just below the summary section is a more detailed explanation of your amount due to help keep you informed.
Helpful alerts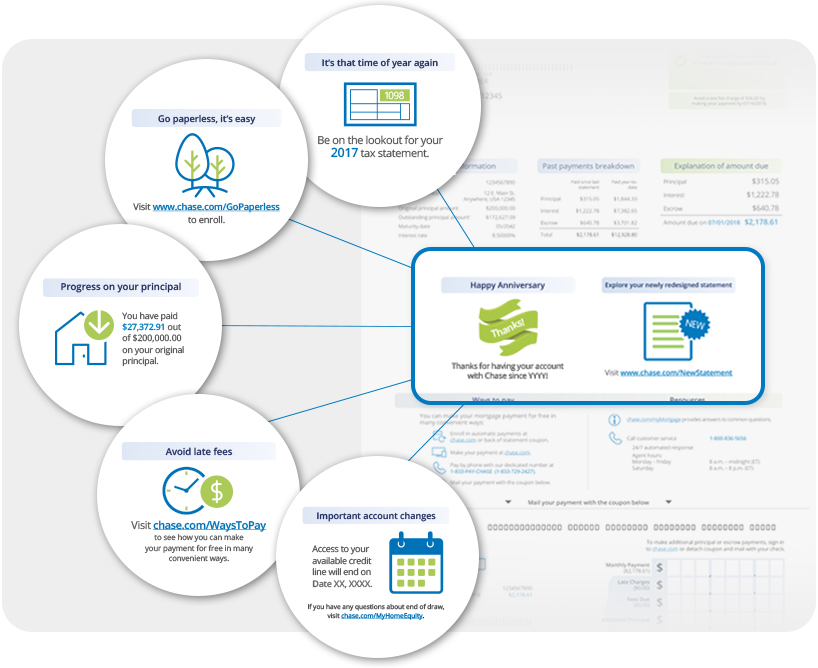 These customized snapshots help you get the most from your account and keep you informed about:
Tax and escrow statements
Progress on paying down your principal balance
Tips on how to make convenient payments and avoid late fees
Ways to pay and resources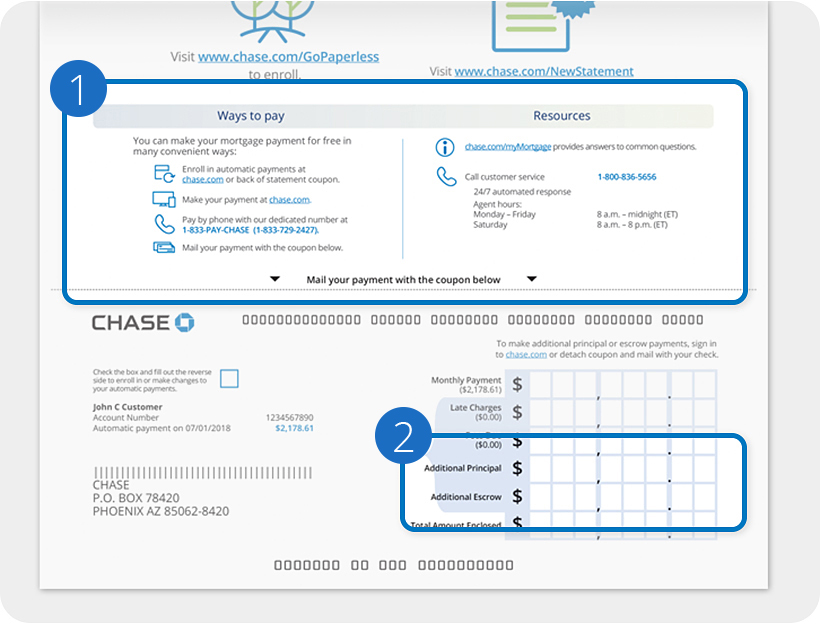 A brief list of all the convenient ways you can pay your mortgage is shown. You'll also find:
1. Links and phone numbers for making a payment and resources you can use to get answers to your questions.
2. Space to easily make additional payments on your principal – paying down your mortgage sooner – or toward additional escrow to avoid a shortage.
Transaction activity and contact information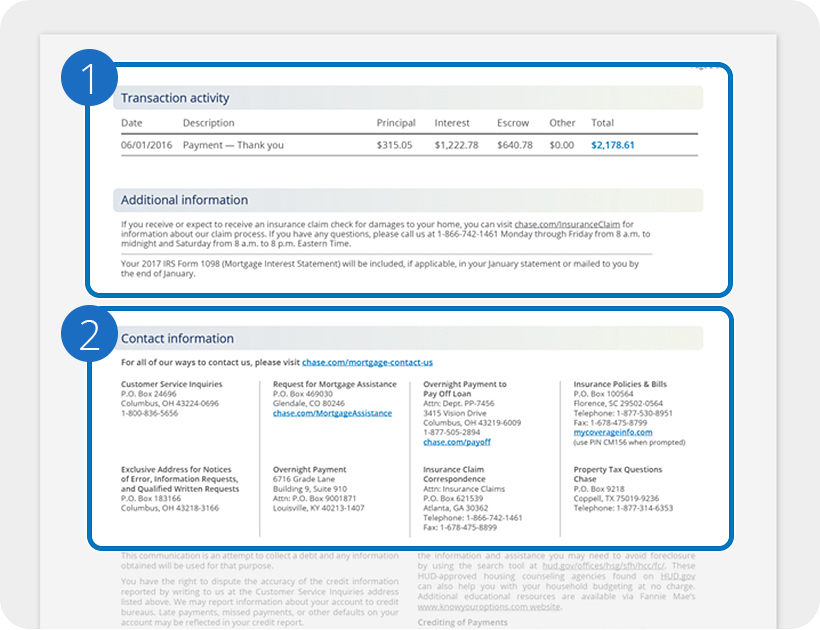 1. Transaction activity
Get a quick summary of each transaction on your mortgage account including the date, amount and a brief description of the transaction. It's a fast and easy way to stay in the know.
2. Contact information
If you need to reach us, everything you need is gathered in one convenient place:
Web URLs
Mail addresses
Telephone numbers
Fax numbers
Automatic payments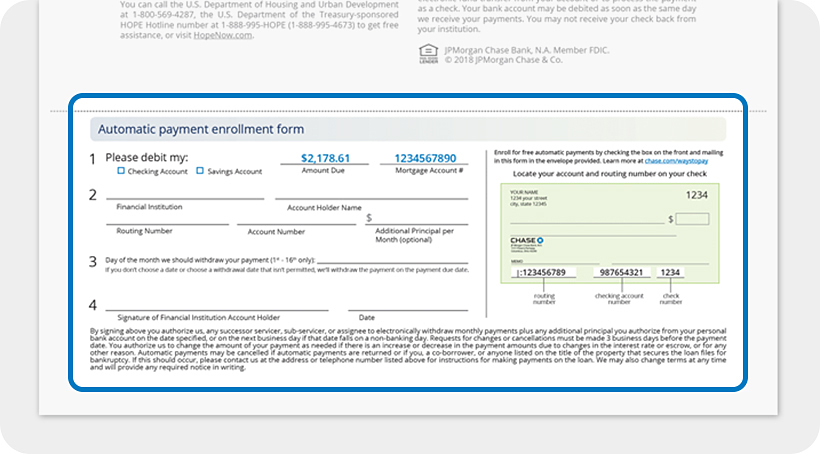 This is where you will find the form to enroll in Automatic Payments or modify your existing set-up.
Schedule your payment and avoid the hassle of writing a check or mail delays
Never worry about forgetting to make your payment
Enroll in Alerts that notify you before your automatic payment is about to be paid
See easy-to-read Chase statements on chase.com for up to 7 years.