Investment Resources
Perspectives
As the global economy continues to evolve, our team of economists and analysts offer unique perspectives on the challenges our clients will face now and in the future.
The Federal Reserve's Rate Increase
Chase Chief Economist Anthony Chan, PhD, gives us his analysis of the recent rate increase and its potential economic impact.
Winter Economic Outlook
Interest Rates and the Growing Economy

Chief Economist Anthony Chan, PhD, shares his latest economic outlook, and explains why higher interest rates signal an improving economy.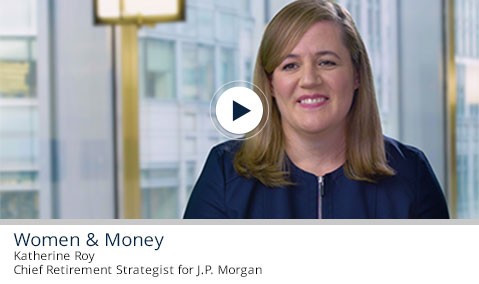 2015 Year-End Retirement Action Plan

The end of the year is always a good time to assess your overall financial picture, especially your retirement plan. As the year comes to a close, use this action plan to ensure you make the most of your retirement savings for 2015.

Making Smart Choices: Ensure Your Assets are Distributed as You Wish

Naming your beneficiaries is just as important as creating your will. Learn about the importance of periodically conducting a beneficiary review.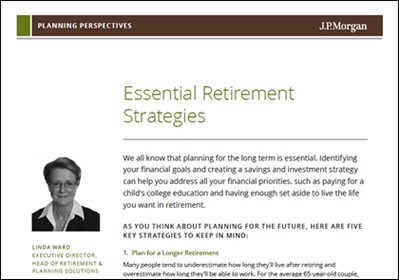 Investing In College: Building a Savings Plan

To meet college funding and other goals, developing a plan is an important first step. Find out how planning today can help you meet your key goals, including college and retirement.

Max Out. Don't Miss Out.

Plan to put your IRA to work in 2015 to maximize your retirement savings. Max Out. Don't Miss Out. outlines five savvy strategies to help you get the most from your IRA.`



9 Tips to Help You Achieve a Financially Successful Retirement

With the right savings and investing strategy, a successful retirement is within reach. Here are some ideas to discuss with your Advisor to help you stay on track in achieving the retirement lifestyle you want.

Integrating Social Security into Your Retirement Plan

Factoring benefits into your retirement planning process.

Essential Retirement Strategies

When planning for retirement, keep these key steps in mind for your portfolio.

Planning and Saving for the Retirement You Want

Our insights can help you plan for a successful retirement. With ongoing guidance and advice from your Advisor, we can help you stay on track to meet your retirement goals. Let us help you as you plan the retirement you want.