Investment Resources
Perspectives
As the global economy continues to evolve, our team of economists and analysts offer unique perspectives on the challenges our clients will face now and in the future.


Global Momentum

Chief Economist Anthony Chan, PhD, explains in his Fall Economic Commentary that after the Great Recession the U.S. led the developed world in economic growth. Now other developed countries are regaining momentum. Learn what this means for you.



2017 Year-End Retirement Action Plan
As the year comes to a close, now may be a good time to check in on your retirement savings plans. Our 2017 Retirement Action Plan offers useful information and highlights action steps you can take now to help you make the most of your retirement savings for 2017.


Women & Money
Katherine Roy, Chief Retirement Strategist for J.P. Morgan, discusses how women can become more engaged with long-term investing and prepare for their future.
Don't Miss Out: Five Strategies for Getting the Most Out of Your IRA
Contributing to IRA accounts can help you save more than you think, even if your contributions aren't tax-deductible. Don't Miss Out. outlines five savvy strategies that can help you boost retirement savings at any income level.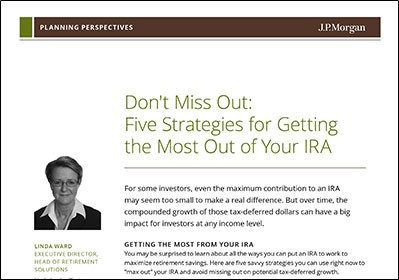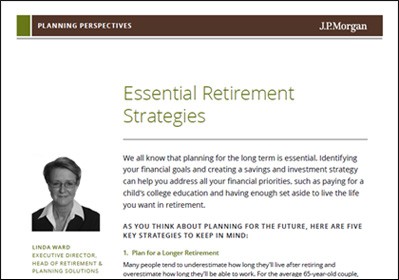 Essential Retirement Strategies

When planning for retirement, keep these key steps in mind for your portfolio.