NAPKIN FINANCE
Rebalancing: Keeping your portfolio on course
Rebalancing seeks to bring your portfolio back in line with your target allocation, even when market winds push you off course.
IN BRIEF
When markets rise and fall, the value of the investments in your portfolio increase and decrease. Over time, shifting markets can send your portfolio and targeted risk level off course, knocking you off the path to achieving your goals.
Establishing a consistent rebalancing strategy can help keep your portfolio on track when the market winds are blowing one way or the other.
Start with an investment strategy built for your goals, but plan for shifting currents.
Your goals, time horizon, and risk appetite determine the right mix of investments for you, but choosing the right investment mix is only your first step.
After you have your target allocation, you need to keep tabs on it to help you stay on track to meet your goals because as different investments move up and down at different times your portfolio may drift off course. This is when rebalancing comes in. Selling a portion of your appreciated investments and buying more of your depreciated investments, while counterintuitive, can help you restore the appropriate mix of risk and stability.
A quick example
Assume you have a balanced portfolio with a value of $1,000 and a target asset allocation that looks like this: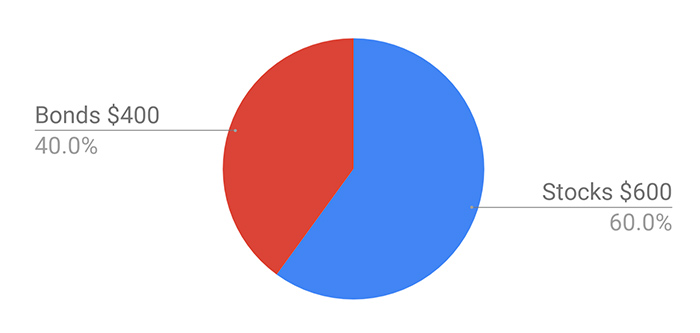 Over the next few years, stocks have a strong run, but your bond holdings underperform. When you check on your portfolio, it now looks like this:
While your stocks have made impressive gains, they now represent too much of your investment pie, leaving you vulnerable if the stock market declines.
You can rebalance by buying enough bonds and selling stocks to restore your 60% stock, 40% bond mix.
You're the captain of your ship—don't let emotions dictate your direction.
Trimming your top-returning investments and adding money to your worst performers can be difficult. After all, when stocks or other holdings are surging, it can be tempting to invest more (just as tempting as it is to sell your poor performers). Rebalancing can help you avoid investing on emotions by giving you a clear map for your path forward.
Plot your course carefully.
There are two main rebalancing strategies:

Calendar: You rebalance periodically—usually on a monthly, quarterly, or annual basis.
Range: You rebalance only when your asset allocation has changed by a certain amount, such as +/- 5%.

Keep in mind that rebalancing may affect your taxes. Be sure to keep accurate records and consult a qualified tax professional.