Check Routing Numbers
The American Bank Association (ABA) routing/transit number and your Chase account number can be obtained from a voided check. Chase Liquid® customers can find their account and routing numbers by logging into Chase.com, choosing the "Customer Center" tab, and then the "Set up direct deposit" link.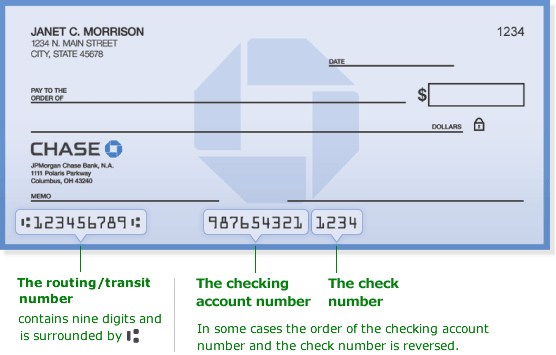 The routing/transit numbers are also available in the table below. Select the region that corresponds to where you opened the account.
Routing/Transit Number Translation Table

Region

Routing/Transit Number

Arizona
122100024
California
322271627
Colorado
102001017
Connecticut
021100361
Florida
267084131
Georgia
061092387
Idaho
123271978
Illinois
071000013
Indiana
074000010
Kentucky
083000137
Louisiana
065400137
Michigan
072000326
Nevada
322271627
New Jersey
021202337
New York – Downstate
021000021
New York – Upstate
022300173
Ohio
044000037
Oklahoma
103000648
Oregon
325070760
Texas
111000614
Utah
124001545
Washington
325070760
West Virginia
051900366
Wisconsin
075000019