Make your savings work harder for you
A CD ladder allows you to open four CDs at the same time, for the same amount, but maturing at staggered intervals. Here's an example for a 12-month CD ladder:
1
Open CDs simultaneously
Open four CDs at the same time, with 3-, 6-, 9- and 12-month terms.
2
Build ladder as CDs mature
When each CD matures, its new term automatically changes to 12 months.
3
Continue to reinvest
The result is four 12-month CDs, with one maturing every three months.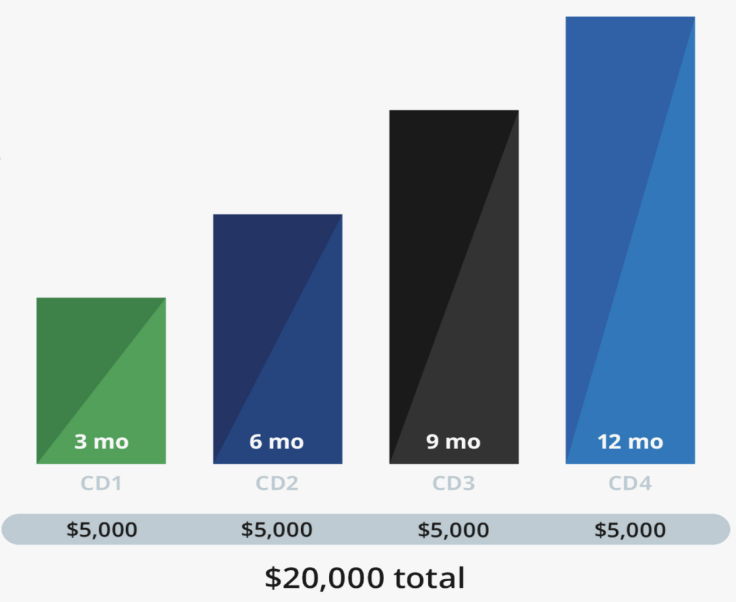 More benefits of a CD ladder
Reliable access to funds
Cash is available at planned intervals to help cover expenses.
Flexible
CDs that reach maturity can be rolled into a new CD that matches the APY and term of the longest CD or you can use the money.
Peace of mind
You'll earn a fixed interest rate and have the security of FDIC insurance up to the maximum allowed by law.
We offer two CD ladders: A 4-month CD ladder made up initially of 1-, 2-, 3- and 4-month term CDs, and a 12-month CD ladder made up initially of 3-, 6-, 9- and 12-month term CDs. Each CD in the ladder receives its own unique account number and CD receipt at account opening.
CD ladders can be opened by clients with a linked Chase Private Client Checking℠ account. Open a CD ladder at any branch. All 4 CDs in a ladder are opened at the same time, for the same amount, with a minimum of $1,000 in each CD.
Each CD will automatically renew to the longest term of the ladder (either 4 or 12 months). You'll be reminded of the new term on your CD Maturity Notice, which you'll receive as each CD in the ladder reaches maturity.

You may add or withdraw money in a CD during the grace period following each CD's maturity date.

Interest rates vary based on the account balance at opening or renewal. See the CD ladder section of the Deposit Rate Sheet for the specific interest rate for each CD term in a ladder.
A standard CD cannot be changed to a CD ladder. However, once your CD matures you can choose to withdraw funds from your standard CD and open a CD ladder as a group of 4 CDs.