Travel Together Ticket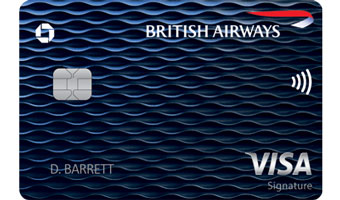 Travel with someone special.
Spend $30,000 each year on your British Airways Visa Signature® Credit Card and receive a two-for-one Travel Together Ticket.
Traveling the world is great — and it's even better when you can share the experience with someone else. Every calendar year that you spend $30,000 on your British Airways Visa Signature Credit Card, we'll give you a Travel Together Ticket good for two years.
The Travel Together Ticket gives you a second seat for a companion, on the same flight and in the same cabin, when you book a reward flight on a British Airways mainline flight originating in and returning to the United States. All you'll have to pay is the taxes, fees and carrier charges for you and your companion's tickets.
British Airways has over 300 destinations waiting to be explored, and all of them are better explored together. At time of this publication all reward flights and Travel Together Tickets are subject to taxes, fees and carrier charges of approximately $682-$1250 per adult in economy or $1,250 in business class based on travel from Seattle to London. Flights subject to availability.