Your Life
Travel
Three Perfect Days in The Greek Islands
By
John Newton
Posted: 12/28/15
Updated: 06/25/18
Greece has thousands of islands, and picking just three to visit can be difficult. If time is limited and you want to get a taste of the best of island living, Mykonos and Santorini in the Cyclades and Patmos in the Dodecanese should be at the top of your list.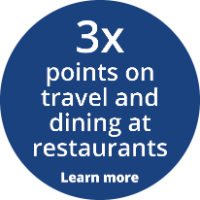 While all are breathtakingly stunning, each has a distinct personality. Here is how to get the most out of every sun-dappled and ouzo-scented moment if you have three days to explore these islands.
Sights to See and Sounds to Hear
Mykonos has been famous since the 1960s for the lively nightlife of its bars, clubs and restaurants, but there is plenty to do here while you wait for sunset. Wander Little Venice, a warren of streets with closely packed merchants' homes, and try to capture the beauty of Mykonos's iconic whitewashed windmills on film (or in pixels). The principal attraction of Mykonos is, however, its neighbor: Delos, the legendary birthplace of the god Apollo and his sister, Artemis, now a UNESCO World Heritage site. Boats leave regularly for the short trip to Delos, but the archaeological site closes at 3 pm so it's better to visit early in the day to have time to explore the many ancient temples, houses, and tombs.
The main attraction at Santorini is impossible to miss, the caldera of a collapsed ancient volcano. Glimpses of life before the ancient eruption around 1627 B.C. that changed Santorini forever can be seen at the Museum of Prehistoric Thira, where fresco painting salvaged from a dig that began in the 1960s are on display.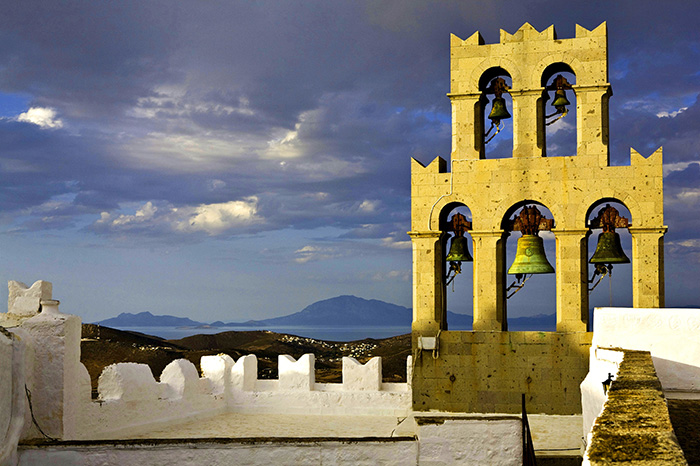 If Santorini is associated with the fire and brimstone of an ancient eruption, Patmos is most often associated with an account of fire and brimstone to come. St. John wrote the final book of the Bible, Revelation, here. The hilltop Monastery of St. John preserves the connection to the sacred site while just below it is a smaller monastery and the cave itself where St. John wrote his book.
In the town beneath the monastery, several small, whitewashed Orthodox churches show icons with mysterious pasts and supposed healing powers. There is, however, increasingly another side to the island. Now alongside nunneries and hostels catering to pilgrims, tavernas and boutique inns are opening as well.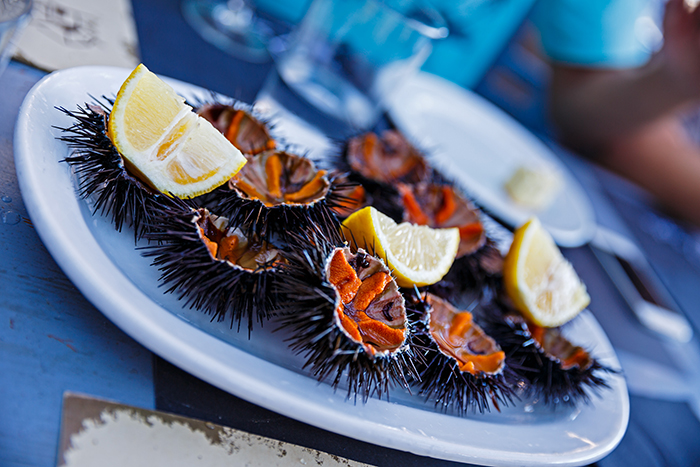 Meal Plan
Mykonos has plenty of choices when it comes to restaurants, bars and clubs, but few places that are all of them in one. Scorpios Mykonos sits on its own peninsula overlooking the Paraga and Kavos lagoons, and the complex encompasses a restaurant, bar, beach club and even a boutique hotel. A nearby local nature reserve makes for an appealing excursion either before or after you head to this decidedly stylish place. Reservations are recommended. Even if you have never been to Mykonos, you may have seen images of Spilia, a restaurant located in a cave by the sea (spilia means "cave" in Greek). While a large part of the appeal of this legendary restaurant is its location, the fresh lobster commands attention, too. The restaurant is part of the Hotel Anastasia Village in the Saint Annas Bay, and while it's more expensive than some other options, if your wallet is thick and you love a good meal in an unforgettable setting, Spilia is the ticket.
Though it is quieter than Mykonos, Santorini also has a long list of excellent restaurants, and picking a favorite can feel almost impossible. But if you have time for only one meal on the island, Archipelagos, housed in a former seaman's house in the caldera cliffs in Fira, is consistently cited as one of the best dining options on the island. The view is stunning, and you'll also get a chance to try the local produce. The restaurant uses locally grown tomatoes, once a major export of the island but now only grown by a select few farmers.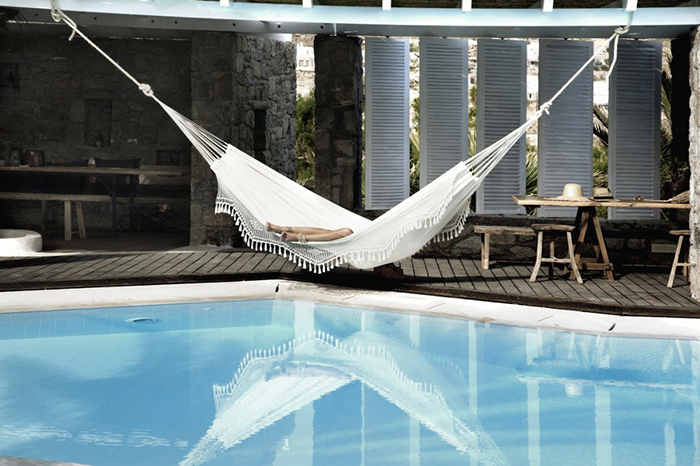 Sound Sleeps
Of the three islands, Santorini has the widest choice of hotel options, from modest guest houses to luxury properties that regularly appear on various lists of the world's best hotels. In Oia, a village carved into the hills surrounding the caldera, there are two good choices after a day of wine tastings or exploring the ruins of Santorini. The Oia Mansion hotel is a small boutique property in a 19th-century sea captain's home. It's perched high on a hill with stunning views and simple, but elegant rooms. Also on Oia is the Starwood Luxury Collection's Mystique Hotel whose infinity pool loses itself in the vastness of the caldera behind it. The whitewashed cavelike rooms are the perfect sanctuaries after a day under the sun and a dinner of grilled octopus at the hotel's Charisma restaurant. On Mykonos, the San Giorgio Hotel has adopted a "Bohemian luxury" style—spare and artfully composed whitewashed rooms with reed matting, simple furnishings and beautiful art pieces.
The island of Patmos has more limited options than the other two islands, but you don't need to fear monastic lodgings more appropriate to St. John. As Patmos becomes more worldly, so do her hotels. Porto Scoutari Romantic Hotel & Suites, on the shore of Meloi Bay and its beach, is a bungalow style hotel with a pool, canopied beds, and public spaces filled with antiques.
Interested in booking travel? Learn more about the Greek Islands through our professionally curated travel guides available to Chase Freedom®, Chase Sapphire and Ink® from Chase cardmembers through Ultimate Rewards®.
Not yet a Cardmember? Explore the premium travel rewards of Chase Sapphire Reserve®.
John Newton is the Senior Editor, Branded Content at AFAR Media. He was previously a senior editor at both Condé Nast Traveler and Travel+Leisure and has written travel stories for many other outlets.