Your Life
Style & Shopping
Fern Mallis: How I Took the Fashion Game to the Next Level
By
Mark Yarm
Posted: 12/28/15
Updated: 11/10/17
In the world of fashion, Fern Mallis is a living legend.
As executive director of the Council of Fashion Designers of America, Mallis in 1993 created the fashion event 7th on Sixth—later known as New York Fashion Week. 7th on Sixth gathered the city's runway shows all in one place (under huge white tents in New York's Bryant Park) and, in the process, elevated New York designers to the level of their European counterparts.
Born in Brooklyn, Mallis learned about the fashion industry from her father, who sold scarves out of his showroom on New York's Fifth Avenue. "One of the quotes that I love from my dad is, 'No two people should have to worry about the same thing,'" she says.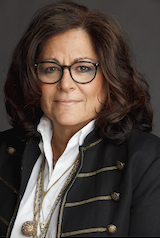 Mallis took this advice to heart when she was running Fashion Week. "People would always stop me and say, 'How come you're so calm? There's so much chaos going on around you,'" Mallis recalls. "And I'd say, 'Because there are other people working for me who are paid to worry about this, so I don't need to.' "I always used to say, 'I have my stewardess face on,'" she continues. "When you're on an airplane and you hear something jarring, the first thing you do is look at the stewardess. And if she runs up the aisle and stops serving the coffee, you know you're in trouble. If she just doesn't pay attention and keeps going, you figure, 'Okay, it's fine.'"
Having that sort of Zen attitude comes in handy when you're in charge of a highly scrutinized juggernaut like Fashion Week. "I realized early on I was never going to please everybody," Mallis says. "There were seasons when there were so many celebrities, and everybody would go crazy: 'They're in our face, they're in our way! This is not about them!' So we'd send out a message to designers and their PR firms to tone it back. Then you'd get the next season and all the press would write, 'The shows are so lackluster—there are no celebrities here.'"
Mallis doesn't need to worry about that sort of thing anymore. In 2010, she stepped down as senior vice president at IMG Fashion, leaving her beloved white tents behind. (The IMG company had acquired 7th on Sixth in 2001.) When Mallis left, she had no idea what she'd do next. "I've never had a five-year plan, I've never had a 10-year plan," she says. "Everything kind of flowed, one thing into the next. I always believed that if you do a good job, then the next things happen."
Among those "next things": running her own consulting firm and hosting a well-regarded series of Q&As, called Fashion Icons, at New York's famed 92nd Street Y. In April, she released the book Fashion Lives: Fashion Icons With Fern Mallis, a collection of 19 of those interviews, including intimate talks with Tom Ford, Marc Jacobs, Calvin Klein, Donna Karan, Michael Kors and Tommy Hilfiger.
"The secret to a good interview is having a good subject," Mallis says of Fashion Icons. "I'm interested in how they started. What was their family like? What was their bedroom like? Asking Calvin Klein, 'Look, I know you grew up in the Bronx. I know it wasn't in a white, minimal apartment. What did your mother's house look like? Where are those taste levels from? What informs you?'"
Mallis is currently readying a sequel to Fashion Lives. As for what else is next, she says that she's "not ready to close shop yet." Though Mallis is more than content with what she's accomplished already. "I'm very happy that on my tombstone it will say, 'She created Fashion Week, and it changed the game,'" she shares. "It was a game-changer. I've done a lot of interesting things in my life. But that particular initiative literally changed an industry and put American fashion on the map."
Today, she has her own words of advice for anyone looking to get into the fashion game. Her maxim? It's very simple: "Be nice." Though when she tells people that—as she did when she met with contestants on the first season of Project Runway—"they look at me like I have three heads," she says. "There's a lot of talent out there, and at the end of the day you really don't want to work with somebody who's a pain or a diva. You want to work with the person who's nice. I like to think nice wins in the end."
Mark Yarm is a freelance writer specializing in covering culture and technology. A former senior editor at Blender magazine, he is the author of Everybody Loves Our Town: An Oral History of Grunge.