Your Money
Manage Credit & Debt
How to best finance your home improvement plans
By
Farnoosh Torabi
Posted: 12/29/16
Updated: 02/28/20
While a home purchase can end up being the greatest expense of one's life, a home improvement project, depending on its size and scale, can be a financial feat all its own.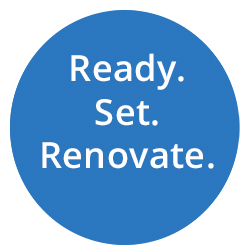 The investment can be worthwhile, especially if you're making improvements to a home's kitchen and bathroom and making upgrades that would appeal to prospective buyers. These moves can help increase the value of your home well beyond the cost of the project.
But how to finance it?
You may not have all the cash on hand to fully fund a home improvement plan. The upfront costs related to securing a contractor and buying materials can quickly empty your savings account before you've even started the demolition. You may also need some emergency cash to cover an unexpected turn of events during construction.
To buy yourself and your family more financial flexibility and time to pay for your project it might make sense to use a Home Equity Line of Credit—also known as a HELOC—or credit card instead of cash.
You're familiar with credit cards, but may be wondering: how does a HELOC work, exactly? When does it make more sense to use this form of financing over a credit card?
First, the facts: A HELOC provides you with a credit limit equal to a portion of the difference between the market value of your home minus the balance of your mortgage. So, if you owe $300,000 on your mortgage and it's valued at $500,000, you have $200,000 in equity. A HELOC will usually provide a line of credit up to 80 percent of your home's value, less any other liens such as a first mortgage.
You can borrow using your HELOC as you need it, and when you repay the borrowed amount plus any accrued interest, the credit line gets replenished during the draw period (typically 10 years). In this way, it's similar to a credit card which provides users with revolving credit.
In the specific case of a home renovation, a HELOC can come in handy if you have a large project and need to pay contractors and manufacturers on the spot by check.
Generally, a HELOC carries a lower interest rate than many types of credit cards, too, so it may be more cost effective if you plan to carry the balance for a while. In addition, interest paid on a HELOC used for substantial home improvements, may be deductible.
If your project will cost well into the five figures, it may be better to use a fraction of a home equity line of credit, as opposed to maxing out a credit card.
If you decide that a credit card is your best option, look into cards that offer an introductory zero percent APR. This will allow you to avoid interest payments as you pay down the balance in the first year. The 15-month marker also serves as a helpful deadline to remind you to pay off your debt by then. After that period, the interest rate will likely increase.
Final thought, no matter which direction you take: While credit buys you more flexibility, it is important to remember to stay regimented, spend within your means and not use credit as a way to go overboard on your project.
Farnoosh Torabi is an author, television personality and personal finance expert who works with Chase Slate to provide financial education.