Your Life
Style & Shopping
A Gift for You (And One For Me, Too): Treating Yourself During the Holidays
By
Jennifer Walsh
Posted: 12/23/15
Updated: 11/01/18
It's that wonderful time of year filled with festive holiday parties, beautifully strung lights and of course, gifting, because the one thing more fun than getting gifts might be the look on someone's face when you've given them the perfect present.
Even more fun? Getting yourself a little something, too. A recent Chase Freedom survey shows that self-gifting is part of the American holiday shopping spirit, with 85 percent of holiday shoppers surveyed saying they 'gift themselves' while shopping for others. And many are using points to indulge. Among holiday shoppers surveyed who have a credit card that offers rewards, 77 percent said they're likely to use the rewards they earn from holiday shopping on gifts for themselves.
In the spirit of treating yourself this holiday season, we've put together a list of gift ideas that give you a little something, too.
Give the Gift of Relaxation, Get a Little Pampering Yourself
Head to the spa this holiday season, and keep the zen going all year round. Some spas, like Bliss World, offer a monthly membership. Bliss World's includes monthly facials or massages, discounts on some products, and two guest passes (here's where you come in!) per year for services at membership rates. One for you, one for me never seemed so relaxing.
Give the Gift of Food, Get the Gift of a Good Meal
Do you have anyone on your list who loves to travel and loves food? If you do, consider Try The World, which is a ticket to having the foods and cultures of the world delivered right to to your door. Each box is curated by local chefs who select authentic and delicious items from countries around the globe. Be there when the box arrives to taste the world from the comfort of your own (or your friend's) kitchen.
Get the Kids Moving, Earn Some Feel-Good Points
UNICEF Kid Power helps children become active and learn about new cultures and earn points as they go. UNICEF explains on its website that points unlock funding from partners, parents and fans, and funds are used by UNICEF to deliver food to malnourished children around the world. The more kids move, the more points they earn. Teach your children to make a difference through their actions, and feel better than if you just went to the toy store.
Give the Gift of Adventure, Then Tag Along
Do you have adventure seekers on your list? Give them the gift of experience. Cloud9Living.com partners with experience providers for things like sailboat lessons, wine tours, race car driving and even fighter pilot lessons. Splurge on two spots and make winter a little more fun.
Give an Online Gift, Get Rewards
There are plenty of perks for online shoppers. For starters, you avoid the lines and chaos of department stores (especially during those extra tense last few weeks before the holidays). You can get gifts delivered directly to your door, often gift wrapped, and, with some retailers, you get the opportunity to spend on yourself.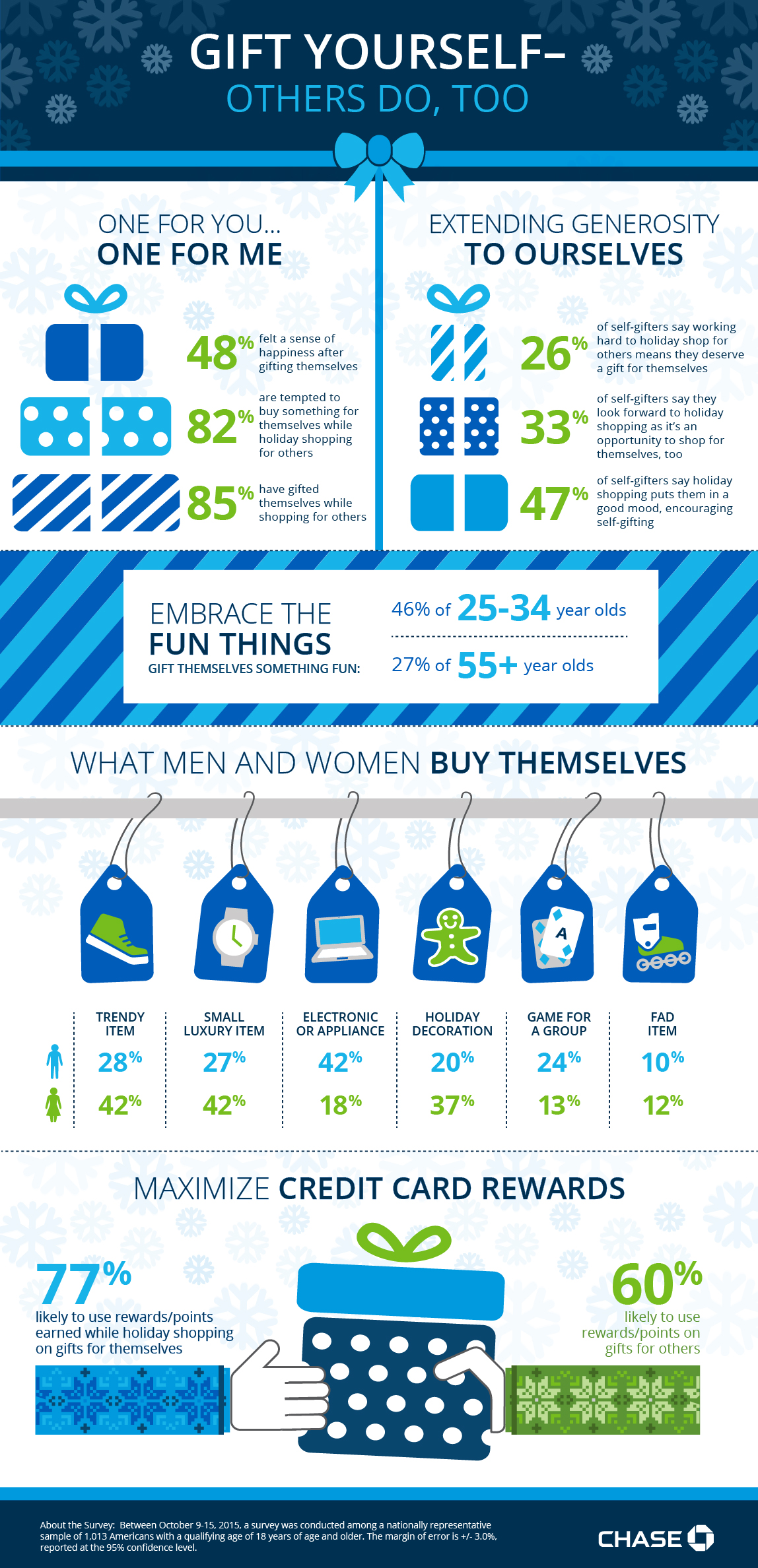 When you're shopping this holiday season, find some ways to treat yourself to something fun. Redeem Chase Ultimate Rewards points using the Chase Freedom Mobile App available on both the Apple App StoreSM and Google Play™ . The card is for the essentials, the cash back is for the fun.
Photo: iStock/Getty Images | Jennifer Walsh is a retail expert and consultant and the founder of The Beauty Bar and Pride & Glory.