Small Business
Manage Your Business
Buzzwords to ban—and keep—in the new year
By
Brian Honigman
Posted: 12/14/17
Updated: 01/16/18
This story is part of the Chase Guide to Powering Your Business in 2018. It is brought to you by Chase Business Banking.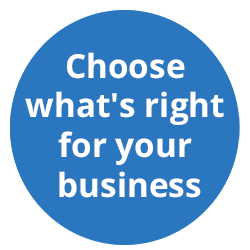 Synergy. Viral. Big data. If you've spent time in business meetings this past year, you've almost certainly heard those words a few—more likely, a few dozen—times. Perhaps you've even heard them coming out of your own mouth.
As you think about changes you want to make for the new year, consider deliberately banning words or phrases that might have been trendy a few years ago, but now have the potential to make you seem irrelevant.
With that said, there's no need to ban buzzwords altogether. In fact, when used correctly, common language terms is an indicator of expertise. "As a small business owner, there's a benefit to showing that you're on top of the latest trend," says Jeremy Goldman, founder of the Firebrand Group, a think tank devoted to helping brands and organizations innovate. He adds, "Some buzzwords are tied to a particular industry, so if you do use those particular words or phrases you'll instill in your customers the sense that you truly belong."
The trick is to figure out which buzzwords are hot right now—and how to use them.
Buzzwords to ban
So how do you know when a buzzword has outlived its usefulness? When it feels forced into a conversation or used as an attempt to simply look smart, it's best not to use it, Goldman says. "The key is to ask yourself if the buzzword you're hoping to use is going to help clarify what you're trying to say, or distract from your messaging."
Take the term "viral," for example, which peaked in the early days of YouTube's popularity, but isn't an accurate way to describe success online anymore. More businesses today focus on reaching the right people online (instead of everyone), downgrading the word "viral" from buzzword to something far less descriptive. Similarly, other former buzzwords describing online success—"hyper-relevance," and "rightsizing"—have also lost their luster.
Then there are the terms "thought leader" and "influencer," which are used to describe people who are leading the conversation around a particular issue, impacting change or with a large, loyal audience like Elon Musk.
Both terms are still considered relevant to use as buzzwords to quickly describe a particular type of professional, but they've lost their relevance because many entrepreneurs and business owners give themselves these titles to artificially establish credibility. Not only does this dilute the meaning of the actual word, it can also have a negative effect on your credibility.
And put the kibosh on fluffy terms like "leverage" or "utilize," which are merely synonyms for "use" and don't add actual value to the conversation. Let's drop the word "align."
Finally, keep in mind that any term can evolve into a purposeless buzzword over time if you use it too often. "The overuse of buzzwords takes the power away from them," says Michel Bezoza, the owner of Hunt & Orchard, a New Jersey-based jewelry line, adding: "Only inject them when it makes sense."
Buzzwords to keep
The best fledgling buzzwords bring something new and forward-thinking to the table—a fresh perspective on an old problem, say, or a cutting-edge philosophy of how to bring resources together in a different, more potent combination. Look for phrases that simplify complex concepts, help business owners more clearly communicate with customers and colleagues, as well as ones that relate to a future advancement or shift in a market; having early knowledge of those concepts can boost your reputation.
For example, the term "future-proofing," which describes the process of keeping a company profitable and relevant by adapting to the needs of modern consumers, will likely grow in importance over the course of the next year.
Here are other buzzwords that are likely to be hot in 2018:
Automation: This refers to the process of setting up a system to repeat a repetitive business process automatically, a key ingredient for business success in 2018.
Intrapraneur: These days, big companies are nimble too: enter the intrapraneur, a person who works at a large company but embraces risk-taking and innovation like an entrepreneur.
Internet of things: It's not a new phrase, but as physical items like cars, appliances, software are increasingly connected with internet for increased functionality, it's becoming important even to those in non-tech fields.
Voice search: As the number of mobile-based orders increase, cutting-edge entrepreneurs are investing in speech-recognition technology that allows consumers to search for content and products by saying their terms aloud rather than typing them into a search box.
Finally, if you aren't sure whether a buzzword is worthy of keeping, give it a try; the reactions of your customers and colleagues will help you quickly ascertain which of your buzzwords are raising the level of discourse—and which have gone from "buzz" to simply "zzzz."
Brian Honigman is a Chase News contributor. His work has appeared in Entrepreneur and The Wall Street Journal.