Bold Leaders
Bold Leadership
Jen Yuh Nelson: The Soft-Spoken Powerhouse Behind Kung Fu Panda
By
Alicia Quarles
Posted: 12/17/15
Updated: 11/10/17
Jen Yuh Nelson might be soft-spoken, but don't let her lean frame and quietness fool you. She built a career by boldly defying the odds and facing down her fears.
"Tons of trepidation," Nelson says about her initial reaction when she was asked to direct Kung Fu Panda 2. "I am actually a very quiet, private person. I'm pretty introverted. I really don't like standing in front of large groups and yelling orders in a generalistic manner. I just don't do that. My perception of a director really was a much more bombastic character than I am. I thought, 'if that's the expectation, I can't do that'."
Instead, Yuh Nelson paved her own way with her quiet yet determined style.
She's currently putting the finishing touches on Kung Fu Panda 3, which is scheduled for release in January.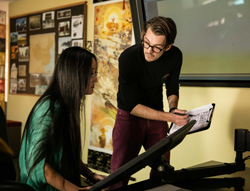 Despite being at the helm of one of the most successful animated franchises of the decade, Yuh Nelson, who started drawing when she was a child, says she never considered a career in film until a Hollywood storyboard artist visited one of her college classes and explained what he did.
"I've been drawing forever. I never thought it was a job," Yuh Nelson says. "I thought it was a hobby. I thought, 'I've been doing that my whole life and I didn't know it was a job.'"
Creating a Character
For Yuh Nelson, the creative process for the "Kung Fu Panda" films actually doesn't start with drawing. It starts with an idea for a character, she says, and Po, the lead character in the movies, has to be one the audience can relate to.
"If you don't have a character people want to go on a journey with, then you don't have a journey," she says.
Then there needs to be an important point in the character's life. "What is the moment for that character when everything shifts," she says. "What does it mean for the character, and then how does that shift affect the character? That's the core backbone of a movie for me."
Po, she says, has insecurities everyone can recognize.
"We want to do something or wish to do something, or be someone, but we don't feel like we have all of the resources to do it, or think we could do it, or we don't have the skills to do it. He has fan-like enthusiasm. He always faces greater obstacles. His personality doesn't change, but his obstacles change."
And the character, she says, has to connect with the audience for such a film to work.
Overcoming Obstacles
The director says she knows not everything she works on will have the success of the "Kung Fu Panda" movies and says she learned that lesson from a college art professor who gave her a D on a project
"It's ok to fail," she says while reflecting on that incident. "I've survived. I can keep going and keep learning from it."
The director says she put aside her reservations about being the center of attention to step in front of the cameras to star in commercials for Chase, one of the sponsors of the latest Kung Fu Panda film.
This boldness falls in line with her mantra of always trying to learn. In fact, Yuh Nelson says she tries to master one big new thing every year, such as identifying military aircraft. Yuh Nelson says the goal in taking on these challenges is to be continually learning new skills.
When asked what advice she gives to people trying to soar in their professions, she says, "Do the thing that makes you happy so that when no one is telling you what to do, you do it automatically, It all comes down to if you do something well that you spent your entire life practicing how to do, other people will like it too."
Watch Jen Yuh Nelson master digital banking on the Chase Mastery site and follow Chase on Facebook, Twitter and Instagram.
Alicia Quarles is an award-winning journalist based in New York. This multi-platform journalist was the Global Entertainment Editor for The Associated Press. Her articles have been published in The Washington Post, USA Today and The LA Times.