Small Business
Success Stories
Growing Latino-Owned Businesses are Helping Our Economy Grow: Here's How
By
Mariana Pineda
Posted: 12/17/15
Updated: 11/10/17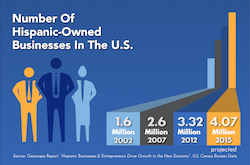 There's nothing small about the growth of Latino-owned businesses in the United States. According to a recent Geoscape report based on U.S. Census Data, from 2007-2015, revenue from Hispanic-owned businesses increased by 88 percent to nearly $661 billion. And the number of businesses owned by Latinos is projected to increase to more than four million this year, making significant contributions to our economy and to communities across America.
Univision and JPMorgan Chase joined forces to focus on Hispanic entrepreneurship at a recent town hall in Houston called "Pequeños Negocios, Grandes Ideas" or "Small Businesses, Big Ideas."
At the town hall meeting, Houston-area business owners participated in a lively panel conversation that addressed challenges, trends, and opportunities to create awareness on services and alternative investment funds for businesses. The forum highlighted business owners who seized opportunity to establish and grow their businesses, and their stories served as a way to educate other business owners on how to harness their own potential.
Finding Motivation
Rocky Castillo owner of Green Mango Print said he had just $200 and an address book full of contacts — and very little experience — when he started his printing business. Castillo says he grew the business into a success through determination and by maintaining a strong employer and employee relationship. "I always treat [my employees] like family, because the more they grow, the more the business grows," he said.
Castillo added that respect for employees is crucial to their passion for work and creates a pleasant atmosphere in business. As with most businesses, Green Mango print excels on the personal and professional growth of the most important asset a company can have, its people. He credits the company's prosperity to the value provided by his personnel.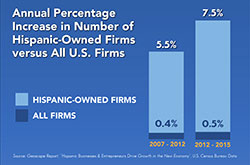 The Core Values Model
Nelson Vanegas and Jessica Bolaños are a husband and wife team. When they started their first business, they said, they wanted to showcase their talents and build their careers. The second time around, their thinking was different. They went for a holistic approach that integrated their mental, physical and spiritual lives in Goodspero, a consulting organization focused on social media and crowd funding for nonprofits. "Making sure that our clients' values and morals are aligned with our vision is extremely important," Vanegas told the crowd. "Even if it takes a little bit longer to find the right clients or to make those relationships grow, it's worth the wait."
This Hispanic millennial couple's experience highlights a rapid cultural change: "We [now] go to social media for news, opportunities and networking. As a first generation millennial it has really been a challenge because our culture is still very different," Vanegas said. "I believe my mom still wonders if I'm going to be able to pay the bills, because she doesn't understand what kind of job I do."
It takes a lot of blood, sweat, and tears to become a successful small business owner. "But the tears are happy tears," said Bolaños. "And we look forward to [the] challenges that are going to make us grow." Hard work and perseverance has allowed this young couple to thrive.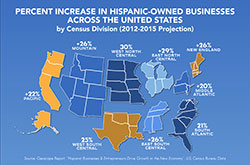 Learning from Diversity...Even When You Are Diverse
Elvia Reyes and Camilo Rivera, the husband and wife team who co-own La Fontaine Reception Hall, started their business to serve Hispanic cultural traditions, drawing from their own heritage. But soon, they saw the potential of broadening their business to serve the very diverse Houston community and growing customer base. Like many businesses, they needed to find ways to adjust their business to suit multiple needs... and often, multiple languages.
"We have suited ourselves well with bilingual personnel in every area of the business — lenders, vendors, you name it," said Rivera. "When I have a business deal, I take my interpreter and have confidence that the business will flourish."
Successful cross-cultural communication is a value that has trickled down to their employees, vendors, and customers respectively. Reyes and Rivera took what could have been a challenge and saw opportunity to connect with customers and grow.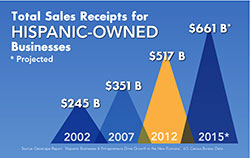 Access to Capital
When it comes to supporting their growth, every business owner shared their experiences in accessing capital. From traditional sources like Chase to organizations like LiftFund—a community development financial institution-- the good news is that there are multiple resources and tools to promote success and growth among businesses of any size.
"LiftFund has been helping small businesses for 21 years," says Nelly Rojas-Moreno, Chief Creditor Officer for LiftFund. "The reason that we do it is because small businesses are the heart of the economy in the United States. They are job creators and most important we see the results." The nonprofit receives support and investments from Chase and other organizations and provide small businesses with capital and also with technical support and consulting on key topics.
Rojas-Moreno says, "the number one issue and biggest challenge facing small business entrepreneurs is cash flow. This is why, the relationship between LiftFund and Chase [Bank] is key." She continues, "Chase gives us grants or lends us money so we can turn around and as a Community Development Financial Institution we can take the risk and prepare the market."
Connecting with Key Resources
All event participants were willing to share their stories to inspire and encourage others to pursue their own path to success. Also, local Chambers of commerce like the Camara de Empresarios Latinos and the Houston Hispanic Chamber reminded viewers and participants that there are resources standing in the wings to support the small business community.
"This is an effort to sprout seedlings by educating the community, informing them, give them life examples of people that started with nothing and have outgrown their business," said Cesar Guerra, a senior vice president at JPMorgan Chase who works with small business owners. Guerra added that the firm works closely with Hispanic chambers around the country and community organizations that promote the growth and support the development of Latino owned small businesses.
Bolaños encouraged the audience to embrace the country's diversity and invest in the people who are stimulating the economy.
"People invest in people," she said, "so let everyone know what your passion is, what you have started, and why, and they will support you."
The key lesson from the forum was clear — opportunity is everywhere. It's up to business owners to seize it.
For everything your business needs in one place, from news and expert tips to valuable products and solutions, visit chase.com/forbusiness.

Mariana Pineda is an Emmy award-winning bilingual journalist and has covered an array of topics such as immigration, education, healthcare and crime. She has worked for ABC, Telemundo and Univision.