Your Life
Dining and Drinking
Follow the Foodies: 5 Predictions for What You'll Be Eating in 2016
By
Nicole Sprinkle
Posted: 12/17/15
Updated: 11/10/17
2015 was a great year for food. Veggies reigned supreme (as predicted last year). Gluten cuisine grew up. And all-day breakfast became a trend at chains and upscale establishments — because who doesn't love eggs benedict for dinner?
With that in mind, here are some predictions for 2016 food favorites.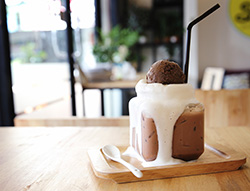 Specialty Dessert + Cocktail Bars
Cupcakes are so over. Donuts, well, they're still going strong , and getting weirder, thanks to places like Portland's Voodoo Donuts where you can get them covered in things like cereal and cookies. Another rising trend: sweets and booze coupling. It's the perfect experience for the whole family, where little ones get housemade s'mores and sundaes and adults find treats like spiked hot cocoa, boozy milkshakes, chocolate cakes made with dark beer and pie doused with liquor. As restaurants continue to cut back on in-house pastry chefs and showstopping desserts, diners may look to other places to get their sweet fix.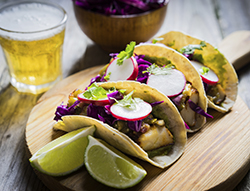 Street Food
As we come off years of "farm-to-table" dining and precious small plates, people are increasingly clamoring for the bold flavors and quick comfort of global street foods, from Indian rotis to spicy Thai papaya salads, from octopus skewers to Jamaican meat patties. The world is truly the limit, and beyond finding these cheap delicacies in food trucks or outdoor markets, actual brick and mortar restaurants specializing in street food are on the rise. You can now enjoy your favorite foreign snack in a well-appointed space, not just on the street.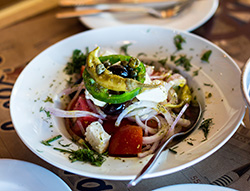 Smaller Menus
It's already been happening over the last few years, but shows no signs of slowing down. Chefs are offering fewer options these days, choosing instead to focus on tightly-curated menus that showcase signature dishes and seasonal ingredients. While diners may sometimes feel disappointed by the lack of of choices, it's less overwhelming and can signal a higher level of quality on the plates. It also ensures that what you're offered is often as fresh and local as possible. Remember the old adage: less is more. If that doesn't work for you, there's always the diner.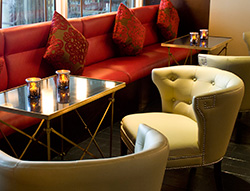 Inspired Design
We've come to a nadir in terms of restaurant design, with every trendy restaurant it seems taking a minimalist approach such as concrete floors, exposed brick walls, high wooden ceilings, gunmetal gray bar stools and virtually no color or art. Of late, however, some restaurants are finding inspiration beyond design magazines, looking instead for authentic personality, whimsy and, maybe most importantly, comfort. That's right, padded seats or booths and chairs with actual backs will begin gracing your favorite restaurants again.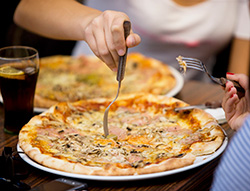 Artisan Pizza!
New York slices, deep-dish, Neapolitan, Roman, Syrian, wood-fired ... there's a type of pizza out there for everyone, and options from the type of crust to the toppings to how you order are in the mix. There are vegan crusts, crusts made with rosemary, thick, thin, doughy, biscuit-like, crispy. Toppings, too, are following the seasonal, farmer's market model and run the gamut from rainbow chard to fried squash blossoms to peaches to house-cured pancetta. There are even pizza joints that work in a Chipotle-like assembly line fashion, allowing you to customize a personal pizza as you work your way down a line of options in crust, cheese and toppings. Look around you. Almost every popular chef has a pizza place on their list of ventures.
Chase Sapphire Preferred® cardmembers enjoy special access to the country's top restaurants and celebrated chefs through the Chase Sapphire Preferred® Visa Signature® Private Dinner Series. Learn about the premium rewards of Chase Sapphire Preferred® here. Already a cardmember? Explore these exclusive dining experiences here.
Photos: iStock/Getty Images | Nicole Sprinkle has written about dining, travel and parenting for the The Huffington Post, Seattle Weekly, Sunset magazine, TimeOut New York Kids and many other publications.