Your Life
Arts & Culture
Live from the Artists Den: Marina & The Diamonds Rock the Hall of Science
By
Rebecca Dalzell
Posted: 12/15/15
Updated: 11/10/17
In a scrappy field in Corona, Queens, New York, an enormous concrete structure—part of the Hall of Science—looks forbidding. Few New Yorkers even know it exists, even though it's a subway ride beyond Manhattan. But once inside, visitors find themselves in an otherworldly space. Towering 100 feet high, its rolling walls are waffled and flecked with blue glass, like a modernist cathedral. Built for the 1964 World's Fair, this, the museum's Great Hall, was designed to celebrate science and outer space. It's not an obvious place for a pop concert.
Yet one night in November, the Artists Den—a music platform showcasing performers in unconventional spaces—take it over for a special show featuring rising British group Marina and the Diamonds. The concert will air in April 2016 on national public television during the tenth season of Live from the Artists Den.
This night, a nature exhibit gave way to a stage and sound system, and the curving walls were splashed with pink, purple and blue lights. An intimate crowd of 350 filled the space, including 15 Chase Sapphire® cardmembers and their guests, who won free tickets and VIP treatment, which includes access to a reserved viewing area, a gift bag, and an invite to the after-party.
Everyone who walks in gasps. "We call it the 'Oh my God' room," says Dan Wempa, the museum's vice president of external affairs. "It's unlike any other venue in the world. Sound wants to be heard there." Even so, it rarely hosts concerts. Only one other musician has performed there in recent times: Björk.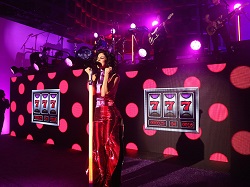 Singer Marina Diamandis clearly relishes the opportunity to have such an unusual arena. "Hall of Science, thank you for existing," she calls from the stage. It was the Welsh native's first time in the borough and the last stop on her American tour. She had worked with Artists Den to select the venue, choosing it over other unique sites in the city. An interactive museum was a perfect choice because, "Marina is like a kid inside," says Artists Den founder Mark Lieberman. "She's so creative and imaginative."
Backed by a four-piece band, Diamandis bounds onstage in a glittering bodysuit and sequined Minnie-Mouse ears. At her first lyric, the audience roared. Die-hard fans—the diamonds of the group's name—sing along, some fresh from Diamandis's sold-out concerts earlier in the week.
The eclectic 90-minute show cycles through three albums and costume changes, with hits like "How to be a Heartbreaker" and "Primadonna." Betty Boop cartoons stream in the background during one tune; a toy dog named Marilyn makes a cameo in another.
Marc Blanco, a Chase Sapphire® cardmember, had been to other Artists Den shows but this one stands out. "It's definitely one of the coolest venues visually," he says. He hadn't heard of the band before but plans to add them to his streaming playlist.
The Artists Den's mission is to present the very best in free, live music through unpublicized show productions in unique settings. Having earned its stripes as a trusted curator, Artists Den draws fans to each show—even those who are unfamiliar with the performers.
The series has become a vital platform to help artists gain national recognition. Artists who have performed early in their careers—just before they break out—include Adele, Ed Sheeran, The National, Imagine Dragons, Hozier, Cage the Elephant, alt-J, Fitz and the Tantrums, and Alabama Shakes. Chase cardmember Liz Kugler thinks Diamandis will be next. "I definitely think she'll be big," she says. "She's got the flair and is a real performer, like Lady Gaga. Her voice sounds amazing."
Plus, the Artists Den is committed to showcasing architectural treasures as part of each television episode. Past venues include Graceland, the first art museum in America, a 1930s silent movie theater, the world's oldest merchant sailing vessel, a former archdiocese cathedral, The New York Public Library, and The Metropolitan Museum of Art.
Over drinks at the VIP after-party, held in a sports-themed exhibition room, people gush about the experience, impressed with the Great Hall as much as the band.
"To be in a venue like this is incredible," says guest Mikey Mizrahi. "It was a singular experience. I almost don't want to tell people about it because I'd be bragging."
Rebecca Dalzell is a journalist and historian. Her writing has appeared in The Washington Post, New York magazine, Travel + Leisure, Time Out and other publications.