Small Business
Finance Your Business
Creativity meets speedy demands of small business customers
By
Kate Ashford
Posted: 12/14/16
Updated: 05/02/19
Online delivery isn't what it used to be.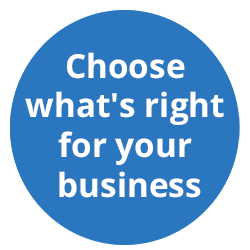 "Ten years ago, if you bought something online, you were just happy that it arrived," says Brian Rimmer, managing director of customer experience for consulting firm Slalom, in New York City. "Now you want minute-to-minute status and you want to know if it will show up in a day or less."
As the use of the internet has spread, and the technologies available to companies to do business online and globally have become more sophisticated, people now expect to be able to get whatever they want, whenever they want it.
For many people, this culture of immediacy is exciting and helpful—a kind of extreme convenience. But for small businesses, expectations of prompt service can create a demand that's difficult to meet, particularly when so many large companies are already delivering. Still, there are strategies small-business owners can use—from making their websites compatible with mobile devices, to hiring staff whose sole job it is to respond to customers rapidly—to help meet the needs for instant service.
Making these accommodations is key, because competition in the immediate gratification industry is stiff. Amazon Prime members can get many items in two business days. In more than two dozen cities, Amazon Prime Now members can order certain items--tooth paste, soda, or a calculator--before noon, and receive it the same day, or even within an hour.
"I needed to review a long report, and it was driving me crazy looking at charts online," says Susan Dzierson, vice president of human resources for a nonprofit biomedical research institute in San Francisco—one of the cities serviced by Amazon Prime Now. She ordered a printer and paper, and the items arrived at her house in a half-hour. "I love delivery services—particularly for anything large and heavy!" she says.
Social media and around-the-clock news have also encouraged this nonstop economy. Facebook and Twitter never sleep. One recent study found that Americans collectively look at their smartphones more than 8 billion times a day.
Some of this can be traced to millennials—a generation that grew up with the internet and smartphones, and an unprecedented abundance of information. Unlike their parents, who remember what it was like to visit a library to write a term paper, millennials live in a world in which they can use services like Chase QuickPay to split the bill at dinner. Just use the Chase app to instantly send cash to other Chase QuickPay members. No breaking of twenties necessary.
For businesses, Uber—an instant gratification service itself—has launched UberRUSH to connect companies with a courier to make fast deliveries. It's only available in San Francisco, Chicago and New York at the moment, but the company has plans for expansion.
When getting paid quickly matters most, Chase Express Funding allows small-business owners to receive funds from customers' card purchases the next business day, rather than the more typical several-day processing. Customers who have business checking and merchant services accounts with Chase can take advantage of this benefit.
"Small businesses are very passionate about their cash flow," says Brent Reinhard, Chief Marketing Officer of Chase Business Banking. "Many small businesses wait several days to receive their funds. We're hoping to solve that problem for them."
Having both business checking and merchant services accounts with Chase has its advantages. It provides an opportunity to organize several of your financial services into one relationship.
Here are seven strategies that small-business owners are using to meet instant-service demands around the country:
Make customer contact ASAP: At Fit Small Business, a resource website, clients use an online form to request a consultation or demonstration.
"The chances of us closing with them is 80 percent higher if we call them back in five minutes," says Marc Prosser, a small-business expert and co-founder of the company. "If we don't, they'll go to a different provider."
If you're out of your office, make sure you have calls forwarded to your cell phone. And if someone fills out a form for your business, have auto responders that can quickly provide information.
Designate someone to handle immediate requests: "I hired a permanent member of staff to handle phone calls from customers," says Max Robinson, who owns Ace Work Gear UK, which sells workwear, power tools and safety boots. "I knew a lot of customers in this industry like to speak over the phone when purchasing products online. So I decided that by hiring a permanent member of staff to handle calls, I could give the customers the instant gratification many of them are looking for."
Charge more for speed: AJ Saleem owns Suprex Learning, a Houston, Texas-based tutoring business, and asks for at least 24 to 48 hours before booking a session, since many of his tutors have full-time jobs doing other things.
"I had desperate parents start demanding tutoring within hours of contacting me," he says. "I figured out another method of tutoring: speed tutoring."
He charges a 50 percent additional fee for same-day service, since tutors often have to drop other things to make time for it, and his tutors use Skype to conduct their sessions.
Make your business smartphone-friendly: On-the-go consumers are often shopping from their phones, and if they can't navigate your site, they'll go elsewhere.
"I make sure that our website is mobile friendly and that we are connected to different social media platforms," says Daisy Jing, CEO and founder of Banish, a beauty product line based in Pasadena, California.
Set customer expectations: From the moment of contact, let customers know what's happening, and when they can expect to see a product or service. When people make a request through on-demand lawn service GreenPal, they receive quotes from nearby vendors within one hour. Once they book a vendor, they get text notifications as well as a visual calendar showing them their service window.
Plan ahead: For custom products, keeping a stockpile of commonly ordered items or parts can shorten production time for impatient clients.
"We manufacture and sell direct higher-end, solid wood desks, tables and other furniture, and there is a lot of hand work that goes into each piece," says Andy Tracewell, director of marketing for Caretta Workspace, based in Lewis Center, Ohio.
Now the company makes some pieces, like desktop frames, ahead of time, because they can be customized in many ways.
Provide a quick consumable: Hannah Raudsepp owns the Honest Beef Company, which ships dry-aged beef from Nebraska ranchers.
"The nature of my product means that it arrives frozen to our customer's doorsteps, so they are unable to dive right in," she says. "So I include chocolate or some other small morsel with my orders. From the moment they open their beef, they have a happy experience."
Kate Ashford is a Chase News contributor. She has written for the BBC, Forbes, Money, More, Real Simple, and Parents, among other media outlets.