Your Life
Dining and Drinking
5 Places to Put Fun on the Agenda This Winter
By
Nicole Sprinkle
Posted: 12/11/15
Updated: 11/10/17
While great food is key to a restaurant's success, it can't exist without an equally compelling atmosphere. How we feel when we're dining out – cared for, dazzled, entertained – ultimately can make or break the experience. So whether you're up for a quirky date night or a fun and elegant holiday feast, these five places combine great food with ambiance galore, so you can leave satiated and happy.
Most Fun for a Winter Date Night: Westward, Seattle
Fantastic seafood with a Mediterranean twist aside, this award-winning restaurant and oyster bar right smack on Seattle's Lake Union is full of charming quirks–taking its inspiration, in part, from the zany Wes Anderson film The Life Aquatic. The references are revealed in an oil portrait of Captain Steve Zissou (Bill Murray) and in a diorama of a ship built into the back of the bar that's like the one in the movie. It contains an Abominable Snowman and other tiny whimsical objects, and you can ask for a spyglass to see them more closely.
In the summer, outdoor seating is at a premium, but come winter, you can still cozy up at a fire pit fashioned from oyster shells right at the lake's edge, cover up with complimentary thick woolen blankets, and enjoy dishes like wood-oven roasted whole Turkish branzino, grilled Spanish sardines, smoked Manila clam dip and potatoes cooked in the fire—and, of course, raw oysters on the half shell. Wash them down with a signature cocktail like a Salty Sailor's Martini and watch the seaplanes gently glide in.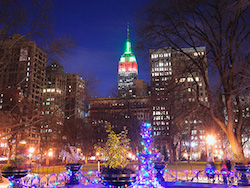 Best Place for the Ultimate Holiday Dinner: Inside the Park at St. Bart's, New York City
Is there anywhere more magical or fun than New York City during the holidays with tree gazing at Rockefeller Center, decked out department store windows and bedazzled avenues? As such, it also makes for the ultimate place to splurge on a holiday dinner. A great pick is the hallowed, historic restaurant inside St. Bartholomew's Church on Park Avenue. The restaurant, Inside the Park at St. Bart's, boasts 30-foot ceilings and a raised dining room amid Byzantine-style décor. Simply stepping up the stairs leading to the terrace of the awe-inspiring church, designed in 1835 by the same architect as St. Patrick's Cathedral, feels momentous. While they put on a Thanksgiving dinner to be reckoned with, any meal here will feel celebratory and includes dishes such as Roasted Magret of Duck with Parsnip Puree, Brussel Sprouts, and Port Wine-Vanilla Reduction or Steak au Poivre with Potato Gratin. Give your meal an extra special touch with a holiday cocktail like the Warm Apple Pie, with Calvados, Allspice Dram and Mulled Cider.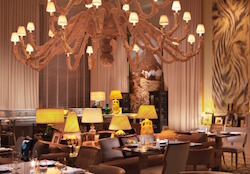 Best Place to Impress the Parents: The Bazaar by José Andrés, Miami
While this Spanish celebrity chef has outposts in several cities, including Washington D.C. and Las Vegas, The Bazaar feels more at home in tropical Miami with its signature Spanish and Cuban Modernist cuisine. Everything here is designed to impress and delight, from the show stopping octopus-like chandelier made from seashells to the ornate, avant garde presentations: tuna ceviche served inside a hallowed out dragonfruit topped with a bright pink, wavy dragonfruit foam or a LN2 Caipirinha served frozen tableside using liquid nitrogen. Even a classic PB&J gets remade with foie gras, while croquettes are presented inside a hip glass sneaker. The whimsy is offset by classic, comfortable leather club chairs and the wait staff is painstakingly polite and helpful, particularly in explaining the over-the-top menu. The people watching is part of the fun as this is quintessential South Beach with couples dressed to the nines, ready to hit the clubs afterward.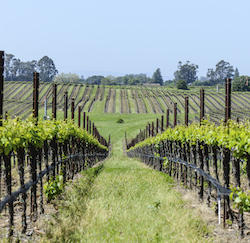 Best Place for a Winter Wine Getaway: Ad Hoc +Addendum, Yountville
Napa in the off-season has a lot going for it. For starters, there are far fewer tourists and the winemakers will spend quality time with you. There's also, of course, less sun, but for anyone who has been there in the height of summer, you know how unpleasantly hot it can get. So if you find yourself taking a winter weekend trip to wine country from San Francisco, but, oops, forgot to make a reservation a year ahead at Thomas Keller's French Laundry, worry not. Head over to Keller's more casual Yountville outpost, Ad Hoc + Addendum, situated on a quiet stretch of country road. The dining room is minimalist with clean lines, dark hardwood floors and green wainscoting and, when the weather's fine, there's a small courtyard surrounded by trees and garden. Either way, you'll partake in a a daily changing menu that offers just one tasting meal. You may want to call ahead to see what's running, but chances are you'll find something marvelous like a Warm Red Bliss Potato Salad, followed by Buttermilk Fried Chicken with Mac 'n' Cheese, Mushroom Veloute and Crispy Shallot, and Grilled Focaccia with Persimmon Compote. It's elevated comfort food in a rural but sophisticated setting. And for about $50 a person, it's easier on your wallet than French Laundry.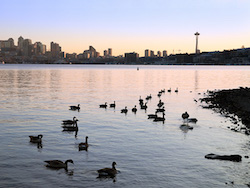 Most Fun for Kids: The Five Spot, Seattle
In Seattle's family-friendly neighborhood of Queen Anne, there's a reason why lines rife with kiddos wrap outside the door from brunch until dinner. The restaurant, which always features a standard diner-style menu with basics like mac 'n cheese, cinnamon swirl French toast, fried chicken and sundaes galore, is more notable for its constantly revolving "American Food Festival Series." It showcases various states for about a month each and is present not just on the plate but in the décor. The art changes accordingly, and huge three-dimensional decorations dangle from the ceiling, like a tropical fish for Hawaii or a Golden Gate Bridge for California. What doesn't change: the big comfy red leather booths, the super-size portions of Americana comfort food and plenty of crayons and coloring sheets if the little ones run out of eye candy.
Make your winter experiences even more rewarding with Chase Freedom. The card is for the essentials. The cash back is for the fun.
Courtesy The Five Spot | Nicole Sprinkle writes for many media outlets including The Huffington Post, Seattle Weekly and Sunset magazine.