Small Business
Financing Your Business
Slowdown on Main Street: JPMC Report Makes Sense of Mixed Economic Messages
By
Rebecca Dalzell
Posted: 12/09/15
Updated: 11/10/17
A new report from the JPMorgan Chase Institute has found a slowdown in everyday consumer spending growth, uncovering new details about consumer spending at a local level.
"This slowdown in growth is one of several puzzling pieces of the overall picture of our U.S. economy," said Diana Farrell, President and CEO, JPMorgan Chase Institute.
"Our new data series aims to clear up some of the ambiguity relative to consumer spending growth now and in the future."
Whether it's the local coffee shop or the hair dresser who knows your family secrets, one thing is clear: neighborhood shops may be feeling a pinch. While spending growth at small and medium enterprises (SMEs) slowed to a lesser extent than large businesses, SMEs account for nearly 70 percent of local consumer commerce sales, meaning that they contributed nearly as much to the slowdown as their larger counterparts. These changes could impact the vibrancy of neighborhoods, which need small businesses to give streets character and foot traffic—and provide local jobs.
In Atlanta, Megan Kreitner Ouzts has noticed a slowdown at her charcuterie store, The Spotted Trotter. "We've definitely seen a dip in sales in all of 2015," she says. "We've usually been increasing year over year since 2011, but for the first time ever sales have been decreasing." The city has experienced significant growth recently, making it an exciting place to be an entrepreneur. But small businesses may now be competing with one another in an over-saturated market. "In speaking with other small businesses I've heard a general consensus that sales are tough," says Ouzts. She thinks that a lot of people are shopping online to find discounts that small stores can't give.
The data also indicates that older and higher-income people are tightening purse strings, while younger and lower-income people have continued to spend at stable rates. When looking at how age and income impacted this slowdown in consumer spending growth, middle- and high-income consumers ages 35 to 64, and consumers 65 and older, contributed the most. Over the 34 months studied, from October 2012 to June 2015, they did the bulk of local spending.
Spending among the group's high earners, who alone generated nearly a quarter of all local commercial spending in late 2014, was down 1.3 percentage points (from +1.0 percent in early 2014 to -0.3 percent in the first half of 2015). Among its middle-income earners, spending was down 1.2 percentage points. While the report doesn't offer detail on the causes behind these changes, it's possible that this could be because retirees are downsizing, while young people are building families and buying homes.
There's No Place Like Home... Except When Shopping
The Institute also found that consumers are increasingly likely to go outside their metropolitan area to make purchases. According to the report, spending growth has significantly slowed when looking at purchases made within consumers' local neighborhoods and metropolitan areas, but has accelerated when considering purchases made by consumers outside the metropolitan area.
Not surprisingly - at least not to the JPMorgan Chase Institute, which recently issued a report on the impact of declining gas prices on consumer spend - the local slowdown in consumer spending growth can partly be attributed to lower gas prices, since people are spending less at their nearby pump.
The report focuses on businesses located in 15 U.S. metro areas, from the corner florist to department stores. The study looked at a wide range of day-to-day purchases—orange juice, t-shirts, movie tickets, haircuts—and analyzed spending growth in different categories. These transactions go beyond what is included in existing private or government data. Unlike other think tanks, the JPMC Institute has access to frequent, real-time reporting, geographic detail and both retail and consumer habits. In fact, JPMorgan Chase Institute researchers analyzed 12.4 billion anonymized and aggregated Chase credit and debit card point-of-sale transactions, not online purchases. It broke them down based on age, income and zip code and isolated local spending by calculating how far consumers traveled to shop in 15 metropolitan areas from Miami to San Francisco.
Given the mixed signals about the direction of the United States economy, the report's granular data provides a crucial local perspective. Updated quarterly, the data will be a new resource for policy makers who want to look at what's really happening in urban economies. And while this new information about consumer spending growth raises new questions- like what is causing older consumers to spend less? Or is e-commerce to blame? It may provide another good reason for consumers to shop local this holiday season.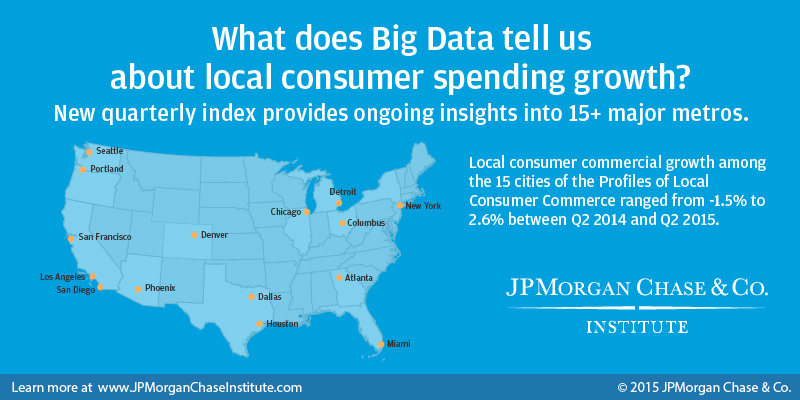 Read the full report from the JPMC Institute here.
Rebecca Dalzell is a journalist and historian. Her writing has appeared in The Washington Post, New York magazine, Travel + Leisure, Time Out and other publications.