Your Life
Travel
Three Perfect Days in Hoi An, Vietnam
By
John Newton
Posted: 12/03/15
Updated: 11/10/17
If Hollywood were to invent a "typical" Vietnamese town that embodied a certain "Indochine" atmosphere, the air scented with the smells of street hawkers' food, a mélange of Asian motifs on tile-roofed buildings and exotic temples with artisans and merchants and chefs going about their business as they have for centuries before, it might come up with a town like Hoi An.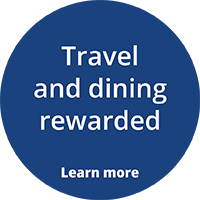 Hoi An, though, is real, and although it has been "discovered" by travelers as an evocative and atmospheric town, the old merchant center where Japanese, Vietnamese, and Chinese cultures have coexisted for centuries clings to its long held traditions. Today, Hoi An is morphing into a more worldly version of itself. Wherever else your explorations of Asia take you, you won't regret a decision to spend three days there.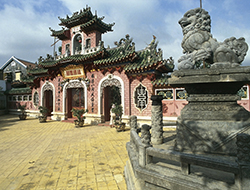 Sights to See and Sounds to Hear
The heart of Hoi An is the Old Town, or Ancient Town, a treasure box of historic shops, temples, markets, restaurants and tea houses that was declared a UNESCO World Heritage site in 1999. Among the landmarks is a famous photo op, the Japanese Covered Bridge. Built in 1590 to link the Japanese merchant community with the Chinese quarter, the bridge is free to walk across. (You can skip the little temple on its northern side that charges admission).
Hoi An's morning Fish Market (just behind the large Central Market near the Thu Bon river) starts buzzing around 6 to 7 in the morning when fishing boats arrive. You'll see fish and eels of all kinds and shapes, and you'll meet locals buying them.
Hoi An is also famous for its tailors, with countless ones found along the streets of the Old Town. The quality of the work varies, but you can still find many who make beautiful garments to order. If you want to have a custom piece created, find a tailor on your first day in Hoi An so that you can return for fittings during the course of your stay. Your hotel is a good place to start for recommendations, as are online reviews, but the best way to choose a shop is by walking into a few and handling items they have created. Check to see that working tailors are on site and negotiate a price in advance. If you don't love the final product, you shouldn't hesitate to ask for a redo.
Finally, before leaving Hoi An, spend a memorable moment of silence at the Reaching Out Tea House. This is a sister business of the fair trade craft shop, Reaching Out, that employs local people with disabilities to create one-of-a-kind crafts.
The teahouse is located in one of Hoi An's old merchant shops and it, like the rest of the town, feels timeless. Step inside and you'll see signs requesting that you respect the silent atmosphere. Many of the servers are deaf or non-speakers, so you communicate your requests through word blocks on a tray. Take a seat at one of the vintage tables set on platforms or out in the tea house's garden and enjoy this island of calm in Hoi An's city center.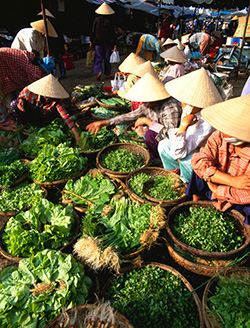 Meal Plan
Not far from the Fish Market, the Central Market offers a tasting menu of classic Vietnamese dishes. You'll find stalls serving banh xeo pancakes ("sizzling cake" for the sound it makes when the rice batter is poured on a skillet), pho and cau lau, a savory pork broth with noodles that is said to be made with water from a local ancient well. There's even a vegetarian-specific area in the market (although gluten-free options have yet to become common in Vietnam).
It was at Banh Mi Phuong, now located just outside the market, that chef and television host Anthony Bourdain says he his Vietnamese banh mi epiphany. Bourdain bit into a crispy pate, egg and pork banh mi and pronounced it "a symphony in a sandwich." Since then, Phuong's has been deluged by travelers wanting the same experience, and the banh mi continues to live up to high expectations.
For a sit-down meal and a look inside a Hoi An cooking legend's empire, try the Morning Glory Restaurant, housed in a colonial-era building, It is one of a group of restaurants from chef and entrepreneur, and somewhat of a local celebrity, Trinh Diem Vy. Even if you don't have a meal here, get a table on the balcony, order a Vietnamese coffee, and imagine you're a character in a Graham Greene novel.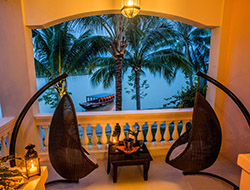 Sound Sleeps
If you want to immerse yourself in the atmosphere of the Old Town, which is perhaps best at night when it glows in the light of its red silk lanterns, consider taking up residence in the Vinh Hung 1 Heritage Hotel. This 200-year-old Chinese merchant's house with only six rooms was recently renovated, but rooms still have period charm.
Upscale hotels like the Anantara and the Nam Hai have also opened along the river and on the beach that stretches to Danang just outside of town. Of these, the Anantara Hoi An is closest to the old town, a short ten-minute walk. The colonial-era building is home to an Anantara Spa, cooking classes, modern luxe rooms and its own short river cruise. Skip eating in the hotel restaurant, except for the great Asian breakfast, and go out to town for meals. You're also close enough to town to walk to the morning Fish Market without having to get up at dawn.
Maison Vy is a small boutique hotel that is part of the same group of properties as the Morning Glory restaurant. The hotel feels like an elegant contemporary home, with a pool at its heart. Perhaps the main draw of the property, however, is the special "dining privileges" that guests receive at Morning Glory as well as Market, Cargo Club, and Mermaid, the group's other restaurants. These include everything from reservations on busy nights and complimentary tastes from the kitchen, to discounts on cooking classes.
Interested in booking travel? Learn more about Hoi An through our professionally curated travel guides available to Chase Freedom®, Chase Sapphire and Ink® from Chase cardmembers through Ultimate Rewards®.
Not yet a Cardmember? Explore the premium travel rewards of Chase Sapphire Preferred®.
John Newton is the Senior Editor, Branded Content at AFAR Media. He was previously a senior editor at both Condé Nast Traveler and Travel+Leisure and has written travel stories for many other outlets.