Bold Leaders
Innovative Technology
How to secure your business before the holidays
More customers bring more risk. Use these tips to keep your business safe.
By
Kara Wahlgren
Posted: 12/03/15
Updated: 11/14/18
While the holiday season provides a boon to many small businesses, all that hustle and bustle can also give criminals an opportunity to prey on shoppers and business owners.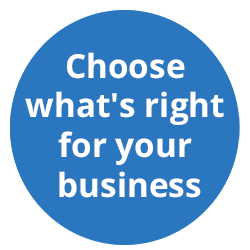 Shoplifters blend into the big crowds. Extended holiday hours can leave businesses susceptible to crime. Frazzled cashiers may be less likely to spot fraudulent transactions or protect confidential information.
The strategies below can help keep your business safer—not just during the holiday season, but also for the coming year.
Get personal with security
Security cameras can help deter criminals, but security guards may be better, says William J. Birks, Jr., CPP, a security expert and consultant in West Chester, Pa. He cautions that forgoing security staff to save money can backfire. "This creates a security vulnerability for the store," says Birks. "What they think they save in manpower, they lose in inventory. Properly trained security officers can be one of your best and least costly deterrents to shoplifting loss."
Take care when hiring seasonal employees
Experts say many business owners overlook "insider threats" – the potential risks posed by their own employees If you're hiring extra workers to handle increased traffic and extended hours over the holidays, your risk increases, especially because temporary employees aren't likely have the same loyalty that your full-time staffers do. After all, they know they won't be working for you in two months.
Conduct thorough background checks when hiring seasonal staff, and remind your year-round employees to alert management if they notice anything amiss, Birks says.
Be on the lookout for fraud
The holidays can be a prime time for fraudulent transactions because employees may be overwhelmed or under-trained, or both. "Thieves look for employees they can con, confuse or misdirect," says Birks. Train your employees to verify transactions and be on the lookout for anything suspicious. If a customers wants to pay with a check, require identification, and employ a check verification service if possible. It's also a good idea to make sure credit cards are signed, and if not, require secondary ID.
Plug holes in access
While holiday parties can be a great morale booster, they also often allow strangers to access parts of your physical space that aren't normally exposed. So take extra care when planning for or attending company events. For instance, don't valet-park your car at the company holiday party with your laptop in the backseat. If you're hosting a fete, close off rooms that contain valuable merchandise, and make sure all file cabinets are locked.
The months leading up to the holidays are also a good time to make sure you aren't relying on outdated cybersecurity measures like antivirus or firewall software. "They're basically protecting the perimeter of the company's data," Fleming says. "The analogy is digging a deeper moat or building a higher castle wall. It's ineffective because every smartphone, every app, is a new penetration through that wall. So the castle wall is just full of holes."
Instead, protect the data itself using data-centric measures like encryption and limiting which employees have access to sensitive data. If you regularly accept mobile payments, consider a payment processing system that offers built-in encryption.
Most importantly, don't let your guard down once the holidays are over. "The holidays are a great time to take a step back and reevaluate," Fleming says. "But it shouldn't just be the holidays that people are aware of. It's 365 days a year."
Kara Wahlgren is a full-time freelance writer based in New Jersey. She specializes in health writing, entertainment coverage and personal finance. Her work has appeared in Women's Health, HGTV, Fine Living, Good Housekeeping, Yahoo and more.