Bold Leaders
Inspire Bold Leadership
With new fashion brands, female entrepreneurs bring style to the office
Designers encourage women to look beyond the pantsuit
By
Rebecca Dalzell
Posted: 12/02/16
Updated: 11/10/17
Millennial women comprise 15 percent of the labor force, nearly even with men the same age. Yet while their male co-workers reach for a well-tailored suit each morning, many professional women stare blankly at their closets. They have no sartorial equivalent.
Now a new generation of female entrepreneurs aims to change this equation, making clothing that's professional, comfortable and stylish.
Fashioning change
When Emelyn Northway, 31, worked in finance, she saw her work attire choices as plain suits or expensive designer pieces. "There was nothing meeting my needs as a working woman who wanted to be stylish but office appropriate," says Northway.
Similarly, consultant Dorie Smith, 30, struggled to find packable outfits that would be acceptable in different offices. The wardrobe calculus became even more complicated if after-hours dinners were on her workday to-do list.
When Northway and Smith met at Wharton School of the University of Pennsylvania, they were wearing the exact same dress—the only one that checked all the boxes. Since both had the entrepreneurial bug, office fashion became an obvious problem to solve.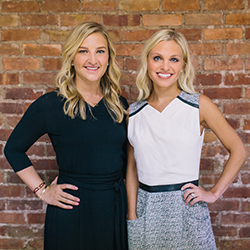 In 2013, Northway and Smith founded Of Mercer, a women's work wear brand. They weren't alone in recognizing a gap in the retail market. The same year, Sarah LaFleur launched MM.LaFleur, a line of similarly chic silhouettes, many of which don't wrinkle and can be machine-washed.
Annie Thorp, chief marketing officer for MM.LaFleur, contends that women crave simplicity in the morning. "Our customer wants to grab something without overthinking it, put it on and know that it is well-tailored, office-appropriate, comfortable and will make her feel like a powerful, purposeful person."
These brands, both based in New York, were started by women with corporate resumes. They argue there's a correlation between fashion and job performance. "It's really about confidence," says Northway. "On days when I liked what I was wearing, I felt better at work: confident, stylish, more like myself."
Pantsuits out, dresses in
As women populate an increasing share of the workforce, fashion has been slow to catch up. In the 1950s, only a third of women ages 25 to 34 held jobs outside the home; today, 73 percent of them do. The major growth spurt took place in the 1970s and 80s, which may explain why the "Working Girl" aesthetic came to predominate in boardrooms.
Despite the potentially lucrative market, designers have mostly overlooked office fashion. "I think the customer base is ignored," says Smith. "The professional woman demographic wasn't exciting to anyone."
Northway and Smith admit that right after college, they emulated their male colleagues and donned oversized pantsuits. As they developed a personal style, they embraced a more feminine look, wearing dresses with blazers. When they surveyed the market, "a whole lot of women said that's when they feel the most confident," says Smith. "When they put on one piece of clothing, [they] feel instantly, effortlessly chic."
After developing a line of prototype dresses while in business school, Northway and Smith hired Parsons School of Design graduate Aja Singer as Of Mercer's creative director. To this day, the three collaborate on designs together and currently make all pieces in Manhattan's Garment District. They freshen up classics, like a sheath dress, with the bright colors and prints seen on the resort runway or rich tones for the holiday collection.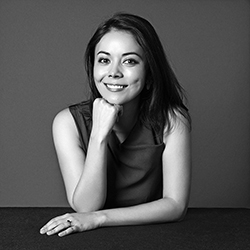 Meeting the demand online
Of Mercer, like MM.LaFleur, began as an online shop. Affordability was important, so Northway and Smith cut out the middleman to pass on savings to consumers. Thorp notes that with an online business, MM.LaFleur can reach shoppers nationwide. The website also helps build a narrative around the brand that reflects the lifestyle of working women.
These new brands have clearly found enthusiastic customers. Of Mercer and MM.LaFleur have both grown 400 percent year over year. MM.LaFleur is on track to ring in $30 million in sales this year.
In retrospect, the market was obvious. Women just want to feel good five days a week.
"A woman's outfit should be the least interesting thing about her," says Thorp, quoting company founder Sarah LaFleur. "We firmly believe our clothes shouldn't speak for women—they should allow women to speak for themselves."
Photo Credit: Alex Nuñez Caba | Rebecca Dalzell is a Chase News contributing writer. She has covered history, travel, music, food and other topics for The Washington Post, New York magazine and Travel + Leisure.