Your Money
Understand Your Finances
To elevate your savings goals, turn to your village
By
Rhyanne Guerrero
Posted: 11/27/18
This is part of Savings Diaries, an original series in which people share how they try to reach key savings goals during 2018. It is part of a broader Chase initiative to encourage more Americans to save money.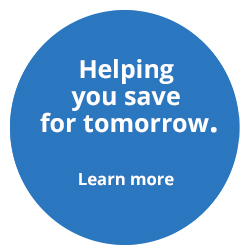 When I was a teacher, the phrase, "It takes a village," was my go-to when building relationships with co-workers, parents and the community.
Over the years, a lot of people have joined my village—including college friends, roommates, and the people who worked with me to start a school in New Jersey. But always, at the core of my village, there has always been my family.
Returning to my village
When I started building a family of my own, I realized how far I'd moved away from that village. I was living in New Jersey, and my parents and I connected on video chat, but I missed sitting at my mother's table, which was hundreds of miles away, in Texas. After my son, Dizzy was born, my husband Raul and I moved back home—to be closer to our village.
It wasn't easy: moving was expensive, and our income over the past year has fluctuated as Raul and I have found new careers in Texas. We're both former teachers. But now, I work for an educational technology company, and he's starting his own real estate business. We're paying all of our monthly expenses from my income. But we budgeted for this, and our savings are helping us handle the changes.
Moving cross-country, changing career paths, starting a business, and temporarily living off one income was not something I would have predicted a few years ago, but my village has made it easier.
Today, we live just down the road from my family. Everyday, my mom watches my son. My parents support us in so many ways, giving advice on everything from teething and potty training. As a working parent, the support of my village—my family—is critical to reaching—and elevating—our savings goals.
My extended village
And then there's my online village. My best friend, Delayna, went through her pregnancy at the same time, and introduced me to a community of smart, confident and truly supportive women. They've raised me up when my confidence was low, inspired me when I felt discouraged, given me honest feedback and shared real stories of what it means to be a working parent. They understand the whole picture: the amazing feeling of being able to set a positive example for my son, contrasted with the occasional overwhelming pressure of it all.
They also know what it's like to try to balance sacrificing to reach a financial goal, and enjoying the reward of financial breathing room. They've given me great advice on everything from retirement resources to investments to life insurance. This month, they've helped me work toward my goal of consolidating the retirement accounts from my previous jobs.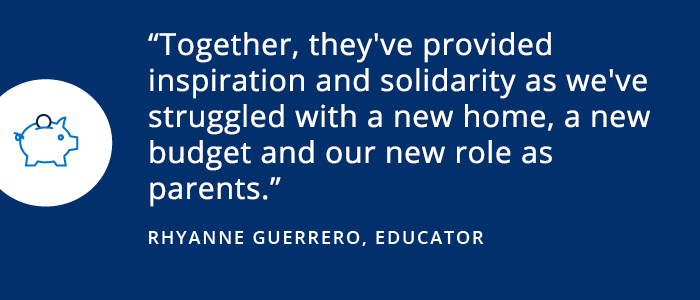 Keeping on track
With our village's help we have changed a few small but significant savings habits over the past seven months. My parents' support with child care has helped us save money, and our virtual network has helped us plan what to do with it. Together, they've provided inspiration and solidarity as we've struggled with a new home, a new budget and our new role as parents.
We're on track to pay off our credit card before the interest kicks in. In fact, we haven't paid any interest on credit cards this year. In the next few months, we are going to continue to invest in Raul's real estate business, and cut back on non-essentials as much as possible.
Our village has also given us a financial goal: we're planning to take an end-of-year vacation with both sides of the family. We've been saving for this, and we're on our way toward paying for it in cash.
Rhyanne Guerrero is a Chase News contributor.