Small Business
Manage Your Business
The 8 best ways to innovate in 2018
By
Brian Honigman
Posted: 11/27/17
Updated: 02/04/20
This story is part of the Chase Guide to Powering Your Business in 2018. It is brought to you by Chase Business Banking.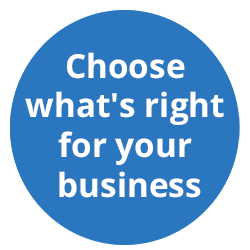 Many business owners believe they lack the time and resources to innovate. Yet the best kinds of innovation don't necessarily involve reinventing an entire industry. Sure, a major shift such as securing a transformative new revenue stream would be a wonderful achievement. But in today's ever-evolving business world, implementing smaller innovations—even something as minor as punching up the copy across your company website—is just as crucial to help your small enterprise adapt to the changing needs of customers and to fend off fast-acting competition.
When it comes to innovation, you'll need to stay on top of trends—across your own industry, and the broader business world. You'll also need to stay open to possibilities across the spectrum and embrace change where—and how—it is needed. This is true if your business has 5 employees, or 500.
For 2018, here are eight business innovations to consider:
1. Be proactive with customer service
In 2018, social media platforms will continue to more heavily impact how businesses operate, are perceived, and engage with customers. So be sure that every interaction with your customers elevates their connection with your business.
Firas Kittaneh, co-founder of Amerisleep, a Phoenix-based mattress company, says it is not only essential to deliver timely customer service when there's a problem, but also to proactively seek out and address the needs of customers before it reaches that point.
For a recent relaunch of the Amerisleep brand, Kittaneh and his team created detailed product descriptions, hired knowledgeable sales associates, developed extensive sleep-related articles, and highlighted customer reviews. "We made sure to be clear in how we described our products and the technology inside so shoppers could make an informed purchasing decision. That leads to higher customer satisfaction," says Kittaneh.
2. Revisit automation
You've likely already made substantial investments in automating your firm's repetitive tasks. But as new technology gets better—and less expensive—it's worth considering whether you might be able to systematize your operations even further. Perhaps you can track loyal customers more effectively with a new customer relation management system, for example, or use an artificial intelligence-driven personal assistant to schedule meetings over email. Regardless, the more jobs you can automate in the coming year, the more time you'll have left to channel toward more complex tasks and challenges.
3. Take risks with marketing
Consulting firm Forrester calls digital disruption "the new normal for B2B marketing" in 2018—a new or unexpected marketing medium to reach your audience if you want to stand out for the right reasons.
The good news is that while cutting-edge companies might struggle to stand out in a complex digital landscape, a company that's in a traditional or local business can stand out by developing messaging that's educational, surprising or humorous—it'll resonate with customers who wouldn't necessarily expect something like that from your firm.
4. Embrace the offline experience
Of course, you've got to achieve success in the digital space. But that doesn't mean you can afford to neglect offline encounters, either. Instead, take advantage of the potential benefits offered by both types of interactions to build a more meaningful bond with your customers by being consistent with the way you treat and communicate with them.
5. Revisit your mission statement
In 2018, the trend of corporate social responsibility (CSR) will continue to develop, says Scott Tattar, an instructor at Drexel University and public relations consultant in Philadelphia. "More and more consumers are choosing brands based on what those brands do for the greater good," he says, "Businesses should be very active in their communities and develop CSR programs that align with their brand and empower their customers."
Not sure where to start developing a CSR? Do a survey to find out where your competitors are active...and consider asking your customers what they care about. Says Tattar: "Companies should have a running dialogue with their constituents, not a once-a-year survey."
6. Decide when to take a stance
In a recent survey, 57 percent of consumers chose to buy from or boycott a brand based on its position on a social or political issue—and this number will likely rise as the purchasing power of younger, more purpose-driven millennials continues to increase.
"If you ignore cultural issues, you risk alienating existing or prospective customers or pushing away potential or current employees," columnist, author, and small business expert Gene Mark says.
With a clear purpose in mind, organizations today should consider how they might best be able to advocate for the causes close to the hearts of themselves and their customers—think Target removing gender indicators from the toy section of their stores or Lyft ensuring equal partner benefits for LGBTQ employees.
7. Balance intuition and data
As additional data sources and platforms grow in popularity and scale, business leaders at companies like Apple and eBay remain resolute: Raw data should complement general intuition to increase its impact.
For example, while Amerisleep has faith in its hard-won expertise in technology and experience in the sleep industry, Kittaneh understands that he can't rely on either intuition or data alone. As such, the company collects data from customer interactions in showrooms, and uses that to help them make operational decisions.
8. Optimize for voice
According to Mary Meeker's Trends Report, by 2020 there will be 200 billion monthly voice searches. Cater your website to voice search on Siri, Alexa, or Google Home by identifying the searches customers might naturally make when seeking your type of business, and include similar phrases throughout your site's content.
Website still not up-to-date and mobile-friendly? Get your fields filled out, and fast: Starting with a level playing field to your competitors will clear your path for real innovation come 2018.
Brian Honigman is a Chase News contributor. His work has appeared in The Wall Street Journal, and Entrepreneur.