Community
Give Back
Overcoming the past and empowering the future of Boyle Heights, California
Revitalization fuled by notable accomplishments and outreach by residents
By
Evan Kirkpatrick
Posted: 11/23/16
Updated: 01/29/20
"From the Ground Up" is a Chase original series highlighting the stories of revitalization in our local communities – stories of change, growth, hope, and inspiration. We feature people that are working every day to make a community strong. And these are communities where we are proud to do business.
Boyle Heights is a beautifully complicated, working-class, and predominantly Mexican-American neighborhood within view of the downtown Los Angeles skyline.
The community, which is 95 percent Latino, is rich with culture, music, restaurants and longstanding traditions. As issues of gentrification, violence and gangs remain, leaders are rising up to provide support within areas that include accessible education, family services, affordable housing and small-business ownership.
Across the United States, there are still communities struggling to overcome discrimination because of race and governmental abandonment. Boyle Heights, while still in the beginning stages of transformation, perhaps represents a blueprint for overcoming past obstacles and building for a better future. It takes a true partnership between residents, government officials and infrastructure, business, the arts, and local leadership to revitalize a community.
In this four-part series, we meet leaders within Boyle Heights and discover how they have been positively affecting the community from the ground up. Each remarkable individual story will serve as an example of the echoing impact just one person can initiate.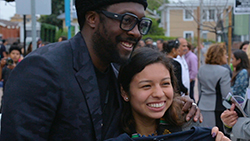 PART ONE: FIRST GENERATION GRADUATES
Cynthia Erenas, "LA's Smartest Girl" according to the LA Weekly, has gone from Mexican immigrant to high school graduate, and is now an engineering student at the University of California, San Diego. Erenas credits the i.am.angel foundation's College Track program with steering her away from negative influences and helping her believe in a better future. College Track was founded by entertainer, entrepreneur and Black Eyed Peas' frontman will.i.am who also grew up in Boyle Heights.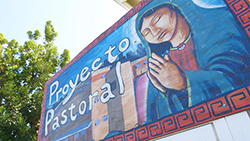 PART TWO: SUPPORTING WOMEN'S CAUSES
Rita Chairez's brother was murdered in Boyle Heights in 1990. But Chairez remained committed to the neighborhood, and raised her two daughters there. She volunteers in homeless shelters, and is a board member at Proyecto Pastoral, a nonprofit organization that provides information about financial management, among other services.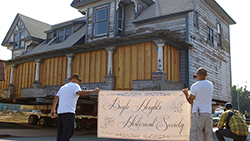 PART THREE: THE FIGHT FOR AFFORDABLE HOUSING
The East Los Angeles Community Corporation (ELACC) has helped more than 3,000 families purchase their first home, avoid foreclosure, establish savings and sustain wealth. The organization's president, Isela Gracian, leads the 36-employee team and shares her story of growing up in the United States with Mexican parents, thoughts on gentrification issues and how she and ELACC are working to ensure Boyle Heights' residents can succeed during this transformative time.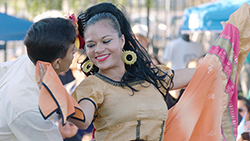 PART FOUR: SMALL BUSINESSES ROLE IN THE COMMUNITY
Originally from El Salvador, Carlos Ortez, is a former environmental engineer for California's state government. Now, he owns the Un Solo Sol restaurant, in Boyle Heights. Ortiz is also a community activist working to create opportunities for residents. He was a driving force behind "Noches de Serenata," a festival that brings together more than 5,000 community members, entrepreneurs, mariachi music, artwork and dancers to encourage empowerment and economic development.
Evan Kirkpatrick is an entrepreneur and contributing writer in Los Angeles, Calif., focusing on the intersection of investments, entertainment and philanthropy. His work has been featured in numerous media outlets including Forbes, CNBC and the Wall Street Journal.