Your Money
Credit & Debt
Traveling Home for the Holidays: A Financial Survival Guide
Tips for Millennials to Survive the Season with Their Finances Intact
By
Robyn Tellefsen
Posted: 10/23/15
Updated: 12/04/17
Heading home for the holidays may daunt or delight you. Your main concern, though, could be how you'll afford the trip. After all, the money you spend on travel and gifts can add up fast.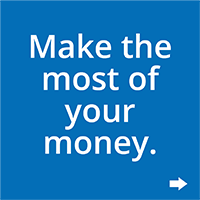 So how should you handle the costs of holiday travel and gifting, not to mention dealing with your parents' unsolicited money advice? Here, experts dole out tips for surviving the season with your finances intact.
Think Off-Peak
The reality of holiday travel is that everyone else is setting out on the same days, which can make flights more expensive. But if your travel plans are flexible, you can fly on days when there are fewer passengers, says Kevin Gallegos, vice president at Freedom Financial Network's Phoenix operations.
"If you can live with celebrating Christmas a day (or week) later or even flying on Christmas Day or New Year's Eve, you might save big," he says.
According to CheapAir, a California-based team of travel enthusiasts and tech geeks, you can save, on average, $101 by departing December 23, 24 or 25, and $142 by returning December 31 or January 6.
If plane tickets are still beyond your budget and you have some extra time, consider taking a bus or train to visit your family, or carpooling with friends to split the cost of gas and tolls.
Grin and Bear It
Once you make it home for the holidays, there's a chance you'll be subject to your parents' unsolicited financial advice. Andrew McFadden, a financial planner and founder of Panoramic Financial Advice, recommends taking their tips with a grain of salt.
"Mom and Dad grew up during much different times. Financial advisers, investment opportunities and technology are all a lot different today," he says. "So what worked for them may or may not work for you."
On the other hand, it's a good idea to at least listen to what your parents have to say, and attempt to keep the peace while you're home.
"Thank them for trying to help," says McFadden. "It may help avoid an unpleasant holiday season."
Give the Gift of Time
When it's time to sit around the tree or light the menorah, the pressure to give fancy gifts can be strong. But experts say it's not worth sacrificing your budget.
"Make hard decisions to give what you can afford," says Gallegos. "Don't give what others think they deserve, or perhaps even what you'd really like to give."
And for the ones you love, your presence at home may be present enough. "Chances are that your family really just wants to spend time with you more than anything," says Gallegos.
In lieu of expensive gifts, he recommends helping your parents with tasks around the house, taking care of younger siblings and making time for family by organizing low-cost outings to the zoo or mini-golf course—or even just game night at home.
Above all, says Gallegos, the key is to avoid going into debt this holiday season. "It's important to enjoy the holidays, take a break and visit family. But it's more important to live in comfort now and in the future than to take a trip you cannot afford," he says. "Be realistic on how much you have to spend; you'll then be able to do the most with what you have."
Robyn Tellefsen is a New York City-based freelance writer, editor and blogger whose work has appeared on MSN, AOL Jobs, Parent Society, OurParents, The CollegeBound Network and others.