Small Business
Managing Your Business
Do Higher Wages, Less Hours and More Happiness Equal Better Companies?
By
Adam Johnson
Posted: 11/23/15
Updated: 11/10/17
We might be becoming a nation of armchair economists. Business owners and Federal Reserve bankers alike, all struggling to interpret what the latest round of employment data means for interest rates.
Strong job growth in October indicates the labor market and the economy are improving. The Labor Department reported that the U.S. economy added 271,000 jobs in October, its largest jump in employment this year. Americans are also making more money; average hourly earnings grew 2.5% between October 2014 and October 2015. Will this be enough for the Fed to make a move on rates? Only time will tell.
In the News: Workers Get Flexible
The number of people filing jobless claims recently fell to a 40 year low. This is good news , though there's a catch. The number of people being counted as part of the labor force has fallen to a 38 year low. Since the population has increased 48 percent to 319 million over the same period, according to the U.S. Census Bureau, the question is where are all these people going? Economists theorize we are witnessing a powerful demographic shift in the workplace towards part-time and freelance employment. A new report from tax software provider Intuit and Emergent Research estimates 36 percent of the U.S. workforce currently works on a contingent basis and estimates this segment will rise to 43 percent by 2020, as large employers surveyed plan to increase the size of their "flexible" workforce.
A flexible workforce mean mean leaving your company open to unconventional office spaces. Find out why the office isn't necessarily an office anymore.
On Main Street: Hours and Wages
Can't afford to give your employees a raise? How about cutting their hours? Stephan Aarstol, founder and CEO of Tower Paddle Boards, reduced his company's workday from 8 hours to 5, saying it's "almost impossible to produce high-quality work for eight hours straight."
Here are his 6 tricks via Inc for making the 5 hour workday work for your team.
In the Corner Office: Economic Insight and Business Inspiration
Are you driving away millennial employees? According to a recent article posted on Chase Executive Connect, more than one-third of millennials self-report that they change jobs every one to three years. LinkedIn surveyed 5,000 millennials to find out why they switch jobs. Here's what they found and what it means for how you can manage your employees.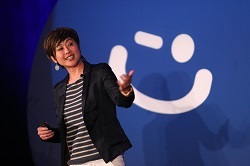 Creating a Culture of Happiness: Jenn Lim
The key to employee retention might be as simple as keeping them happy. Jenn Lim is CEO and Chief Happiness Officer of Delivering Happiness, a company she and Zappos CEO Tony Hsieh co-founded to help "chip away at the lack of connection" between workers and their jobs. She says creating a culture of happiness can be challenging in a business setting, but ultimately results in a ripple effect your customers can feel too. Read more about how to infuse a little happiness into your business.
For everything your business needs in one place, from news and expert tips to valuable products and solutions, visit chase.com/forbusiness.
Adam Johnson is a journalist and former business-news anchor at Bloomberg Television. He worked as an investment professional for two decades and writes frequently about business and finance.