Your Life
Enjoy Dining and Entertaining
How Nancy Silverton became the Queen of Mozzarella
The famed chef talks inspirational ingredients, becoming a chef, and making her signature dish.
By
Devorah Lev-Tov
Posted: 11/14/18
Updated: 05/23/19
Nancy Silverton was a featured chef at the Seaport Food Lab presented by Chase Sapphire® at the Seaport District in New York City. You can learn more about Chase Sapphire events and experiences here.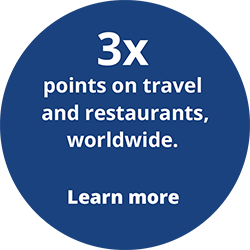 Nancy Silverton wears many badges of honor: Bread baker extraordinaire, dessert sorceress, and queen of mozzarella are all apt descriptions of the award-winning chef and restaurant owner.
But the queen wasn't crowned overnight.
After graduating London's Le Cordon Bleu school, Silverton got her start in the Los Angeles dining scene as the pastry chef for Michael's in Santa Monica.
From there, she continued her education at l'École Lenôtre Culinary Institute in France and was named the inaugural pastry chef at Wolfgang Puck's Spago.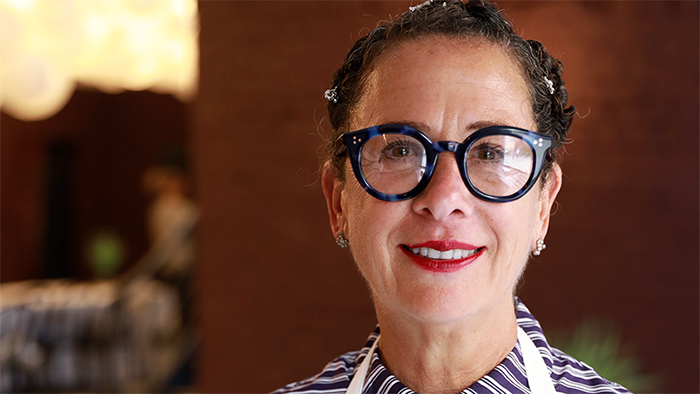 However, Silverton's true breakout moment wasn't until 1989, when she joined forces with Mark Peel and Manfred Krankl to open Campanile and its accompanying bakery, La Brea Bakery. Not only did both redefine American cuisine, they put Silverton—and her artisan bread—on the map. And the rest is history.
Since then, Silverton has won several James Beard awards and opened multiple restaurants, including Osteria Mozza, home of her now-famous mozzarella bar.
We caught up with Silverton at a Seaport Food Lab dinner, and she shared her thoughts on eating family-style, the importance of local ingredients, and making her most famous dish. Here's an excerpt of the conversation, edited and condensed for clarity:
Q:| When did you become passionate about food?
I have been cooking for over 40 years, but didn't grow up as a food lover. I was definitely a late bloomer and became fascinated with cooking in college. I had a crush on a boy who spent a lot of time in the kitchen, so I told him I also loved to cook. It was a path I never left, which is pretty remarkable.
Q:| Where do you draw your inspiration from? Is it a destination, an experience, or something more tactile, like a seasonal ingredient?
I'm always inspired by the ingredient. Whether it's the flavor of the ingredient, the seasonality of the ingredient, or, the surprise of the ingredient, it always gets my head spinning. Seasonal, local ingredients play a major role in all of our menus at all of our restaurants. We shop for seasonal, local ingredients at the farmer's market.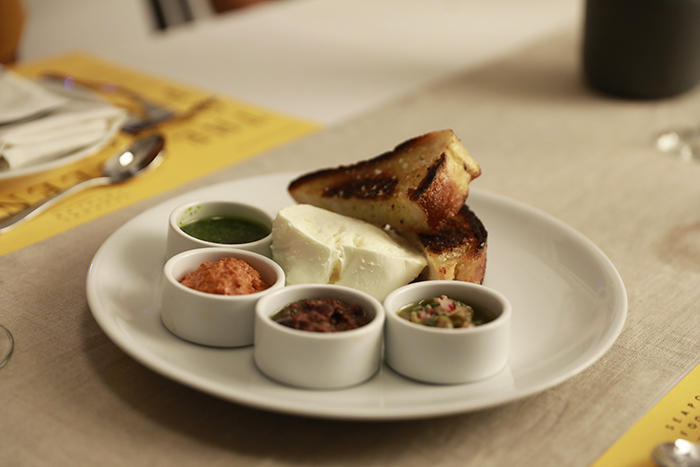 Q:| Can you walk us through making your favorite dish from the menu?
The bufala mozzarella is imported from Campania, Italy, and the four sauces are all about complementing the cheese.
We have a caperberry relish, which is caperberries, caper buds, red onion, and parsley. My basil pesto is simply fresh basil leaves, pine nuts, garlic, Parmesan cheese, and olive oil. Then there's a salsa romesco, whose origins are really in Spanish cuisine, but borrowed because it goes so well with the cheese. It's made from fried bread, hazelnuts, almonds, smoked paprika, olive oil, lots of garlic, and red wine vinegar. And finally, a black olive tapenade, with anchovies, more capers, garlic, parsley, and olive oil. And then to sort of sop that up is some fett'unta, which is simply sliced bread that we toast and rub with a fresh clove of garlic before drowning it in olive oil.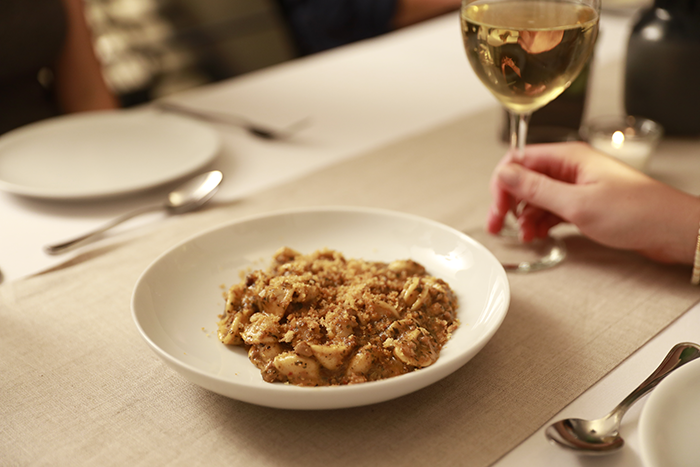 Q:| Are there any food trends that influence your cooking?
I don't see myself as a trend follower but oftentimes when there is a trend it sparks my curiosity especially when it comes to an ingredient. In the last couple years it's been very trendy to use different grains in your cooking. What I like about that is the texture and I love the flavor and I love the wholesomeness of introducing those grains.
Q:| The Food Lab dinners are served family-style. What do you like about cooking a family-style dinner?
It eliminates people choosing a dish, which is sometimes difficult to do. I know when I sit down at a restaurant, I just want somebody to feed me! But most importantly, I love the casual atmosphere family-style creates. I think it encourages people to talk with each other, because you at least have to say, "Could you please pass that plate again?"
Q:| What is the best leadership lesson you've learned in the kitchen?
I think it's important to lead by example, so I try to let my team see that I'm a hard worker and a team player. I also think it's important to be nurturing and encouraging—it's how I bring out the best in my cooks!
Devorah Lev-Tov is a Chase News contributor. Her work has appeared in Condé Nast Traveler, Food & Wine, and New York Magazine.