Lifestyle
Discover Trends & Technology
James Corden designs his dream car with Chase Sapphire Reserve
One Tennessee tech company made it happen with 3D printing.
Posted: 11/15/16
Updated: 12/02/16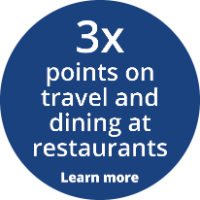 The buzz is building around the future of cars, and one city is leading the the conversation — and it's not Detroit. Deep in the Appalachians is tech company Local Motors, out to change the face of transportation forever.
While the rest of the country is wondering how driverless cars and new technologies will disrupt the auto and travel industries, Local Motors is two steps ahead. By designing and selling bespoke cars that are 3D-printed and built with the newest technologies, Local Motors is no ordinary car maker.
In "Reserve What's Next," late-night star James Corden is exploring the future of dining, transportation, and accommodation with Chase Sapphire Reserve. So James came to Knoxville to learn about the future of driverless vehicles and 3D-printed cars from Local Motors — and to design and build his own 3D-printed car rental. Needless to say, a comedian might have some very funny ideas about what he wants in his own unique ride.
Check out the second episode of "Reserve What's Next" to see how James' car turned out.