Small Business
Managing Your Business
How to get the best out of interns and temporary employees
Take the opportunity to evaluate potential hires
Posted: 10/14/14
Updated: 08/20/19
Many businesses see their workforces expand and shrink throughout the year, especially during summertime, school breaks and the holiday season. With the right planning, you can get the most out of those temporary workers before they're off to their next challenges.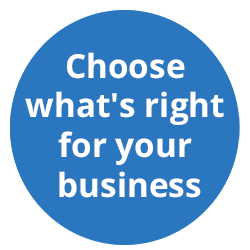 Recently the average weekly salary of a 16-to-24 year old was $571,while the next rung up the age ladder earned nearly twice that. So how can your business make the most of temporary help?
Plan for arrivals and departures
Matthew Grant is the Director of Content Strategy for Aquent, a staffing and recruitment firm whose Vitamin T brand works closely with small businesses. He urges companies to think about the non-revenue-generating tasks that keep getting pushed to the back burner. "Especially with interns, look for projects you'd rather not have full-time employees working on," such as research and other efforts that will pay dividends down the road. Similarly, consider work that can be done in advance while the additional workers are available, says Greg Bustin, a consultant who helps executives develop talent and strategy.
And don't forget to plan for the end. Spend the final weeks doubling down on your temporary employees' projects, making sure all the loose ends are tied up before school is back in session. "If projects go uncompleted, they might not make any impact," says John Challenger, CEO of Challenger, Gray and Christmas, an outplacement firm.
Use the opportunity to scout talent
"Both interns and temporary employees can be a great way to develop a pipeline of talent to help you manage your organization's growth," says Brent Reinhard, Chief Marketing Officer for Chase Business Banking.
Keep in mind that an interview provides a very limited window into the potential talents—or lack thereof—of a relatively inexperienced employee. Instead, the best way to evaluate potential future employees is to give them meaningful work, says Challenger. "Top companies are realizing the critical nature of having strong, viable programs where interns do real work," he says.
Bustin agrees: "You can look at talent in a low-risk situation and get inexpensive talent working on tasks that need completion," he says, adding that "companies should be looking for talent year round, not just when they see a need coming."
Best of all, temporary employees can also be good recruiters for your future needs.
"Make sure to tap into your temporary employees' networks," Reinhard says. "If you have a talented marketing intern but you need a new operations manager, that intern's network can be a great place to start."