Bold Leaders
Supporting Servicemembers
After the Military, Your Next Opportunity
Looking to Support Career Transition for Military Veterans, JPMorgan Chase and 100,000 Jobs Mission Release Guide on JobsMission.com
Posted: 10/16/14
Updated: 11/10/17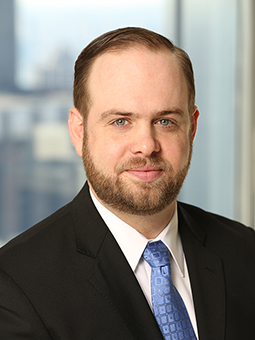 Benjamin Paladino learned valuable lessons about leadership and adversity as a Marine Corps infantryman in Afghanistan — lessons he later used as a student veteran in search of a new career.
In the Marine Corps, Paladino rose to the rank of corporal, deployed twice, and held a variety of positions such as designated marksman; team leader; and company training non-commissioned officer (NCO).
"I came out of the Marine Corps ready for my next challenge," Paladino says. "The Post-9/11 GI Bill and Yellow Ribbon program gave me the flexibility to move my family to New York while I attended school. Once in New York City, I hit the books hard, and then planned for my career after graduation."
Even before the combat veteran and Purple Heart recipient received his undergraduate degree from Columbia University, Paladino, now 30, directed the largest Ivy League student veterans group in the United States and interned at a Fortune 500 company.
"As a non-traditional college student, I knew I wanted to seek out leadership opportunities on my campus," Paladino says. "But, at the same time, I also wanted to try my hand at a completely new career, so I sent my resume out and was called back for an internship at JPMorgan Chase."
After a successful summer internship, the former Marine landed a full-time position as a project manager in the Chief Administrative Office at JPMorgan Chase. Paladino says his experience as a corporal team leader and trainer turned out to be the perfect training for managing complex administrative projects in his position at Chase.
Paladino's transition from the military to the civilian workforce is but one example of nearly 7,700 military veterans as of September 30, 2014 who transitioned into new careers at JPMorgan Chase.
In 2011, JPMorgan Chase made veteran hiring a national priority. Beyond its own hiring efforts, JPMorgan Chase has led the 100,000 Jobs Mission, which has hired over 161,000 veterans into 170 coalition companies that represent almost every industry in the American economy.
To continue to support veterans as they build successful post-military careers, the 100,000 Jobs Mission partnered with the Institute for Veterans and Military Families at Syracuse University to publish Transition Field Guide for Veterans: Education, Employment and Entrepreneurship after Service. This resource helps transitioning military members and veterans develop post-military career plans long before they separate from the service.
"Because there are so many options and opportunities for veterans, it can be overwhelming to figure out which one is best," Paladino says.
The Transition Field Guide outlines four main paths toward meaningful employment: immediately entering the job market; obtaining further training; or certification, going back to school, and starting a business. Each path offers a recommended timeline prior to transition, as well as helpful tips to consider along the way. Visit jobsmission.com to learn more.

Photo: © Thinkstock/Stocktrek Images, Courtesy of Benjamin Paladino