Your Money
Understand Your Finances
Here's why ordering food just got easier
By
Mai Nguyen
Posted: 11/14/17
Updated: 02/05/19
This story is part of "The Future of Money," a Chase Pay® series that unpacks mobile payment tips and trends.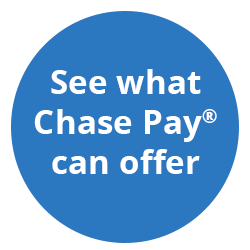 The last thing many of us want to do after a long day at work is make a meal from scratch. Luckily, restaurants and tech companies have heard our collective groan and are making it possible to order food with just a few clicks on our phones.
The ability to order a meal ahead of time to avoid cooking or waiting in line is the norm. New technology and apps like Chase Pay allows consumers to locate nearby restaurants and know when their orders are ready for pick up. Eligible offers are also automatically applied at checkout, so you can enjoy your meal with a side of savings.
It's no surprise that tech-obsessed millennials are driving this ordering trend. According to research firm Technomic, 77 percent of North American customers ages 18 to 34 want or expect mobile ordering at fast-food restaurants. Even more expect it at fast-casual chains.
Big in suburbia
Urban millennials aren't the only ones wanting a fast and easy way to get their meals. Suburbanites like April Jimenez are also changing how they do family dinners. The mother of three lives on Long Island, New York, and works full-time as a digital marketing director for a software company. The first time Jimenez ordered food through a mobile app was in 2009, when she was pregnant with her first child.
"I thought it was the best thing ever," she recalls.
At least once each week, Jimenez relies on apps to order dinner for her family. She uses her phone to customize the three meal kits she receives each week from a recipe delivery company.
Ordering ahead of time and picking up a meal on the way home from work, has freed up Jimenez's time to help her kids with homework. "As a mom, I want everything to be done as quickly as possible, so I like that you don't need to wait on the phone or read out your credit card information," Jimenez says.
A boom for merchants
Mobile food ordering is a major advantage for merchants, too. Chop't Creative Salad Co., a chain of fast-casual restaurants known for their range of leafy specialties, is one of thousands of restaurants that have introduced a mobile app to empower customers to skip the line and order ahead for pickup or delivery. Thanks to the app, Chop't has improved its customer service, since employees aren't held up taking phone orders. There are fewer instances of customers requesting an out-of-stock item from an outdated menu, because the app is regularly updated with photos of each dish. It also helps build customer loyalty, since users can earn exclusive rewards at checkout.
Most important, ordering ahead with an app translates to increased sales. According to the Application Resource Center, which researches the app economy, customers spend more and order more often when they use a well-designed app compared to ordering on the phone, in store, or at the drive-thru.
Nick Marsh, CEO of Chop't, says, "With our online ordering platform, we've become an even more convenient option, satisfying our guests' needs and driving our business forward."
The National Restaurant Association found that four in five restaurant operators agreed that technology would give them a competitive edge and make them more profitable.
As more people demand faster service, it's only a matter of time before mobile ordering becomes the preferred way to get dinner on the table.
Chase credit cards are issued by JPMorgan Chase Bank, N.A. Deposit products are provided by JPMorgan Chase Bank, N.A. Member FDIC.
Mai Nguyen is a Chase News contributor. Her work has appeared in Vox, Wired, and the Toronto Globe and Mail, among other media outlets.