Community
Support Social Responsibility
From helicopter missions to veteran small businesses
By
Allison Steinberg
Posted: 11/09/17
Updated: 07/24/18
Chris Shaw, an eight-year veteran of the US Army, leads the Veterans Small Business Program at JPMorgan Chase. Shaw recently shared his thoughts about the importance of team-building, how military service prepared him for the work he does.
JPMorgan Chase recently announced a $4.2 million commitment to empower veteran entrepreneurs, including to a low-interest loan fund for veteran-owned businesses in Texas, California and North Carolina, as well as a recommitment to Bunker Labs to support networking and training for veteran startups.
Q: | How did you become interested in the military? What were your duties?
I grew up in rural upstate New York, and I've always been drawn to outdoor adventure and personal challenges. I was in my senior year in high school during the September 11, 2001, terrorist attacks, and I decided to sign up for Army ROTC in college.
After college, I became an Army aviator, serving with the 82nd Airborne Division in North Carolina, and spent the next two years learning how to fly helicopters. My mission was to provide reconnaissance and aerial security for ground troops. I also held several managerial roles in our squadron, leading a flight platoon, an operations cell and the intelligence department.
Q: | You spent two tours in Afghanistan. How did the Army train you to keep calm under pressure?
In flight training, every task and process is graded on objective standards, and those tasks and processes were selected by generations of combat-savvy aviators to give new aviators the tools to handle unforeseen problems in dynamic environments. In other words, you learn to exercise judgment upon a framework that you can recall almost reflexively.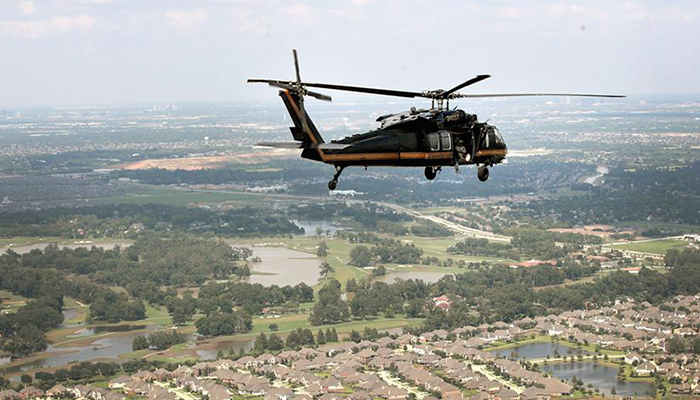 Q: | Would you share an example of how you were tested at a crucial time?
A few months into my deployment in Kandahar, my flight team was providing aerial fire support for a convoy under ambush. Several members of the convoy were injured, and a MEDEVAC helicopter arrived to extract them. As the MEDEVAC departed, it was forced to land in the ambush area after being hit with several rounds of machine gun fire. Now, the entire crew of the MEDEVAC was in danger. My team was not directly trained for this situation, but we quickly determined that we needed to extract the MEDEVAC crew by strapping them to the outside of our helicopters. The entire impromptu extraction was complete within five minutes. I fully credit all of our drills and discussions in flight training with enabling us to pull this off.
Q: | Tell us how you came to and about your role running the Veterans Small Business Program in the Military and Veterans Affairs program at Chase?
I was connected to the Military and Veterans Affairs team through my previous work with Bunker Labs. JPMorgan Chase (JPMC) is the national sponsor of Bunker Labs, a veteran-owned business incubator and I developed a relationship because of the closeness of the two organizations. My role at JPMC is similar to my prior work - helping veterans start and grow businesses. However, now, I can support initiatives on a national scale.
Q: | What does Bunker Labs do and how do you work with the team at JPMC to bring benefits to this organization?
Bunker is a network-building and training organization for military veteran entrepreneurs. With JPMC's financial support, Bunker Labs has grown to 15 locations across the US. The Global Philanthropy team at the firm leads the investment in Bunker Labs, and as the firm's voice for veteran entrepreneurs, I try to look for ways that Bunker Labs can support and amplify other veterans' initiatives.
Q: | What's the most rewarding part of your job?
I am especially excited about increasing access to capital for veteran-owned small businesses. I see it as the perfect intersection between JPMC's power and expertise in financial services and society's need for this worthy undertaking.
Q: | You're an advocate of team building and even created your own team building business. Would you tell us how you developed a program that makes this exercise fun and different?
After I left the Army, I realized that many of the non-military groups I worked with lacked a disciplined approach to dealing with uncertain situations. I also realized that many "team building" activities were, well...lame. So I decided to start a program that taught a flexible, military-inspired framework to corporate clients and student leaders. The bulk of the program involves a physical obstacle course that requires quick thought and teamwork to succeed. Think of it as "Escape the Room" meets Tough Mudder meets leadership development seminar.
Q: | Do you still fly for fun?
I have not flown since leaving the Army, although I still hold a commercial helicopter pilot's license. One of my goals for the next few years is to get back into it. It was easier when the Army was paying for the gas and maintenance!
Q: | If you could have another job for a day, what would it be?
I would love to be a craftsman, possibly building custom furniture or wooden toys for kids.
About | Chris Shaw
Home: Brooklyn, NY
Alma mater: Pre-Army – Cornell, Bachelor of Arts. Post-army – NYU, Master of Business Administration
Tenure at JPMC: 6 months
JPMC interests: Chase for Business, VETS Business Resource Group
Outside interests: Hiking, wildlife photography, CrossFit and slow-smoked BBQ
Best advice you've gotten: When discussing tasks with teammates, always add the "because." It seems simple, but it has helped me build strong teams throughout my career. It's such a powerful thing if everyone understands why they're doing something.
Allison Steinberg is a Chase News contributor. Her work has appeared in The Huffington Post, and The Advocate.