Bold Leaders
Innovative Technology
What it took to build the new Chase.com
New site emphasizes simpler experience, designed with users in mind
By
Chris Walsh and Kathryn Potraz
Posted: 11/06/15
Updated: 11/10/17
How many Chase brainiacs does it take to build a new website?
1,644.
The new Chase.com has rolled out to 64 million customers. The new site allows customers to:
See a clean, easy-to-read snapshot of all their accounts as soon as they sign in.
Place their most-used accounts front-and-center.
Navigate the site intuitively with a simple sidebar.
Stay on top of their messages with notifications at the top of the screen.
For a sense of what it took to complete the project, see this infographic: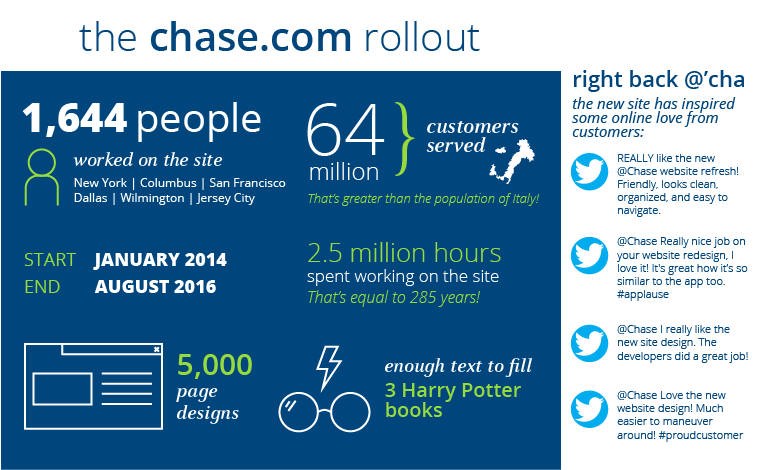 What's the future of banking in an ever-changing digital landscape? At Chase.com, the short answer is that it should be simple and personal.
"We designed the site to be a beautiful experience that is highly functional," said Dieter Zirkler, executive director of user experience design for Chase. "We sought inspiration from some of the best sites on the internet to create a great online banking experience for our customers."
The result is a newly updated site with a clean, easy-to-use interface.
So easy, in fact, that some customers won't need to go to a local branch for weeks. That creates a "convenience conundrum," putting the personal touch at risk for banks, said Mark Schwanhausser, director of Javelin, a financial research firm.
"Banks must become more personal and proactive and use digital channels to redefine and improve what 'personal banking' means," he said. "That starts with making customers feel comfortable and seeing them as an individuals."
So the new Chase.com greets customers by name as soon as they log into their accounts and shows them important messages.
Features like My Profile, where customers can edit their personal information, preferences and settings all in one place, are intuitive and simple. And a search tool quickly provides answers to frequently asked questions that won't require a dictionary or decoder ring.
"The new Chase.com is the beginning of a journey to bring the best of the human interaction between a customer and banker in a branch to a digital experience," Zirkler said.
"It's a profound reset and more personal and inspiring," said Tim Parsey, Head of Digital Customer Experience at Chase. "It's the second step — the first was the mobile app — in the building blocks of a new relationship between Chase and its customers."
Chris Walsh is a vice president and lead editor at JPMorgan Chase. He was formerly head of content at Zagat and an editor at Billboard magazine.