Your Life
Dining and Drinking
Three Perfect Days in Austin
By
John Newton
Posted: 06/04/15
Updated: 05/23/19
Visitors to Austin often remark on how surprisingly un-Texan it feels. Dallas and Houston typically embody the "bigger in Texas" spirit, while Austin moves to its own rhythm. It's a city of bookstores and music clubs, galleries and bars, bike trails and swimming holes. If some other parts of Texas have a "look at me" bravado, the state capital plays it cool.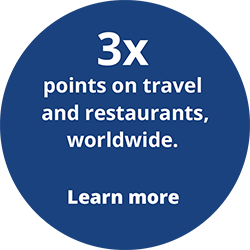 While the city has become synonymous with the popular South by Southwest (SXSW) festival, its music and art scenes are busy year-round. On an Austin adventure, you are likely to discover a new favorite band and have your eyes opened by the works of an artist you'd never seen before. You can also count on some late nights and good meals.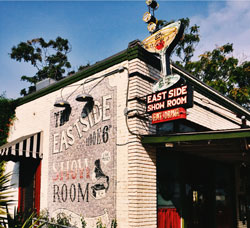 Sights to See and Sounds to Hear
The list of music venues in Austin is long, and you'll likely want to do some research before you book your tickets. One place to start to get a sense of the Austin scene is East Sixth Street on the up-and-coming East Side. That's where you'll find the East Side Showroom. It's a casual bar and restaurant with a vintage décor and a selection of small plate dishes. It is also a popular, intimate venue for live music, burlesque and cabaret performances. The bar is especially well known for its impressive list of craft cocktails: a chilly Moscow Mule with a plate of spare ribs is a true and delicious Austin experience.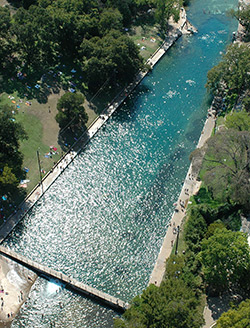 With its many bike trails and parks, Austin is one of Texas's "leafier" cities. When summer, or Indian summer, days get too warm, locals head to the vast pool at Barton Springs to cool off. There are actually four springs in the area. Even on cooler days, the underground springs that feed the pool keep it at a steady 68 to 70 degrees, while the 350-acre park is great for biking and hiking. The pool can get crowded on summer weekends, so go early if you want room to swim some laps. Or, wait till afternoon to be in the heart of the party.
While you'll experience Tex-Mex food at taco trucks, a visit to the city's Mexic-Arte Museum will give you a deeper understanding of the local impact of Mexican culture. The museum has plans to move to a new downtown location in a building designed by architect Fernando Romero, who was also responsible for the Soumaya Museum in Mexico City. For now, however, you can visit it on Congress Avenue. The museum is famous for its annual Day of the Dead celebrations. This year it includes a selection of altars representing every state in Mexico.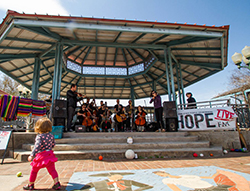 Meal Plan
On Sundays, the HOPE Farmers Market lets you experience two Austin obsessions, food and indie music, in one place. This is the longest running farmers market in East Austin, and a unique place where artists and musicians gather each week. Whether your passion is urban farming and community gardens, or just good food using local, seasonal produce, this isa great way to start a lazy Sunday afternoon in the city.
Many of the city's top food trucks park next to, or even within, the city's top bars. One of these fortuitous pairings can be found at Wonderland, where East Side King sells its ramen and pork buns. Order a dinner here and you'll soon understand why it was voted the Best Food Trailer by the readers of the Austin Chronicle in 2015. The bar where East Side King serves its Asian fusion dishes, Wonderland, opened at the end of 2013 and has quickly become a local favorite.
And no trip to Texas is complete without one meal of the state's famous barbecue. Locals may argue passionately about the city's best option, but near the top of many lists is Franklin Barbecue on East 11th Street. The restaurant is famous both for its slow cooking technique and its long lines, perhaps an inevitable consequence of winning numerous honors and awards from food and travel magazines.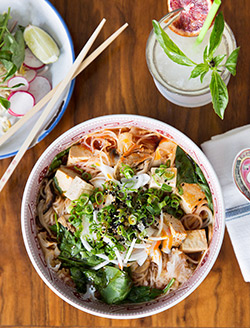 The state has also become a destination for connoisseurs of Vietnamese cuisine, a development that started with the large Vietnamese community that settled in Houston. Elizabeth Street Café brings the trend to Austin, with a French-Vietnamese menu served in a colorful South Austin café. If the weather is good, take advantage of the restaurant's lush and shady garden.
Sound Sleeps
A city as cool as Austin has some very cool hotel options. Be aware that many hotels sell out far in advance during big events like South by Southwest.
Since it opened in 2009, Saint Cecilia has become the hotel of choice of musicians visiting the city. You don't have to have signed a deal with a label, however, to appreciate its vinyl library. And you may find inspiration for some design changes at home in Saint Cecilia's mix of bright colors and curated antiques. Its casual chic décor makes it a favorite even of guests who don't travel with entourages, but note that the lounge is open only to hotel guests.
The small, eight-room Kimber Modern hotel is in the midst of the happening SoCo (that is, South of Congress) neighborhood and feels like a private — and very tastefully contemporary — home for your Austin visit. The atmosphere here aims more for Zen serenity than the rocker chic of the Saint Cecilia. After a night of margaritas and music, the complimentary breakfast on the hotel's roof deck is the perfect way to ease into a new day. Note the hotel doesn't accept children under 16, helping assure the quiet atmosphere that the Kimber guests prefer.
The Hotel San José is another SoCo favorite, located in a 1930s motel that has been reborn as one of the capital's cooler options. The rooms still reflect the hotel's roots with poured concrete floors and a simple décor, but they have been updated with luxury touches like bottles of Richard's Real Rainwater from Dripping Springs, Texas. The pool is even more of a scene than Barton Springs, popular with the crowd that flocks to Austin for its music scene. The hotel, however, has done a remarkable job with its strategic landscaping that assures a feeling of privacy behind walls of banana plants even while the party is going on outside your room.
John Newton is the Senior Editor, Branded Content at AFAR Media. He was previously a senior editor at both Condé Nast Traveler and Travel+Leisure and has written travel stories for many other outlets.