Your Life
Discover New Destinations
Watch James Corden cook a back-to-the-future dinner with 'Fire and Ice' chef Mads Refslund
Posted: 10/25/16
Updated: 03/01/18
Chase Sapphire Reserve has teamed up with James Corden to bring you a new series that explores what's next in travel. You can find more on Vox's new digital travel publication Meridian.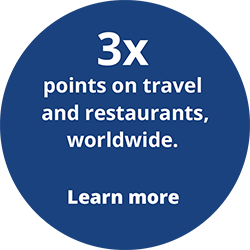 The future of fine food is old-fashioned.
That's according to Michelin-starred chef Mads Refslund, who co-founded a world-renowned restaurant in Copenhagen and is preparing to open a revolutionary new one in the New York City borough of Brooklyn. It will be built around the concepts of fire and ice. As diners are more and more concerned about the quality and purity of the food they eat, and as the greatest luxuries in our ever-busier world become time and handcrafted technique, Refslund is focused on reinventing ancient culinary traditions for today's discerning dining, from foraging for fresh herbs to roasting meat in hot coals to plating dishes with a smoking serving of dry ice.
In the "Reserve What's Next" video series, late-night star James Corden explores the world—with the help of his Chase Sapphire Reserve card. It is the new credit card for the next generation of travelers, ready to experience the future of dining, transportation, and accommodation. Corden tracked down Refslund for a lesson in the chef's up-to-the-minute, back-to-the-future cooking techniques.
"I'm so excited to be part of the 'Reserve What's Next' video series, and to collaborate with these truly brilliant, forward-thinking minds that are shaping the future of travel and dining," Corden says.
In upcoming installments, Corden will check out the latest self-driving and custom-designed transportation options, next-generation accommodations, suitable for use anywhere you can imagine going and more.
And it's all being featured on Meridian, a brand-new travel site from Vox Media and sponsored by Chase Sapphire Reserve that's about unique travel experiences you won't find in a guidebook. In its premiere month, Meridian is traveling to Japan—and taking Refslund for his first visit to a country that specializes in pure, traditional cooking techniques.
But first, check out the first episode of "Reserve What's Next" above to see how Corden and Refslund's back-to-the-future fire-and-ice meal turned out.