Small Business
Managing Your Business
New Jersey Artist Makes Art Out of Destruction with Work Inspired by Sandy
By
Jennifer Chandler
Posted: 10/26/15
Updated: 11/10/17
Three years ago, Hurricane Sandy devastated coastal communities along the New Jersey and New York coasts. Streets were flooded with debris from the wreckage — furniture, photo albums, boardwalk planks, entire homes. Those affected by the storm were left picking up the physical pieces of their lives.
Three years later, the resilience of those who rebuilt is echoed in the work of artist and New Jersey native Roddy Wildeman. Out of the destruction of Hurricane Sandy, Wildeman transformed debris into art that memorializes those affected by the storm.
Wildeman was born in Long Branch, N.J., and began making art while working as a carpenter and real estate agent. "I always loved art, but never considered myself an artist," he says. Through carpentry he discovered his passion for creating art from recycled materials. "It was an incredibly slow time of the year, and I was trying to think of how I could get more business while doing something that I loved." He began turning scraps of wood from homes where he worked into fine art he would give as a gift to the homeowners.
That work gave way to his signature pieces, which he now refers to as "Composite Memory Fine Art." Each work is crafted out of recycled materials that were once part of people's lives. He hand cuts each piece of wood and begins to shape the work, playing with depth and color. He then blowtorches the edges of each piece. The process can take up to three weeks.
From the outset, Wildeman's work was well received, and he was encouraged by friends to share his talent. He began contacting art galleries and found one that offered him a solo show a mere eight months after he began creating his art. The pieces sold out, and he gave up carpentry to produce art full-time.
Today, Wildeman owns a gallery in Belmar, N.J., and also displays his work in New York. He is best known for creating starburst-shaped works out of recycled materials and also uses them to create custom furniture.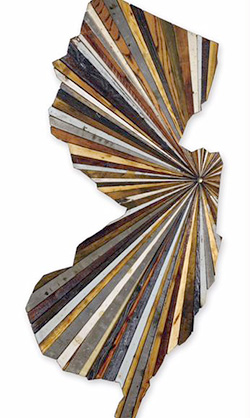 The Storm That Slowed Him Down, Then Inspired Him
When Hurricane Sandy hit, Wildeman's work, along with everything else, was put on hold. He spent the days after the storm helping to clean up areas it ravaged.
"You couldn't drive a block without getting out of your vehicle to move debris out of the way, and it seemed insensitive to toss the pieces to the side of the road."
Wildeman saved some debris from Sandy and began to use it in his work. One result was a large wood memorial in the shape of the state he loves, New Jersey, created from pieces of people's homes.
Wildeman says his art represents "pushing back after the storm."
"It was extremely therapeutic to create art with pieces from the storm," he says, adding that his work has also had a therapeutic effect on people whose lives were affected.
Some of his most recent work will be on display through November in an exhibit entitled "Got Wood" at Art629, a gallery in Asbury Park, New Jersey.
Jennifer Chandler is a freelance journalist based in New York. She grew up in New Jersey, not far from Wildeman's studio.