Small Business
Managing Your Business
The Roundup: Getting Your Business Ready for The Holidays
By
Adam Johnson
Posted: 10/23/15
Updated: 11/10/17
The Roundup is focused on giving you insight to power your business, news and stories you care about and advice to reach your business goals. Here's a look at the economic news that may impact how you prepare for the holiday rush.
In the News: Inventory Issues
With U.S. retail sales rising just 0.1 percent in September, fluctuations in consumer confidence and uncertainty around U.S. interest rate policy, predicting holiday sales is particularly challenging this year.
As a result, you may want to conduct your own versions of the monthly Conference Board Surveys, asking key customers whether they plan to purchase more or less in coming months compared to last year. Call your top customers, explain your methodology and offer to share the results.
Help one another plan for several different scenarios. Since holiday sales account for a significant share of annual revenue for many retailers, the stakes are high. Extra planning could prove the difference between profit and loss.
On Main Street: Putting Your Money to Work
Surging holiday sales may boost the bottom line, but they also stress online systems at small businesses lacking large IT departments and racks of servers. Avoid the risk of bottlenecks and unfulfilled orders by stress-testing your systems in advance. For starters, try using the free Google Page Speed Insights tool. Enter your website address to analyze functionality and get straightforward recommendations. Whether you outsource IT services or maintain a group internally, make testing systems now a priority. Determine the load your servers can handle and create an action plan to deal with a surge. In addition, make sure your cyber-security protocols are up to date. The key is preparation. Like Christmas shopping, waiting until December 24 leaves you in the cold.
For more on security for your business, go to this month's Hot Topic page.
In The Corner Office: Economic Insight and Business Inspiration
Cheaper gas often means more money for consumers to spend. But where are they using that extra cash? The JPMorgan Chase Institute analyzed data from 57 million anonymized Chase debit and credit card customers to find out who's most impacted by the declining cost of gas and how spending patterns have changed as a result of lower gas prices. Read the full report.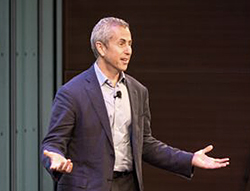 What I Wish I Knew: Danny Meyer
It's one of the key questions in customer service. Is the customer always right? At The Welcome Conference, industry professionals came together to explore this topic.
Conference speaker Danny Meyer, CEO of Union Square Hospitality Group and the man behind Shake Shack, shared his philosophy on being right:
"Being right can be used as the most dangerous shield of hospitality … and of life." Meyer said. "When policy ends up causing the chaos it was trying to prevent, it's time to let go of pride."
Read more coverage of The Welcome Conference.
Secret Santa Tip: Figure out which employees have unused vacation days and encourage them to take a break. It makes you look generous, and your tax adviser or accountant may say it's good for your books too.
For everything your business needs in one place, from news and expert tips to valuable products and solutions, visit chase.com/forbusiness.
Illustration by Angela Southern | Adam Johnson is a journalist and former business-news anchor at Bloomberg Television. He worked as an investment professional for two decades and writes frequently about business and finance.