Bold Leaders
Innovative Technology
Travelers Predict the Future of High-Tech Escapes
Bold Predictions for What's Ahead in Travel
By
Elizabeth Millard
Posted: 10/23/15
Updated: 11/10/17
When "Back to the Future" was released 30 years ago, Delorean-driving hero Marty McFly tried to convince his scientist pal he was time traveling. He was met with skepticism and a slammed door until he mentioned the "Flux Capacitor," which the scientist invented in the future to make time travel possible.
Although the era of zipping back and forth between decades isn't here yet, there are plenty of other futuristic travel advances that are on par with a flux capacitor-fueled journey.
According to a survey released by the Marriott Rewards® Credit Card from Chase, American travelers are ready for more unique experiences.
Here are some trends worth watching:
Out-There Destinations
Adventure travel is popular, but how about staying in a rainforest treehouse or being shot into space? Travelers are ready. About half of those surveyed believe that extreme hotel experiences, such as a private hut over the ocean, underwater hotels or getting to your room by zipline, will be possible in the next 15 years. And 35 percent of travelers believe space will be a destination in the near future.
One of those potential astro-tourists is Karl Holter, an IT manager in Minneapolis who says he has often daydreamed about being in orbit, but didn't want to pursue the rigorous training and education required for becoming an astronaut. Now, he finds himself watching the news for developments in commercial space travel.
"While I never really thought it would be within my reach to go to space someday, it seems that with all the talk in the private sector, it may actually happen," Holter says.
Sascha Zuger, travel director at BELLA NYC Magazine, says that such out-of-the-box offerings will engage those seeking an authentic sense of place. "The new souvenir will be the wild story of mishaps, characters met and adventures born during the journey," she says.
Technology Immersion
Even if you're floating underwater or camped out in a space station, it's likely that technology will drive your travel experience. In the survey, 58 percent of travelers say they believe paper passports will move to a digital device format, and about the same amount predict that mobile booking tools will let them have more power when selecting rooms.
Nearly half of all travelers believe personalized mobile travel guides will become available for use, and almost 60 percent think that smart watches and mobile payment options will become traveler must-haves. In terms of amenities, some travelers are hoping technology even provides in-room motivation: 37 percent of travelers say they expect to be able to get their exercise through a hologram of a personal trainer.
Hotels and other travel providers are leading the way in making that future happen sooner rather than later, Zuger says. From in-room iPads that have reviews on local restaurants to online concierge services, hip hotels are making the most of tech now. She adds that some hotels now offer online meet-ups with fellow guests to create a more robust experience in a social media-driven world.
Although Marty McFly won't be your tour guide in any of these excursions, it's likely you'll still get plenty of zip in your future travel adventures, even without a flux capacitor. Then again, 24 percent of those surveyed think flying cars will be available by 2030, so you may want to pick out your Delorean now.
If you're traveling back to the future or just trying to plan future travel, learn how the Marriott Rewards Premier Credit Card allows cardmembers to earn Marriott Rewards points on all of their purchases.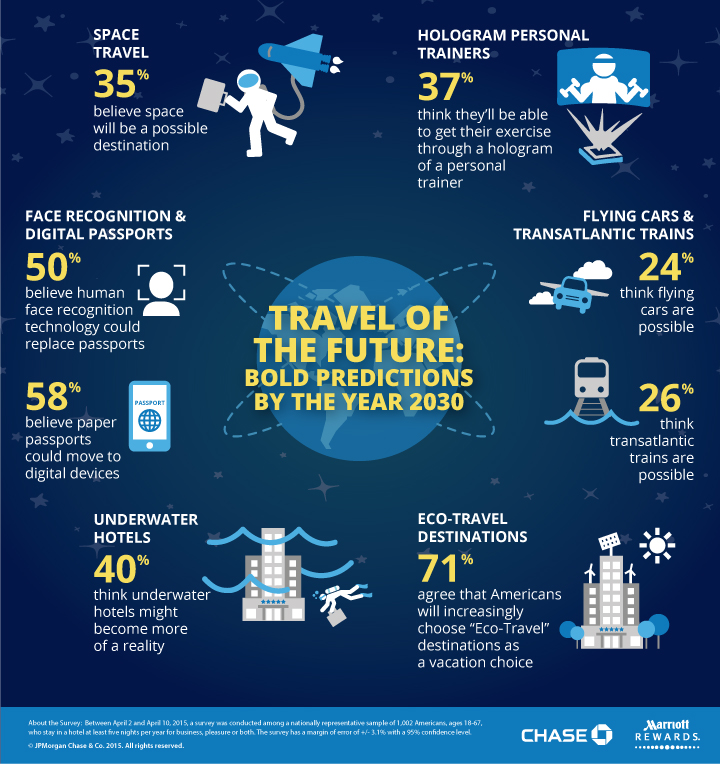 Illustration by Chris Gash | Elizabeth Millard is a freelance writer whose work has appeared in Entrepreneur, BusinessWeek and Delta Sky Magazine, among other publications.