Community
Give Back
How LeBron James is expanding into business
After delivering a ring for Cleveland, LeBron James expands his kingdom
By
Brandon Castel
Posted: 10/21/16
Updated: 11/10/17
In 2016, LeBron James delivered on a key promise to his native Northeast Ohio: the first championship in the Cleveland Cavaliers' nearly five-decade history. James' career, of course, has been a meteoric success. Consider that he burst onto the scene, at age 18, with a multimillion dollar Nike contract. Now, at 31, he has already won three NBA championships—two in Miami and the third in historic fashion for his hometown. He recently signed a deal to stay in Cleveland for another three years, making him the league's highest-paid player. Forbes estimates him to be the third highest-paid athlete—in the world.
But James' impact is felt far beyond the basketball courts, and he remains deeply connected to his roots. During July's ESPY Awards, for example, James joined fellow athletes Chris Paul, Dwayne Wade and Carmelo Anthony to call on their peers to renounce violence, explore the tricky matters of race and criminal justice reform—and, more broadly, to use their influence to drive positive change. "We all feel helpless and frustrated by the violence," James said, referring to the unrest that followed another series of police shootings of black men. "But that's not acceptable. It's time to look in the mirror and ask ourselves what are we doing to create change. It's not about being a role model....We all have to do better."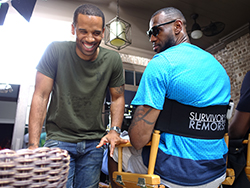 It was an unusual call to action, especially from a professional athlete. Several prominent American figures—including Serena Williams and President Barack Obama—had joined major companies in explicitly addressing the growing social tension. But the call didn't surprise people who've worked with James for years. "With the world in turmoil, and all the shootings, it's what he believes," observes Michele Campbell, executive director of the LeBron James Foundation. "To make real change, you have to go back to where you started from."
Building a business—beyond basketball
For years, James has been expanding his reach into areas beyond basketball. In 2014, for instance, Apple purchased Beats, a headphones company in which he had invested with rap mogul Dr. Dre and music icon Jimmy Iovine. Then, in December 2015, James became the first athlete to sign a lifetime shoe contract with Nike. More recently, James has moved deeper into the realm of storytelling. In 2015, James made his big screen debut in Trainwreck. That came one year after he launched a digital media company, UNINTERRUPTED.
"Athletes have great stories to tell," says Maverick Carter, James' longtime friend and business partner. Carter, who is also CEO of James' business and marketing agency, LRMR Ventures, adds: "We want to help them develop those stories and give them a place to share those stories." The idea for UNINTERRUPTED came from James' decision to announce his return to Cleveland in a first-person Sports Illustrated article. UNINTERRUPTED is already gaining traction in an oversaturated digital market. James appeared on the first episode of the site's first podcast, called Open Run, and he shared some bigger dreams for owning an NBA team some day:
"I would love to continue to give my knowledge to the game," James told the podcast. He continued: "My dream is to actually own (an NBA) team…. I don't need to have fully hands on. If I'm fortunate enough to own a team, then I'm going to hire the best GM and president that I can."
Ownership is nothing new for James, who owns a minority stake in the English Liverpool soccer club. In 2008, he and Carter launched their own media company, SpringHill Entertainment. The company is named after the public housing development that James and his mother, Gloria, moved to after they lost their home in Akron.
Already, SpringHill has produced two successful shows. One of them, Becoming, is on Disney, and explores the childhood life of famous athletes, such as NBA point guard Chris Paul and U.S. soccer star Alex Morgan. An inspirational program for families, it provides pathways for young kids to encourage them to reach their dreams. Another show, Survivor's Remorse, was picked up by cable network Starz for a fourth season, and tells the story of young basketball star, and his peers, who have escaped their low-income neighborhood. One goal, says Carter, was to look at their childhoods and ask, "how can I deal with that in a comedic way."
James is also the executive producer of a show called Cleveland Hustles, an unscripted show which features four local businesses competing for the financial backing to open a store in the Gordon Square Arts District of downtown Cleveland. Carter says the show, which debuted August 24, on CNBC, is about "getting into the nitty-gritty of the neighborhood—and figuring out how we can inspire people in that area to strive for more." The show aims to reinforce the visible change that LeBron and company are committing to make in Northeast Ohio.
Giving back to the community
Even as James builds successful businesses, he continues to focus on developing community philanthropic programs. The most visible example of this is the LeBron James Family Foundation. The foundation's work is focused on James' hometown, and it supports various initiatives, including "Wheels for Education," and the "Akron Promise Network," in which James pushes kids to commit to staying in school through high school graduation and beyond. In the last year, James partnered with The University of Akron and JPMorgan Chase to offer four-year scholarships to young people who complete the "I Promise" program, and graduate high school in the Akron Public School system.
"Kids who have never thought about college are now yelling, 'I'm going to be an engineer,'" says Campbell, the foundation's executive director. She adds: "That partnership has raised the bar for our families, and raised a lot of hope in our community."
This is the sixth year of these programs, which are designed to follow kids from third grade all the way through graduation. The original third grade class started eighth grade this fall, and a new group of 215 third-graders recently joined the program. So far, more than 1,100 Akron students participate in the program.
The process of driving positive change in a city takes real commitment—from James, and the people around him. "We learned over time—you can't just buy supplies and fix everything," says Carter, who also grew up in the Akron area. "You buy them computers, and they get stolen, or they don't have internet connection. You have to have a real thought-out strategy from people who understand the community."
The first group won't hit the college stage until the year 2021. But James and his team know it will take more than just money to make a sustainable change in Akron's public education system.
Uplifting communities
On a humid afternoon in August, more than 7,000 students and their relatives gathered at Cedar Point amusement park, in Sandusky, about an hour's drive west of Cleveland. The occasion was the LeBron James Family Foundation's annual We Are Family Reunion event, and many of the youngsters had been bussed from Akron, hoping to ride roller coasters –and, maybe, spend time with James.
At one point during the event, James took the stage and made clear why everyone was there: "Just using our resources, using our strength, using everything that we've been able to do, just to build up these communities," he said. Then, he added: "We're able to do that and give back to these kids, because we know that they're our future."
Campbell, who manages the event for James' foundation, carefully watched over the youngsters. More than 200 JPMorgan Chase employees worked to make sure things ran smoothly. Therein lies the essence of what James has been about for much of his career. Giving back. Inspiring. Bringing hope. Uplifting communities. Drawing attention to important issues. Striving for greatness in every area.
"The Cavaliers winning the championship...changes the mindset of people in the city of Cleveland, and Northeast Ohio, and makes them feel and think like champions," Carter says, adding: "The championship isn't the end. It just adds more fuel to what we are trying to do."
Brandon Castel is a Chase News contributor. He has worked as a reporter and columnist for Yahoo, Sporting News, CBS Sports, Reuters, and the Associated Press. He is the author of the Survival Guide for Coaching Youth Football.