Bold Leaders
Inspire Bold Leadership
Meet the CEO raising awareness about women's heart health
By
Poornima Apte
Posted: 10/23/17
Updated: 11/10/17
The following is part of our Game Changers series, around businesses, charities and people that make an impact and the leaders that run them.
British Robinson has had a distinguished career working with the US Department of State, and some of the country's most prestigious women's health organizations. Her experiences have shaped her belief that all women should have the ability to lead healthy lives and be empowered with real opportunities to succeed.
In 2014, Robinson was appointed founding CEO of the Women's Heart Alliance, an organization dedicated to preventing women from needlessly facing and dying from heart disease. In a recent interview with JPMorgan Chase, Robinson discussed her work and this important public health crisis. Here's a condensed version of the interview:
Q: | Was there a key moment in your life when you realized that you wanted to work on women's health issues?
There wasn't really a key moment. Rather, there were many moments, stemming from my early years with the U.S. Jesuit Conference to my volunteer work, to my days at the State Department. Each opportunity brought me closer to my goal of helping women in the U.S. and across the globe. Now, at the Women's Heart Alliance, I am proud to be working to get the message out that heart disease and stroke are the number one killers of women – more than all cancers combined.
Q: | What has been the most surprising fact that you have learned about women's heart health since 2014?
I was surprised by the relatively small amount of research that is done on women's heart health in comparison to men's. This is very important because a woman's heart is physiologically different and women have different signs and symptoms.
Q: | How does this difference play out?
A man has what we call the "Hollywood Heart Attack." He clutches his left arm or his chest and keels over. If you're a woman, you don't necessarily know that you're having a heart event. You can have flu-like symptoms, you can sweat, you can have jaw pain, you can have pain across your upper back. The other thing is that if you had preeclampsia or gestational diabetes when pregnant, you are more at risk to have a heart event in your lifetime.
Q: | Why do you believe there are fewer dollars being assigned to women's heart health research?
Part of it is simply a lack of awareness that heart disease is the number one killer of men and women. We always think about heart disease as a man's disease. WHA fights for heart health equity. We want to change research practices so that women are equally represented in the lab and the clinic.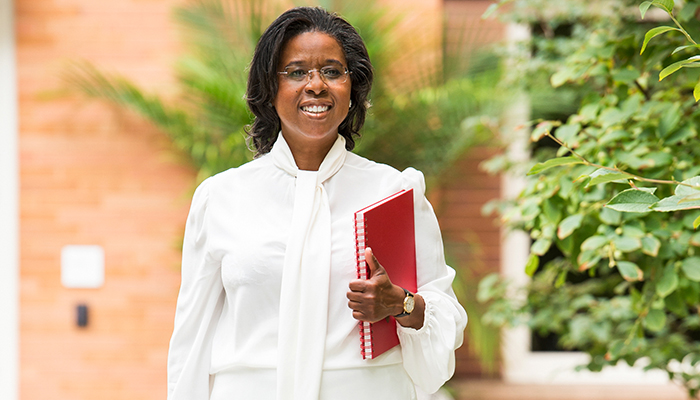 Q: | How is the Women's Heart Alliance reaching people who are socioeconomically disadvantaged, and who are minorities? Are they able to access this message?
This disease doesn't discriminate. It affects all women regardless of race, socioeconomic class, or education level. We know that African-American women are disproportionately affected by heart disease, and heart disease is on the rise in young women between the ages of 29 to 44, and we don't totally know why.
The corporate sector is critical in getting the word out. That's why having a good partner like JPMorgan Chase is so important to promoting heart health and delivering the message that physical health is tied closely to financial health.
Finally, "Fight the Lady Killer" is a national campaign carried out through earned and social media channels. We also work on college campuses, including Cal State/LA and The Ohio State University, and we're looking to launch at a historically black college soon. We want to educate and screen young women on college campuses, because prevention can and should start early if we're going to stem the tide.
Q: | What makes Women's Heart Alliance's public awareness and education campaigns effective?
There are a few things that help make our campaigns effective. First, we work to make the campaigns personal. We empower a woman to take action, so there is something she can do. For us, that is the wallet card to provide women with the information they need to get their heart checked. A woman can download the wallet card from our website and use it to stay heart healthy,
Second, we are focused on being goal-oriented. We want women to not only download the information, but also use it when they go see their health care provider to determine their personal risk factors.
Third, it's important to tell stories, so people can relate to and share similar experiences with others who may be journeying along the same path. Lastly, we're trying to galvanize and rally people around this cause. We believe that we can spark a movement to change public perception and empower women to know their heart risk.
Q: | What's one thing that you wish every woman understood about heart health?
That it is 80 percent preventable, which means you can do something about it... Women should get #heartchecked regularly the same way they get an annual mammogram.
Q: | What can women do right away to keep heart disease at bay?
Walk. Get 30 minutes of rigorous exercise most days of the week, and don't smoke. If you do, please quit. Get a good six to eight hours of sleep every night and lastly, have fun. Laugh, be with your friends, it's a very important way to relieve stress.
Poornima Apte is a Chase News contributor. Her work has appeared in Venture Beat and Tech Crunch.