Your Money
Understand Your Finances
Savings Diaries: We took our dream vacation—and stuck to our savings goals
By
John Schneider and David Auten
Posted: 10/15/18
Updated: 10/29/18
This is part of Savings Diaries, an original series in which people share how they try to reach key savings goals during 2018. It is part of a broader Chase initiative to encourage more Americans to save money.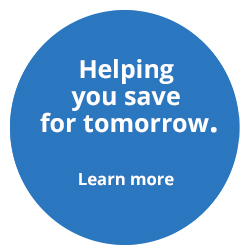 Our yearlong savings journey has been exciting and busy. In June, we got married, and celebrated Pride, two moments that tested our savings goals. One of us—David—quit his job, which led to us making some key financial decisions. We carefully planned for a big late-summer trip to Europe. And along the way, we adopted a handful of strategies to manage our money while we traveled.
Here's how we made it work:
1. We banked more hours
Because we like to travel so much, we designed our businesses—DebtFreeGuys.com and Queer Money, our podcast—for ultimate flexibility: we can write, podcast and blog anywhere, at any time. On our trip, we put this flexibility to the test: for the first time, we worked internationally—maintaining our business from our hotel rooms in Ireland and Spain.
This isn't to say that we planned to travel all the way to Europe, only to get stuck in our hotel rooms with our heads in our laptops. To prepare for our trip—and earn the money we needed—we drastically increased our workload this summer. We went back to waking at 5 a.m., starting work early and stopping late in the evening. As entrepreneurs, this was our equivalent of working overtime or taking on a part-time job: we banked extra hours of work, and immediately put all the extra money into our savings.
2. We worked more effectively
We didn't just work longer—we also worked better. When we were at work, we turned off everything that distracted us from the task at hand, including social media and email. We turned our phones upside down—out of sight, out of mind—and turned off our push notifications.
We also regimented our time better: we worked in 45-minute increments with 15-minute breaks, a routine that helped us maintain creativity and focus. We only watched television on Thursday and Sunday nights, and only did so when our work was done for the day and if we were on schedule for the week.
3. We created a thorough itinerary
We didn't just make more money for our vacation—we also found ways to spend less. When we travel, we usually throw financial caution to the wind. This time around, we researched, scheduled and budgeted everything we planned to do, all the excursions we wanted to take and where we thought we'd eat. This itinerary, not surprisingly, synced nicely with the work schedule we created.
We're not usually planners, so this went against our nature. But we don't have room for error, and our savings goals are important to us.
4. We charged all our wedding costs
Our wedding wasn't cheap, but it helped pave the way for our vacation. Months ago, we opened two new credit cards that offer points for hotels in Ireland and Spain. We charged all our wedding expenses to the cards, then quickly paid off our balances and reaped the points.
Our points didn't cover all our lodging, but they helped us save money to put toward other travel expenses or other savings goals. And, since we booked our flights nearly a year ago with frequent flier miles, the two biggest expenses for our trip—air travel and lodging—were mostly paid off.
5. We switched from a health care to a health-share plan
Since David quit his job last April, health care coverage has been one of the biggest stresses in our lives. Colorado, where we've been living, has several competitive healthcare exchanges, but at $803 a month for both of us, they're not competitive enough. Those massive payments made it hard to spread our volatile—and sometimes thin—income from month-to-month. To make matters worse, our deductible was a daunting $14,000 each year.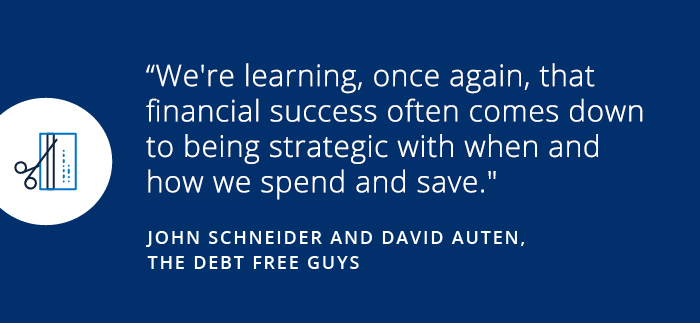 We've switched to a health share plan. These are programs in which members pool money in a shared account and use it to pay for medical expenses. Our health share plan charges an annual membership of $135—which drops to $75 after one year—and a monthly fee of $399. This covers us for qualified medical expenses up to $1,000,000 per incident. And, at a net annual cost of about $4,900 after the first year, we're saving a lot of money.
We're learning, once again, that financial success often comes down to being strategic with when and how we spend and save. These strategies have helped us make conscious decisions about our spending, and that has helped us cut expenses. With any luck, they'll carry us to Ireland and Spain, back to America, and ultimately to reaching our savings goals.
John Schneider and David Auten are Chase News contributors. Their work has appeared in Business Insider and Forbes. They own and manage the blog Debt Free Guys.