Your Money
Understand Your Finances
What gets Millennials and Boomers talking?
Money matters more than birds and bees, new Chase research shows
By
Michelle Seitzer and Lauren Coulston
Posted: 10/13/16
Updated: 01/13/17
It's time for a fresh look at how Americans think and talk about their finances. See what money matters are top of mind for people from different age groups in Chase's new series, Generational Money Talks.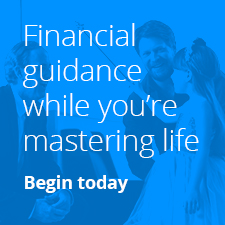 Who is talking about money? Parents of boomers avoided it, millennials' parents talked about it a lot which has set up the next generation for success.
To dig deeper into how our relationship with money has evolved, Chase worked with the University of Colorado Boulder's Center for Research on Consumer Financial Decision Making to develop the 2016 Generational Money Talks study. In the study, which was conducted in June 2016, more than 2,000 American adults offered powerful, honest insights on their personal financial views and habits.
Simultaneously, an innovative social experiment was underway, pairing 70 people across generations to talk candidly, on film, about money. The conversations were recorded in Miami, New York, Los Angeles, Dallas and Chicago, and were completely unscripted, the pairs total strangers at the outset.
The bottom line? Age is only one part of the money equation.
Forget the "birds and the bees," boomers make "The Talk" about money a top priority
Of course, boomers had "The Talk" about the "birds and the bees" with their kids. But they put more value in having the "money talk" because they want to be much more open about finances than their parents were with them. "I talk about money a lot with my kids... and I think they learned a lot," says Carey Cohen, a 61-year-old from Chicago.
Boomers were raised in an era in which talk about dollars and cents was taboo. Parents rarely discussed money with their children: only 34 percent of boomers reported that their parents had the "money talk" with them. Money was often tucked under mattresses, wrapped inside empty thread spools—basically, hidden from view.
Now, as retirement looms, many boomers are paying the price on the financial preparedness front. This has motivated many 50- and 60-somethings to do better by their children, and it seems the money talk is replacing the "birds and the bees" discussion. The investment is already paying off.
"I think it's much easier to talk to people about money. It's not taboo," say Nora Hirvela, a 54-year-old from Dallas.
"Money talk" makes millennials bullish
Millennials are now the most financially-savvy generation in history. This is likely because they have learned from their parents. Nearly three-quarters of millennials say their parents openly discussed money with them. "There's never an, 'Okay, we're done talking about money now...'" says Jenny Sutherlin, a 33-year-old from Dallas.
As a result, they're confidently making critical financial decisions and are actively preparing for the future. In fact, the majority of millennials start saving for retirement at age 23—exactly 17 years earlier than boomers did. According to Nadine Gabai, a 25-year-old in New York, "I think about retirement all the time because I want to find a job where I can be able to put money away for my retirement." Millennials are even shooting to retire by age 60, almost a decade before boomers.
According to the study, millennial parentswant to take it one step further. Inspired by their parents, millennials plan to teach their kids about money by age 13, two years younger than their boomer parents did. They are also much more open about their
finances with 82 percent saying they are comfortable talking to everybody about money—including family, friends and colleagues, and mentors.
Evolving financial goals, new financial advice
Each person is shaped by the financial mistakes—or successes—of previous generations. Sometimes, a friend or partner has a stronger influence on money matters than family. And a person's finances may quickly swing for better or worse because of planned and unplanned events—like a divorce or illness, a windfall, or an accident. As we get older, our views change, and our financial goals evolve.
With innovation and new technology, it's easier than ever to save and invest for the future. How has this revolutionized financial goals and behaviors across the lifespan? How do different generations view money, and what drives them to spend or save? Through a mix of reported articles, videos and infographics, our Generational Money Talks series will explore these questions and more.
Whatever your generation, we invite you to follow this groundbreaking series. Discover the valuable lessons our participants learned from each other—and taught us—to empower today's financial decisions. Hopefully, the next generation of spenders and savers will be inspired.

The information expressed is being provided for informational and educational purposes only. It is not intended to provide specific advice or recommendations for any individual. You should carefully consider your needs and objectives before making any decisions. For specific guidance on how this information should be applied to your situation, you should consult the appropriate financial professional.
Investment products and services are offered through J.P. Morgan Securities LLC (JPMS), a member of FINRA and SIPC. JPMS is an affiliate of JPMorgan Chase Bank, N.A. Products not available in all states.
Michelle Seitzer is a Chase News & Stories contributor. Her work has appeared in US News, Readers Digest, The Huffington Post, and AARP.org. Lauren Coulston is Vice President in the Brand Marketing Group at JPMorgan Chase. Her work has appeared in The Huffington Post and Boomer Market Advisor.